The Dossier: When Havvy Ruled the World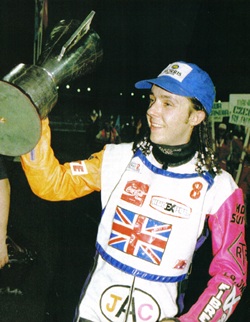 Gary Havelock
Who
Gary Havelock - born November 4th 1968 in Eaglescliffe, Cleveland.
What
Won the 1992 World Final at Wroclaw (Poland).
Previously
Started his career with Middlesbrough Tigers in the 1985 National League. Moved into the British League with Bradford Dukes in 1987. Missed the 1989 season after testing positive for cannabis at the 1988 BLRC.
How He Got There
British Semi Final (Cradley Heath) - 15 points - First
British Final (Coventry) - 13 points - First
Commonwealth Final (King's Lynn) - 11 points - Third
Overseas Final (Coventry) - 13 points - First
Semi-Final (Bradford) - 14 points - Second

Havvy's Heats
Heat 2: Havelock, Correy, Gustafsson, Jonsson
Wins from the tapes from gate 4.
Heat 8: Drabik; Havelock; Tesar; Nilsen (excluded)
Tesar and Nilsen crash in first staging and Havelock picks up a leg neck in the process. Re-run doesn't take place until 90 minutes later due to storm. Havelock misses the gate in the re-run but manages to fight his way into second.
Heat 11: Havelock; Miller; Ermolenko; Knudsen
Havelock makes a great start from one.
Heat 14: Havelock; Handberg; Tatum; Karger
Havelock leads from gate three to beat Handberg who is similarly on eight points prior to this race.
Heat 17: Havelock; Jorgensen; Rickardsson; Shirra
Victory will guarantee the title and Havvy makes no mistakes and has opened an unassailable lead by the end of the first lap.
Final Scorechart
Havelock 14; Jonsson 11; Handberg 10; Gustafsson 9; Knudsen 9; Jorgensen 8; Nilsen 7; Ermolenko 7; Drabik 6; Tatum 6; Correy 6; Miller 6; Shirra 6; Rickardsson 5; Tesar 5; Karger 4
Notable by their Absence
Hans Nielsen failed to qualify for the World Final for the first time since 1979. He scored only 6 points in the Scandinavian final.
Reigning champion Jan O Pedersen, seriously injured earlier in the season in Denmark, was not invited to the meeting.
Notable Achievement
Havvy was only the third rider to win the title on his World Final debut.
Context
Havelock was the first British winner since Michael Lee in 1980. The next British winner was Mark Loram in 2000.
Conditions
The meeting had to be delayed for ninety minutes after heat eight due to a thunder and lightning storm. Conditions were therefore very heavy thereafter.
Sponsor Conscious
Gary changed for the presentation ceremony as his bright yellow leathers, new for the occasion, were covered in the slime and shale from the track.
Influence
Gary's father Brian gave up his own racing career to concentrate on helping Gary's.
In Recognition
Gary was awarded the England captaincy on a permanent basis immediately after his win.
What he said
"I went to the World Final to win, no doubt about it. Certain riders say that they are going to enjoy their first World Final to enjoy it. That's not what we went for - we went to win. When I went over the line I thought 'God, I have won it' but couldn't really take it in. It was a mixture of joy, relief, ecstasy, all rolled into one."
What they said
"He's grown up now. He was brilliant. It's hard to win a World Final, particularly when you are in your first. He did a great job on the different surfaces he had to ride on and coped with it all through". (Erik Gundersen)
"He was superb. I couldn't believe how cool he was when the title came nearer and nearer. He had the worst gates in his last two rides but that didn't affect him. He was real World Champion". (Ivan Mauger)
"I didn't think Gary could handle the pressure of his first final but he proved that he could. Perhaps after the problems he's had he felt he had something to prove and it gave him an extra incentive." (Peter Collins)
This article was first published on 16th April 2009
---

Bill Elliot:

"Never really thought about it as Havvy was not at his peak when I've seen him racing. However, from what I've read it's clear that he had the ability and motivation to go out and do it when it really mattered. How many guys have we all seen who've been given the title of "best never to win the World Title" (the list is endless) but here is a guy who went out and did it when they got the/their only chance - I doff my titfer to you Havvy, you did it when others made reasons for certain riders NOT doing it!"
Malcolm Roe:

"Gary Havelock actually started - as have so many in British Speedway - in junior grasstrack. British speedway should help sponsor grasstrack, kick down some Sky money to the folks who have provided them with so much talent. "

[ Use Mobile Version ]

Comment on this Article | Contact Us | Go Back to Main Menu