When Ian Met Ove
By Ian Davey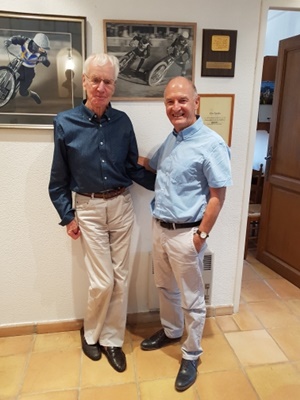 Ove Fundin and Ian Davey
When I was 8 years old, my uncle took me to the Firs Stadium in Norwich. It was the start of a 60 year love affair with Speedway.
No 1 rider for Norwich in those days was Ove Fundin. But Ove was not only No 1 for Norwich, he was No 1 in the world. He is considered by many to be the greatest rider ever to sit on a Speedway bike. Naturally, like thousands of other kids in Norfolk at that time he became my idol and I dreamed of becoming a world champion like him.
Recently I've written an article about my Speedway and as part of my research for it I discovered that Ove, now 86, lives in my adopted country, France. I contacted Ove and asked him if he would be prepared to meet me so I could include an interview with him in my article. He rang me up and agreed, a very pleasant surprise.
It was a really interesting experience. John Chaplin has written a fascinating book about Ove so the history of his illustrious career is pretty well-documented but he gave me many new insights into his life at the top of Speedway over a decade. This is my write-up of our meeting.
Interview with Ove Fundin 15 July 2019
At the start of my meeting with Ove and his wife Ioanna I was pleased to be able to present him with the programme of the 1962 World Championship at Wembley where he came third that year. My uncle was there and had filled in the programme meticulously even showing Ove had a fall in one race. A rare event indeed! Ove looked down the list of riders and ticked them off, "He's gone, he's gone he's gone...."! So Ove is a survivor like his Norwich contemporaries, Billy Bales and Olle Nygren, both still going strong at 90. He is remarkably fit for his 86 years of age. He still has the slim figure, the same weight as when he was riding over 60 years ago, still riding a motorbike. He still travels extensively. Very impressive.
When Ove joined Norwich Speedway in 1955 it was a tough baptism. He was a shy young man who spoke very little English at the time. We British tend to think Scandinavian people are born speaking English! Obviously that's not true and I know how hard it is living in a foreign country when you're not fluent in the language. Norwich Speedway didn't fund any English lessons for Ove. He had to pick up the language by ear and he had to cope with the Norfolk dialect! In those days he learnt his now perfect English by going to the cinema.
Once he'd got over the initial period of homesickness things improved and he rapidly acquired star status, especially after winning his first world championship in 1956.
As an 8 year old when I first saw Ove ride he was by then a superstar. I looked at the photo I had of him and imagined he had a glamourous life. Sure, he had the satisfaction of being world champion five times and he had an adoring fan club. There wasn't just me! He must have experienced the exhilaration of knowing he was the best in the world at his sport, not to mention the adrenaline flow when he beat his main rivals. Nevertheless he had a tough and demanding lifestyle during the ten years at the pinnacle of his sport.
He would often be riding night after night without a break. Then there was the travelling. In the UK at that time the state of the roads prior to motorways meant you didn't get from A to B very quickly and certainly not from the outpost that was Norwich. It took 5 to 6 hours from there to get to Belle Vue, Manchester for example. Then there was the return journey after the end of the meeting.
Ove was also required to ride regularly in Sweden on a Sunday. That meant leaving Norwich immediately after the main match on a Saturday night if he was to be in time for the plane to Sweden. Sometimes he arrived at the airport his face still covered with shale as there had been no time for a shower!
Although he earned relatively well by the standards of the day (more than Norwich City footballers for example) he was never rewarded at the level his superstar status merited. He got a pound a day while ever he had the Golden Helmet, the trophy for the very top riders. It was a good plan to have the Helmet at the end of the season because it still paid a pound a day during the winter! However as Ove said himself he never had any time to spend money!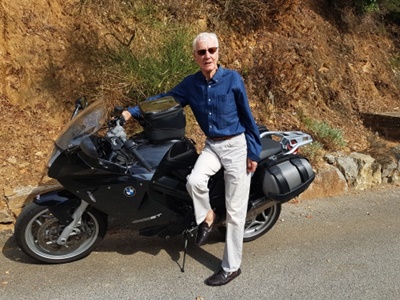 Ove with his current motorcycle
On top of his travelling in Europe in the early years Ove went out to Australia and New Zealand to race, but in those days he had to go by boat as airline fares were astronomical. That meant spending 5/6 weeks on a passenger ship with emigrating poms. Those boats weren't luxury liners. Then he was expected to race on arrival. One season in Perth the headline in a local paper was "Local rider beats World Champion". Yes Ove was beaten but not surprising given he'd just disembarked after a marathon trip.
Perhaps the thing that sums up the situation best of all is that Ove was only ONCE invited into the Directors' Boardroom at Norwich during his 10 years there. Yet he was THE drawcard for Norwich. Fans came in their thousands to see him ride. He was followed to away tracks. Coachloads went down to Wembley to see him race in World Championships. One year even a special train was laid on from Norwich to London. Ove was the "Golden Goose" of Norwich Speedway, yet the people in charge seemed to take it for granted that they had a world-beater on their hands.
Ove never went to any training school for young riders. He largely taught himself. Through his own efforts he turned himself into a fast-gater, a "white-line" rider who could get fantastic traction or "grip"- a winning formula that others found hard to beat.
Somehow he was able to put out of his mind the danger involved in this high-risk sport even after the death on track of his friend and rival Peter Craven, a fellow world champion. The only thing that did seem to worry him was when he was subject to the handicapping system and had to come from the back to overtake less experienced riders who were unpredictable and could easily cause a crash. Not surprisingly they were pretty scared when they heard Ove Fundin coming up behind them!
Speaking of the risks according to Ove ice speedway is easier than riding on shale. He should know because he's raced on ice in Russia and Sweden.
Ove's gentle manner disguises what was the strongest of competitive instincts and a winner's mentality. It's still there. His children never want to play any competitive game with him!
Strange as it may seem, given his loyalty to Norwich, Ove was never a fan of the Firs track which was one of the bigger ones like Belle Vue. He preferred smaller circuits like New Cross and Haringay. Yet that was because they demanded greater technique and Ove obviously enjoyed the challenge they provided compared with the larger "easier" tracks.
Undoubtedly natural ability accounted for much of his success but mechanical and mental preparation were important. He was a tactician. He had a notebook in which he recorded every meeting, not just the points he scored but also the best gearings required at each track, how to adapt when they were dry or greasy and so on. I doubt whether there were many other riders as meticulous.
The closure of the Firs Stadium and the demise of the "Stars" was a tragedy not just for Norwich but for Speedway in general. Although he continued racing on and off for Ove it was never the same afterwards. Basically he went to ride for other tracks to "help out" Promoter friends. Amazingly he won another World championship in 1967 when he was really only a part-time rider, then aged 34. That was some achievement. That day in September he employed his usual preparation before a big meeting, going to see a good film in the afternoon to help relax. It worked!
Talking more broadly about Speedway Ove is very critical of British Speedway Promoters even though many were, and still are his friends. Sadly it seems many were more interested in "promoting" their personal bank balances in the short term rather than investing in Speedway for the long term. Hence the chronic state of many stadiums now.
So, it was special to get some insights into the life of one of, if not the, greatest speedway rider, someone who has a statue erected in his honour at his home town in Sweden, and only the second "foreigner" to be given the freedom of his adopted city, Norwich.
Many more things have happened in Ove's life since his glory days as a rider in the 50's and 60's. He's pursued many other interests and pursuits like flying his own aeroplane.
When I started writing up my childhood memories I re-entered that world when between the ages of 8 and 12 years old Ove was an important person to me although he didn't know that! I could see myself in the bedroom of my grandparents' shop looking at my autographed photo of Ove. I wanted to join the exciting and glamourous world he represented for me then.
Just as well perhaps that I never realized that boyhood dream of becoming a world champion speedway rider. I certainly increased my chances of a longer life and avoiding serious injury. What I never imagined was that I'd get the opportunity of meeting up with Ove nearly 60 years on. It turned out to be a privilege and a pleasure.
This article was first published on 15th September 2019
[ Use Mobile Version ]
---

Hubert:

"I discovered here an aspect of the inner personnality of my friend. Totaly ignored since to-day, and, at the same time, his real skill of newsman. Congratulations Ian."

Comment on this Article | Contact Us | Go Back to Main Menu