Wiggy Supports "Save Oxford Stadium"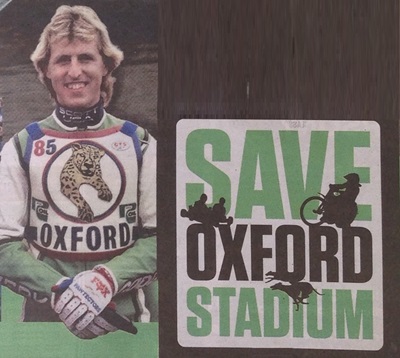 The campaign to save Oxford Stadium continued earlier this month with the publication of another full page advert in the Oxford Mail.
The latest campaign page featured a plea from Julian Wigg, brother of the late, great Simon Wigg. 'Wiggy' was a popular Oxford Cheetah during their most successful years and would certainly have supported this campaign to save the stadium.
Julian said:
"Oxford Speedway meant a lot to my brother Simon. The track was local to him and dear to his heart. It was such a buoyant team; the spirit was so good. I think he loved it- I really do.
With Simon and Hans Nielsen there together, the Cheetahs had the cream of the world riding for them in the 1980s, and the club enjoyed some memorable times and won so many trophies.
Simon winning his first World Longtrack Championship was such a huge moment in our lives, because Simon had achieved his big goal. His reward was to be flown into Oxford Stadium for the next meeting by helicopter.
Simon would have been a terrific promoter. He proved that when he packed out Oxford Stadium with his farewell meeting in 1999. He had so many fresh ideas and I'm sure that's what he'd be doing if he was still with us today. Simon lived life to the fullest throughout his 40 years - there were no regrets.
Oxford Stadium - and other stadiums like it under threat, need to be kept alive, they're a big part of our motorsport heritage."
The advert was sponsored by "A Selwood & Sons - Removals and Storage" with pictures provided from the John Somerville Collection.
Thanks to John Fray for keeping us up to date with the latest news from the campaign.
Click on the advert to see it in a larger size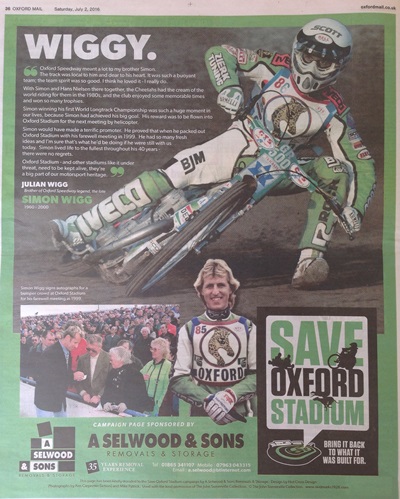 This article was first published on 17th July 2016
[ Use Mobile Version ]
Comment on this Article | Contact Us | Go Back to Main Menu