DVD Review:
World Cup Willy - The Ray Wilson Story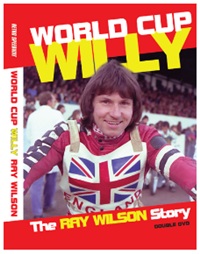 Wow! We've reviewed a few of Retro-Speedway's DVDs on the site, but they've really raised the bar with this one. The subject of their in-depth profiling this time is former England skipper Ray Wilson. Ray is interviewed by Tony McDonald at his home in Leicester and no stone is left unturned as McDonald skilfully guides him through his career and many achievements.
It's only when you hear the full story of Ray's career that you realise just what a fine rider he was. The undisputed British number one in the period between Nigel Boocock and Peter Collins, a regular on the world stage and a top performer in the British League.
His recollections of his early career are most interesting, revealing that he turned down an approach from legendary Coventry promoter Charles Ochiltree in favour of a contract at much less fashionable Long Eaton. The move paid off as he was given early opportunities at Station Road and made rapid progress through the Archers' team until he claimed the number one spot. He was also fortunate enough to ride alongside Ove Fundin for a short period, sure to have been invaluable experience. He also enjoyed a friendly duel with Anders Michanek and John Boulger to see who would be acknowledged as the team's number one, something that Ray confesses was always important to him.
Ray's approach to the sport was well considered, he reveals that he once spent eight weeks doing an informal apprenticeship on machine maintenance with Ken McKinlay. McKinlay was a renowned engine tuner and the lessons learned would stand Ray in good stead. Ray had also watched McKinlay ride for the Leicester Hunters in years gone by, so the chance to get up close and personal with a boyhood hero was an added bonus.
Despite his spells with Long Eaton and Birmingham, there can be no doubt that Ray is best remembered as a Leicester Lion. This DVD features magnificent cine footage from Lions' meetings at Blackbird Road in the late sixties and early seventies. This not only gives us a good idea of what the Blackbird Road experience was like, it also affords us an opportunity to see riders like Ivan Mauger, Ole Olsen and Bert Harkins in action once more.
Although that footage is most definitely of an amateur nature, there is some simply magnificent video action included in this product. The footage from the 1974 World Pairs final looks like it could have been recorded yesterday and the quality is also excellent on the clips from the 1974 British Final and the 1973 Inter-Nations tournament final (including the controversial Collins/Michanek run-off). The variable quality of the vintage footage has been one of our slight criticisms of previous Retro-Speedway DVDs, but there can no cause for complaint here.
The whole DVD has a much more professional feel than previous production. The interview with Ray is well lit and the picture quality is excellent. The sound is also good and there are no distracting background noises to contend with. The captions on many of the photographs included are also a welcome addition. In some ways Tony and his team have possibly made a rod for their own back here as we'll now expect similarly high production values in their future releases.
Inevitably the DVD covers Ray's achievements in the World Team Cup in some detail, those exploits earning him the 'World Cup Willy' moniker by which he came to be known and also the title of this DVD. Ray takes great pride in reminding us that he scored a 12 point maximum in the 1971 World Team Cup final at Wroclaw - a remarkable achievement. He acknowledges this as the pinnacle of his career, a career that's probably best remembered for contributions to the team, rather than for outstanding individual success.
There are so many other aspects of his life and career that are covered, amongst the highlights are: his thoughts on the new Leicester circuit, his marriages, his battles in Scotland with the Templeton brothers, his relationship with his promoter and father (one and the same), his first bike and the spell he spent as Norman Hunter's mechanic. All genuinely interesting stuff.
It's a pleasure to spend these three hours in Ray's company. He's an engaging individual who is able to reflect honestly and modestly on a remarkable career, both its highs and lows. This one comes highly recommended and we're already looking forward to seeing what Tony Mac and his crew come up with next time around.
---
How To Order
By Phone : 01708 734 502
By Post : Send a cheque for £16 (payable to Retro Speedway) (add £2.50 if outside UK) to:

Retro Speedway
9 Nursery Close
Glossop
SK13 8PQ
Online : At Retro-Speedway.com
This article was first published on 16th December 2010
---

Chris Stockwell:

"If Tony Mac is looking for his next D.V.D. star then he should look no further than the Scottish Super Star Bert "Haggis " Harkins. Over the years I've enjoyed reading Bertola's colume in the Speedway Star and all his awful Jokes, that were so bad they are very funny. I reckon Old Haggis could tell us a few stories about the likes of Ivan Mauger, Briggo and all manner of Speedway people, so How about it, Tony Mac? And if you happen to read this Bertola, ain't it time we saw your autobiography in print?"
Haggis:

"Thanks, Chris Stockwell who asked about an autobiography. I started to write one with my Quill feather pen but the ink ran out and, as a true Scot, I cannot afford another bottle of ink!"
Cary Cotterman:

"I second Chris Stockwell's request for a DVD and autobiography of Bert Harkins. Bertola was one of the most popular riders to visit southern California in the early '70s and won the hearts of many a supporter with his exciting riding and sense of humour."

[ Use Mobile Version ]

Comment on this Article | Contact Us | Go Back to Main Menu