The Great Yarmouth Speedway Day 2009
N.B: EVENT NOW CANCELLED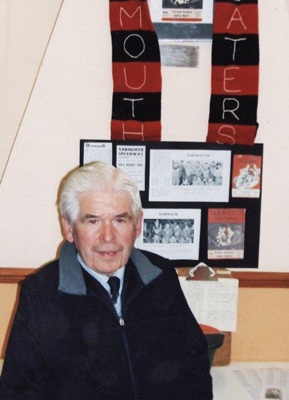 Billy Bales in Speedway Corner
Speedway reunions have become popular in recent years, with supporters and riders from years ago getting together to discuss shared memories. There will be a further opportunity for nostalgia next August when a 'Speedway Day' will be staged at Filby Playing Field in Great Yarmouth.
Organiser Sandra explains what's planned and how it's come about:
"At the moment I am just putting out feelers to see what response we get. We had a village reunion last month with a Yarmouth Speedway 'memory corner' with ex rider Billy Bales attending and the response was great. As we are trying to raise funds for a new village community centre, we thought we would hold a general speedway day for anybody to attend on the Saturday August Bank Holiday weekend, we will have a large marquee on the playing field."
"The event in October was just a village reunion for 60+aged people who grew up in the village and we just had one wall with Bloaters memorabilia and Billy agreed to pop along. The response we had was brilliant, so we thought we'd have an Open Speedway day for everybody in August, open for anybody from anywhere who loves speedway."
"If you are an ex-rider of yesteryear or a current rider, if you had anything to do with the Great Yarmouth Stadium or The Firs at Norwich, have any memorabilia of any kind you would like to display or you are just a general speedway fan of any region and would love to attend, we would love to hear from you."
The event will be held on Filby Playing Field (Great Yarmouth) on August Bank Holiday 2009 - 2pm until finish.
N.B: EVENT NOW CANCELLED
This article was first published on 13th November 2008
---

Dudley Jones:

"Great to see this article. I never saw speedway at Yarmouth, but I was a regular at the Firs at Norwich in the last years. It has always seemed to me that if ever there was a ready made track to reintroduce the sport to it was Yarmouth. Nice little stadium. It existed through the lean late 1950s, contested the first Provincial League season and went forever. Why, oh why, did Yarmouth not reopen when Norwich closed? Half the distance from the Firs, 20 miles compared to best part of 50 to Kings Lynn. Yarmouth could have risen, like Poole perhaps, to the very top of the tree. the loyal East Anglian support could have been theirs (although I would not wish to have lost Kings Lyn as a consequence). Let us hope that this little acorn might just grow into a strong oak tree, with Yarmouth re-emerging. Not the bloaters perhaps (who knows what a bloater is now?) but perhaps the Gulls or the Raiders (Viking raiders)."

[ Use Mobile Version ]

Comment on this Article | Contact Us | Go Back to Main Menu