It's All About You... Alan Sampson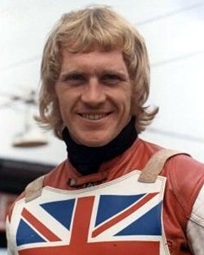 Terry Betts
Tell us about your introduction to speedway
As a youngster, persuading my father, a football follower to take me to the firs, Norwich. We used to live just round the corner.
Tell us about your favourite meeting of all time
There have been a few meetings over the years, but the one that sticks in my mind is the knock out cup final at Belle vue v Reading in the 70's. Seeing Peter Collins with the cluch on the same side as the throttle and his races with Michanek.
Tell us about your favourite rider of all time
Terry Betts. Always had time for the supporters, and an alL round nice guy. Probably one of the fairest riders i have seen on Track. Very under estimated by a lot of people. Spent a lot of time travelling from my now home in Bristol to Kings Lynn to see him at the weekends, in the 70's.
Tell us about your favourite track/stadium
Has to be Norwich for me. Remembering my youth and happy memories. Fundin and Betts etc. When they left the gates open, we used to ride round the track on our push bikes. We also had our school sports day on the pitch.
What are the best things about speedway?
Over the years I have met so many people and made good friendships. You can always go to a meeting on your own and chat to various people about different riders. The interaction.
What are the worst things about speedway?
Probably the ever changing rules every year by the promoters. No other sport that I can think of has so many changes. I often wonder if it is for the best of the sport.
What one thing would you do to improve speedway?
To set up an independant body to run the sport and take this away from the promoters. Maybe to have an ex rider as an adviser to the referee at every meeting. In my own opinion too many refs have never ridden a speedway bike.
Tell us about a rider you wish you'd seen
There has been so many, before I was even born. Tom Farndon, Peter Craven, Milne, Wilkinson Etc. The list is endless.
What does the future hold for speedway?
A tricky question to answer. If we could look into a crystal ball. The future, in my opinion is in the hands of promotions.
Is there more that can be done for this sport?
I believe there is, when people mention Motor cycles, they think of greasy bikers of by gone years. Perhaps the sports council in this country could do more to promote this sport, THE SAME AS ATHLETICS, FOOTBALL, SWIMMING, the list of other sports receiving help is endless.
Take part in this feature
This article was first published on 12th May 2011
[ Use Mobile Version ]
Comment on this Article | Contact Us | Go Back to Main Menu