It's All About You... Andrew Davidson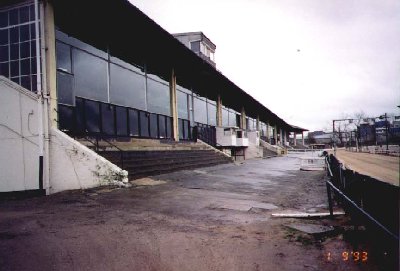 Hackney Wick
Tell us about your introduction to speedway
A mate took me to Romford Speedway in 1971 for a meeting Young England Vs Young Czechoslovakia 66-42. Young England (K Holden 15 from 6, Reg Wilson 4 from 6, Bob Coles 13 from 6, Ross Gilbertson 13 from 6, J Louis 13 from 6, A knapkin 8 from 6 and A price 0 from 1) - Young Czechoslovakia (V Verner 4 from 6, P Mares 11 from 6, M Spinka 13 from 6, M Verner 12 from 6, Z Majstr F/x from 1, J Volf 1 from 6 and P Busta 1 from 5) I could never forget the smell, after that meeting I was hooked and still am today.
Tell us about your favourite meeting of all time
I think its was Hull Vs Hackney at The Boulevard, where Hackney won, a long long time ago.
Tell us about your favourite rider of all time
Roman Jankowski, because he was always gave 101% on the track and I have seen the hard man of speedway and the soft family man looking after his whole family, and nothing was a problem for him to do.
Tell us about your favourite track/stadium
It has to be Hackney it was a fair track, a track that you could overtake on.
What are the best things about speedway?
The fans, it's like one big family, you can talk to total strangers in the stadium and the next week they are there again. I also love the funny things they say about the riders.
What are the worst things about speedway?
Rained off meetings and the club selling out of programmes.
What one thing would you do to improve speedway?
Living in Australia it's hard but I would like to see the ref's keeping the meeting going with the use of the 2 min warning for riders.
Tell us about a rider you wish you'd seen
Vic Duggen just to watch him would have been great when he was at the top of speedway.
What does the future hold for speedway?
It's now all down to the younger riders to make our sport better.
Do you think the World championship should be as now GP or a one off meeting like the old days?
It should be like the old days with a number of meeting to qualify for the next stage and then the one off final at Wembley
Take part in this feature
This article was first published on 10th June 2010
[ Use Mobile Version ]
Comment on this Article | Contact Us | Go Back to Main Menu