It's All About You: Andrew Gallon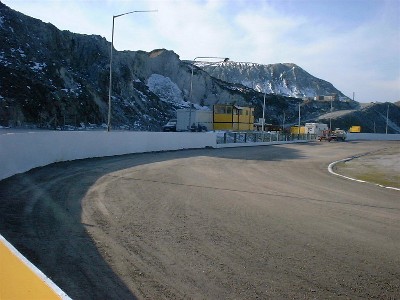 Trelawny
Tell us about your introduction to speedway
My first meeting was at The Shay, Halifax, during the 1976 season. Accompanied by my dad, I was already a regular attender at the ground for Halifax Town football matches. We were both aware of speedway, which featured prominently in the local evening newspaper and, of course, the paraphernalia of the sport was visible to all during football games at The Shay.
My dad had seen speedway at Sheffield, his hometown, in the Fifties but clearly didn't rate it highly. I badgered him to take me to see the Dukes at The Shay. He relented eventually, and we watched Halifax beat Leicester 44-34 in a Gulf Oil British League fixture. Ray Wilson rode for the Lions, I recall.
I remember being captivated by the riders' bizarre pre-race routines, the protective gear they wore, the racejackets and, of course, the sweet aroma from the bikes. The racing was pretty exciting, too! We went only a couple of times after that (owing entirely to my dad's lack of interest), though one of those meetings was a 39-39 draw with Ivan Mauger's Exeter. Circa 1980, I became a regular at The Shay, once my rather strict parents had decided, at 15, I was old enough to attend alone.
Tell us about your favourite meeting of all time
I've attended too many (though very few in the last decade, I'm sorry to say) to pick out a single one! Any big international meeting at Odsal, Bradford, invariably felt like an occasion. One that does stand out at Odsal is the World Pairs, circa 1988, featuring six-rider heats. Also, I'd say virtually any of the major Fours meetings at the East of England Showground, Peterborough. I saw some crackers there.
Tell us about your favourite rider of all time
I watched Middlesbrough for five years, during the 1990s, while working on Teesside. My favourite Bears riders include Paul Bentley, Martin Dixon, Shane Parker, Chris Readshaw and David Walsh. As a schoolboy follower of Halifax, I enjoyed the talent of Kenny Carter (though there seemed far too many Saturdays when he was absent from The Shay!). I had a soft spot for Halifax's Polish import Piotr Pyszny, a real trier, and Ian 'Mighty Mouse' Cartwright, a glamour boy of the sport when speedway was still a big deal. Riders I admired, but watched only occasionally, include Jason Crump, the Morans and Joe Screen. I always prefer racers to gaters!
Tell us about your favourite track/stadium
Over a number of years, post-1987, I made it my business to visit all Britain's speedway tracks. I have several favourites: Berrington Lough (the Berwick 'roundabout' with the Scandinavian feel); Cleveland Park (great racing and always a good atmosphere); Clay Country Moto Park (a unique 'moonscape' setting); Elfield Park (unusual setting and excellent viewing); Plough Lane (by speedway standards, an impressive venue); Powderhall (very plush, and pre-match handy for central Edinburgh's visitor attractions); Shawfield (with those big crowds, it rocked during Glasgow's first season there); The Shay (my hometown team). It's a real shame I never got to the old Belle Vue. For reasons I can't really explain, New Hammond Beck Road, Boston, is another circuit I regret missing.
What are the best things about speedway?
As sporting spectacles go, a close race, with all the riders handlebar to handlebar over four laps, is hard to beat. Under floodlights, it's even more dramatic.
What are the worst things about speedway?
Its amateurishness, the numerous manifestations of which have got worse over the years, and its susceptibility to the weather. The riders generally seem very professional but a lot of the other stuff that goes on makes speedway seem very much a second rate sport.
What one thing would you do to improve speedway?
Speedway needs to get away from being run by the promoters, most of whom, hamstrung by vested interests, are incapable of seeing the bigger picture. A truly independent governing body, along with a long-term strategy, is way overdue.
Tell us about a rider you wish you'd seen
Peter Craven. Thankfully, Craven's remarkable riding style - which I gather was years ahead of his time - can be enjoyed on flickering black and white newsreel footage. Nobody has a bad word to say about Craven, either as a rider or as a man, which speaks volumes. On a visit to Meadowbank Stadium, Edinburgh, three or four years ago, I made a point of seeking out the memorial plaque to Craven. I was glad to hear I certainly wasn't the first to ask where it is.
What does the future hold for speedway?
Sadly, I don't think British speedway has much of a future, other than declining to the level of grasstrack, a weekend hobby for amateur riders. The sport's decline has gone too far for it to make a meaningful recovery. Too many people have been allowed to get out of the habit of attending. Tracks will continue to close and crowds will continue to diminish. It's very much yesterday's sport.
Take part in this feature
This article was first published on 27th October 2019
[ Use Mobile Version ]
Comment on this Article | Contact Us | Go Back to Main Menu