It's All About You... Andrew Mollitor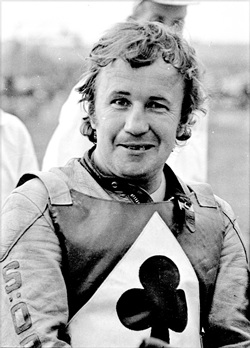 Soren Sjosten
Tell us about your introduction to speedway
A friend at school used to go and watch Belle Vue at Hyde Road and always raved about it. I then saw the Daily Express Spring Classic on World of Sport which I think Scott Autrey won and I mithered my parents to take me to Hyde Road which they did in 1978. We were hooked from then on and went to every home meeting and all the localish away ones like Halifax, Sheffield and the challenges at Ellesmere Port.
Tell us about your favourite meeting of all time
There have been plenty of good ones but one I always remember was a Belle Vue v Coventry match from Hyde Road from 1979 maybe...Ole Olsen was always fantastic around Hyde Road and his battles with Peter Collins and Chris Morton were something to look forward to weeks in advance. Anyway this was its usual tight match and I still remember Belle Vue reserve Rob Maxfield popping out of the start with Collins and having Olsen up his exhaust pipe for 4 laps but shutting him out on every bend and beating him..the crowd went wild and I think Maxfield said it was his best moment in speedway..it still sticks in my mind today.
Tell us about your favourite rider of all time
Peter Collins and Chris Morton from my introduction to Belle Vue were instant heroes and were fantastic around Hyde Road but my all time favourite rider is Erik Gundersen. I loved Erik's bikes and leathers and he really looked the business and his style around Hyde Road was second to none, riding so wide he was almost in the stands ! He was no doubt the fastest I have seen around the old Belle vue track and he always seemed to have a lot of time for the fans as well.
Tell us about your favourite track/stadium
Obviously it was the old Hyde Road. I think I was lucky that that was the track that gave me my intorduction to speedway as having seen many away tracks over the years that followed I don't think that many other tracks would have grabbbed my initial interest like Hyde Road did. It was terrible when it closed and speedway at Belle Vue has never really recovered in my opinion.
What are the best things about speedway?
The smell and the noise are fantastic and I think the TV coverage these days is fantastic as well for the sport as it re ignited my interest after I lost interest for a good few years until watching it on the TV again.
What are the worst things about speedway?
Badly prepared tracks and the overly complicated rule book. I also don't like the double points tactical as it seems a bit unfair though it probably helps make meetings closer.
What one thing would you do to improve speedway?
Simplify the rule book !
Tell us about a rider you wish you'd seen
Soren Sjosten...I hear all the stories from the old Belle Vue fans about him and also Chris Morton saying he was his hero so I would have loved to see him in his prime.
Take part in this feature
---

Mark Halliwell:

"Just reading this bio (Andrew Mollitor 2010) , pretty certain I am the school friend who introduced him to the Aces. Wonder if he still goes to the Aces? "
Andrew Mollitor:

"Mark Halliwell..only just seen your comment !...you were indeed that person who introduced me to speedway so thanks for that...I hadn't been to any meetings since 1993 but have attended some Belle Vue meetings again this year with my youngest son and been pretty impressed..my sister married ex rider Glenn Doyle and she and my parents have lived in Australia for over 20 years now, 30 years in her case so you could say your introduction to speedway for us changed our lives !"
Mark Halliwell:

"Hi Andrew just seen your reply. I have been back watching for about 8 years. One of my daughters got me back in to going, we are in the South Stand as it exits turn 2. That's incredible about your sister and parents - such a small world."

[ Use Mobile Version ]

Comment on this Article | Contact Us | Go Back to Main Menu