It's All About You... Andy Button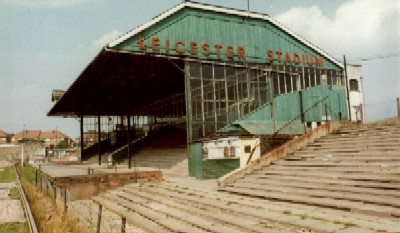 Blackbird Road
Tell us about your introduction to speedway
My first meeting was at Ipswich in 1977, what a side we had, the envy of many tracks. Louis, Sanders, Davey et al.I t wasnt until I read John Berry's book about 5 years ago that I realised how much jealosy there was towards us from the other promoters or was it just John's way that got their backs up!! Either way his ideas for the sport should have been followed (no guests and no rider control).
Tell us about your favourite meeting of all time
Too many to mention, the world final at Wembley 1981 Penhall at his peak, any victory over peas and sweetcorn (Kings Lynn) especially the one in 1980 where Kevin Jolly fell in the last race at Saddlebow with Lynn on a 5 -1 and winning the meeting, the race was stopped and in the re run Tiger Louis hopped out of the start and got the 3-3 we needed for a win. The home supporters were not happy!! Getting one over on the man who tried to kill the Witches, Chris Shears after he had moved on to Oxford with a victory at Sandy Lane.
Tell us about your favourite rider of all time
Dennis Sigalos without a doubt. It took a big man to replace the Tiger at Foxhall. He was the best world champ we never had, a good communicator who brought out the best in people like Mike Lanham and Nigel Flatman. I remember listening to a radio phone in on Radio Orwell in Ipswich after JB had announced that he was releasing Louis and Sanders, replacing them with Siggy and an under achieving John Cook. There were people ringing up saying they would never go to Foxhall again but I have to say the crowds didn't look like they went down and the atmosphere amongst the fans and riders was a lot better.
Tell us about your favourite track/stadium
As well as Foxhall,I had a lot of time for Blackbird Road Leicester having travelled to a lot of meetings with Colin Cook after he had moved to the Lions from Ipswich in 1979. The atmosphere at meetings after Martin Rogers took over in 1980 was fantastic, the track was well maintained by Colin Meredith and we saw some great racing from the likes of John Titman, Les Collins etc etc. What a great loss to the sport when it was bulldozed for yet another housing estate.
What are the best things about speedway?
The smell, the best drug ever invented.
What are the worst things about speedway?
The continual de-strengthing of teams due to averages and promoters attitude to other promoters. The league has just become a vehicle for the over blown Grand Prix series with riders opting to not ride in the league. We should go back to the world championship the way it used to be, open to all to qualify and a one off world final.
What one thing would you do to improve speedway?
Appoint an independant body to oversee the sport, not allow promoters to carry out their petty squabbles at the winter conference. As I said we need a world championship like it used to be and the league should revert back to the formula we had in 1998, 6 man teams and every race competitive.
Tell us about a rider you wish you'd seen
John Louis at his peak in the early to mid 1970s. His star was on the wane by the time I started to go and everybody I spoke to said he was similar to Dennis Sigalos, being another greatest world champ we never had.
What does the future hold for speedway?
Until the Grand Prix stranglehold is broken the sport will continue to struggle, riders opting out. Make the team average a decent amount AND stick to it. The sport still has a lot to offer but it needs to be run correctly by people without vested interests.
Take part in this feature
This article was first published on 20th May 2010
[ Use Mobile Version ]
Comment on this Article | Contact Us | Go Back to Main Menu