It's All About You: Barry Preston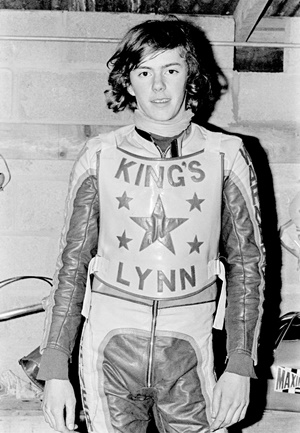 Michael Lee
(Pic by Keith Lawson)
Tell us about your introduction to speedway
9 years old 1976, my Dad took me to Scunthorpe's Quibell Park
Tell us about your favourite meeting of all time
The first meeting we held at the new scunthorpe stadium in 2005, seeing the crowd that turned up made it worthwhile putting in the hours helping the promoters get the stadium up and running.
Tell us about your favourite rider of all time
I am biased saying Rob and Tai Woffinden (relations) so I have two others, the king Kenny Carter and Mike Lee (I was a big fan of Mike so much that I only got his autograph in 2005 at King's Lynn.
Tell us about your favourite track/stadium
Biased again it has to be the EWR at Scunthorpe as a present track. Past track the Shay in Halifax.
What are the best things about speedway?
The atmosphere and comradery between fans, I would not take my kids to a football match but they have been all over for the speedway.
What are the worst things about speedway?
The lack of support for young British riders.
What one thing would you do to improve speedway?
Start tapes, get back to the old 13 heat meetings with a proper 2nd half. More media attention like in the 70's and 80's, we have greatly improved on media and getting information out there but speedway seems to be lacking.
Tell us about a rider you wish you'd seen
Peter Craven, from what I have been told about him I would have liked to have seen him ride.
What does the future hold for speedway?
Hopefully to carry on for a lot more years, it will be bad if the sport is lost into the annals of history.
Take part in this feature
This article was first published on 10th July 2019
[ Use Mobile Version ]
Comment on this Article | Contact Us | Go Back to Main Menu