It's All About You....Bob Griffin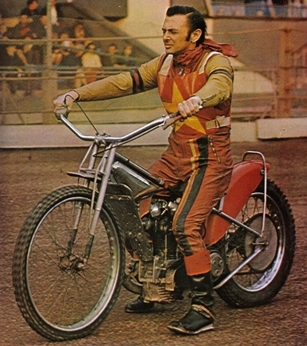 Ronnie Moore
Tell us about your introduction to speedway
In the 60s myself and a bunch of mates would go to road race meetings on our Brit Iron bikes. Bored one Thursday ( no road racing in the week) we went to Plough lane to watch the Wimbledon Dons, I was hooked.
Tell us about your favourite meeting of all time
Going to Wroclaw stadium in 1970 with the Wimbledon Supporters Club to see Ivan Mauger win his 2nd world championship with a 15 point maximum. I had never seen anything like it, loud, hostile and very fast. And the Wimbledon rider Trevor Hedge riding on a spare Mauger bike to stop a Polish reserve adding to Mauger's problems. It really was something else.
Tell us about your favourite rider of all time
This is so difficult, so many riders however....Ronnie Moore is my favourite of all time. I only saw Mirac in the last years of his career but what a rider. Always a pro and always a team man but also always an exciting rider to watch especially when he missed the tapes. seeing him show a young Tommy Jansson how to ride Wimbledon and then watching Tommy deliver 10 points was typical of the man.
Tell us about your favourite track/stadium
It has to be the Plough Lane track before they shortened it to accomodate the stock cars, a good track ruined. I remember great racing, the smell of castrol R and methanol, greasy chips, hamburgers and having a drink in the bar after the meeting when riders our heroes would join the crowd. Thursday night was a ritual for many years but we also enjoyed Hackney on a Friday, Wembley and West Ham. Four tracks in London heady days. We often went to 2/3 meetings a week always on the bikes.
What are the best things about speedway?
Fast, furious and friendly must sum up speedway. A true family sport where heroes were the order of the day. It is and always will be unique it has been a love affair for 40 years and now I live in Cornwall with no near track Sky enables me to enjoy my racing, if only we had smells on the TV.
What are the worst things about speedway?
The way some promoters abuse their positions on the BSPA to their advantage and the way we fail to put time and money into our young riders. The state of our national squad is to say the least dissapointing.
What one thing would you do to improve speedway?
This is purely selfish but a speedway track in Cornwall would be the cherry on top.
Tell us about a rider you wish you'd seen
Ove Fundin in his prime.
What does the future hold for speedway?
If we can keep costs down, stop the constant rule changes by the BSPA and reward riders well for the entertainment they give us the future is bright.
What is your favourite speedway moment?
When Wimbledon closed I moved my support to Reading...seeing them win the league and cup double in 1990 was amazing.Per Jonsson became world champion but was only 3rd in the averages now that's a strong team, 1st was Jem Doncaster ( Donkey) and 2nd was Todd Wiltshire ( hot Toddy) he was also 3rd in that years world final. What a year we really did not want it to end.
Take part in this feature
This article was first published on 5th August 2012
---

Ivan Blacka:

"This is my favorite question. "What are the worst things about speedway?" And the answer about the promoters and the BSPA."

[ Use Mobile Version ]

Comment on this Article | Contact Us | Go Back to Main Menu