It's All About You... Carl Oakes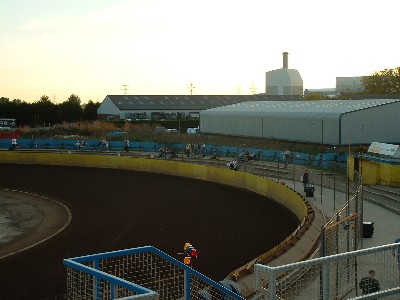 Carl's Favourite Track
Tell us about your introduction to speedway
Went along to the East of England showground for the Agricultural show and stayed behind to watch speedway. Still going after 39 years! Used to go to grass track meetings before that but never got into speedway till 1970.
Tell us about your favourite meeting of all time
Difficult one this. So many good meetings. The one that gave me the greatest pleasure was a Southern Track riders final at Mildenhall where my son (Gavin Pell) had a great meeting and finished runer up to Steve Target after a run off. Also on the list would be all the meetings between Boston & Peterborough.
Tell us about your favourite rider of all time
No out and out favourite but Peter Collins was always one I looked for with his great determination. Shame he couldn't gate! Ivan Mauger for his complete dedication to the sport and Hans Nielsen for his professionalism.
Tell us about your favourite track/stadium
Hyde Road had a great racing track and atmosphere. Always a pleasure to go there. Peterborough track was fast (and still is) and the space in the stadium and surround is huge. But for a complete track and stadium I would nominate Kings Lynn.
What are the best things about speedway?
The smell, the noise, dedication and bravery of the riders, and of course the frendliness of supporters. Nowhere in any other sport have I encountered the friendship and dedication of true speedway supporters. Every meeting, no matter which side of the fence you are on, gets the adrenalin pumping and no matter how one sided a meeting may be there is still that satisfaction after a meeting that it has been a great day out.
What are the worst things about speedway?
Rained off meetings, Accidents, the food and facilities at some venues and the promoters who keep messing about with the rules. Lets get back to 13 heats, tac subs, second halves and most of all 16 teams in each league and meet each other just the once home and away per season!
What one thing would you do to improve speedway?
As above. Also in this day of modern technology isn't it about time to get tracks covered to stop the rained off meetings? Maybe we should also look into a different track surface and a different surface that doesn't cut up at the starting gate. As for the sitting still at the gate, well I think its a bit silly and maybe the best idea is to have an electronic beam approx 12" behind the bikes and switch it on at the same time as the green light and if a rider pulls back he would break the beam and be excluded (sorry disqualified!)
Tell us about a rider you wish you'd seen
Peter Craven. Have read so much about him and he must have been as close as you could get to a complete genius.
What does the future hold for speedway?
I have to say that a 9 team Elite league is not working. Maybe the GP riders should ride purely GPs and open meetings and let Sky pay them the appropriate fees. Leave the Elite league to the dedicated riders and have minimum of 12 teams. Whilst Sky Sports has given a wider view of the sport I am not sure it has all been for the good of the sport in general. Just a shame most of the GB clubs don't own the stadiums they use as then we could have one regular race night. However I still prefer the old system of meetings every night of the week. Promoters need to have a serious rethink or GB speedway will be going backwards.
Would you have liked to have been a speedway rider?
Yes
Take part in this feature
[ Use Mobile Version ]
Comment on this Article | Contact Us | Go Back to Main Menu