It's All About You... Dean Hall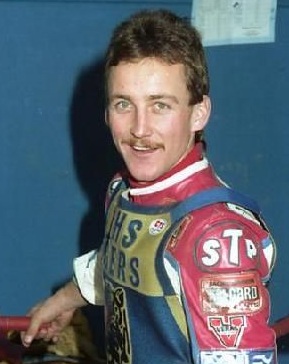 Shawn Moran
Tell us about your introduction to speedway
My first meeting was at the now legendary Hyde Road, 1982 ko cup final against Cradley (we lost on agg!! ideally setting me up for a lifetime of pain and dissapointment from my beloved Aces!!). Remember the week before, asking my dad what was this strange noise I could hear in our back garden one Saturday evening, the rest as they say is history!!!!
Tell us about your favourite meeting of all time
Oh that's a tricky one, two meetings stand out for me, firstly the 1989 BLRC won by Shawn Moran, remember screaming for Shooey to hang on after passing Hans Main Dane Nielsen (and in turn falling of the wall on the 3rd bend!! No health and safety cobblers then! !!). Secondly would have to be the 1993 title decider at Wolves (as of yet the only time ive seen the Aces crowned champions!!). Bobby Ott will forever be an aces legend for his heroics in that final heat!!!
Tell us about your favourite rider of all time
Shawn Moran was always my hero (even when he rode for the Tigers). From the first time I watched him at Sheffield in the 1983 test series against England. I suspect it was his bright checkered STP leathers that initially caught my attention as an 8 year old kid. I still cannot watch the replay of that 1990 world final run off!!! (only other thing that comes close is my other childhood nightmare, that dreaded semi final defeat to Germany in world cup 90!!!). Shooey was an fantastic rider, capable on his day of beating anyone anywhere, who in my view should have made it to more than 3 world finals. Still in my eyes a total LEGEND!!!
Tell us about your favourite track/stadium
Being that Hyde Road was my local track, I genuinely (rather naively) believed that all speedway tracks were like this, DOH!!! I feel very fortunate and lucky that i got to see racing there, albeit only for 5/6 yrs. Other favourite tracks are Sheffield which is always fast and equally fairre, and the Shay at Halifax with its crazy banking corners!!!
What are the best things about speedway?
Probably the fans, no problems with hooligans and rival supporters unlike my other love football (although it's much better than 10yrs or so ago). Being able to just turn up and pay on the gate is another benefit (try doing that at Old Trafford!!).
What are the worst things about speedway?
Oh where do I start, the stadia is pretty shoddy at most tracks (yes Kirky lane being probably the finest example of Shoddyness!!!). The stupid over complicated rules are a total joke, and do harm speedway in terms of getting new people into the sport. The BSPA also don't help themselves at times, with too many promoters putting their own hidden agendas in front of speedway as a whole. But apart from that everything's rosey!!!
What one thing would you do to improve speedway?
To improve our national chances, I would make all teams track at least two British under 21 riders. It's far too hard for young British lads to get a start in the sport, in turn not enough young riders are coming through at the top end. That sadly is why we are miles behind Denmark and Poland on the world stage. Oh and I would scrap the GPs and go back to the one off world final (well I can dream can't I?).
Tell us about a rider you wish you'd seen
That's easy, can only be one, the original PC - Peter Craven. When I look at pictures of him he just looks so spectacular, plus if Peter Collins says he was great, well that's good enough for me!!!
What does the future hold for speedway?
Speedway in terms of the GP series is in a good stable condition. However in terms of our national British speedway, well it's not good is it, gates are woefully low, many top riders turning their back on the Elite League. My one concern is that our leagues will be virtually become amateur standard, while all the top professionals ride in europe and the GP series.
Take part in this feature
This article was first published on 24th June 2010
[ Use Mobile Version ]
Comment on this Article | Contact Us | Go Back to Main Menu