It's All About You... Denise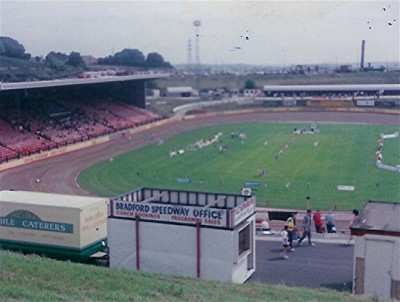 Odsal
Tell us about your introduction to speedway
Taken to Odsal in Bradford for my first inhalation of methanol fumes in the early 70's, and occasional visits to The Shay at Halifax and vague recollection of Belle Vue and Zoo...full day trip going there!!.
Tell us about your favourite meeting of all time
Have no particular favourite meet except used to love "The Olympiad" meeting held annually of course at Odsal....best track in the country (biased cause from Bradford originally!) which was run on handicap system. Alan Knapkin regularly came through the field to win from 20yds back...can't see any of the riders these days do that.
Tell us about your favourite rider of all time
My favourite rider was Robin Adlington who rode for Bradford among others...I had quite a crush on him in my teens. Also loved Steve Wilcock and still have an oil painting of him racing on my wall in my study.
Tell us about your favourite track/stadium
Need I say again Odsal...many people agree Odsal was brilliant and special for Speedway ...ah! the atmosphere down by the fence on wednesday nights and going home on the bus with face covered in dirt. (Wondered why I got those funny looks!) and even if you arrived late and hadn't got to your vantage point you could still see the action brilliantly from any part of "the Odsal Bowl"....should never have been lost to the sport by the way!!
What are the best things about speedway?
The smell and roooaaaarrrrrr of those engines, I still get a buzz today after nearly 40yrs. Can't beat a good race with plenty of passes. Family atmosphere and general Good Night out.
What are the worst things about speedway?
Tracks which don't facilitate racing!! Don't know whether it is riders wanting an easy ride or engines/riders not able to cope with track with shale on I can never figure it out. It will kill the sport eventually as no-one will go to see a procession not a race. Constant rule changes which are hard for any newbies to follow. No promotion of the sport...adverts in Speedway Publications are only informing people who already know!! Ads in newspaper for general purchase would attract newbies.
What one thing would you do to improve speedway?
See above....make tracks better for racing. Get rid of laydown engines or whatever else it takes to improve racing. In the 70's friends of mine used to say the old story "1st out the gate wins" and we HAD passing, so would hate to hear what they'd say these days.
Tell us about a rider you wish you'd seen
Would have loved to see Peter Craven race.
What does the future hold for speedway?
I think the sport and others have high and low points but Speedway seems to be having constant lows, attendances etc. Must improve the product. Bad stadia can be tolerated IF the racing makes up for it!
Take part in this feature
---

Ian Harwood:

"Sorry to take issue with someone else's recollections, but when was the time that passing suddenly stopped in speedway? When was the era when we had all this overtaking? Was it the 40s, or the 60s, or the 80s? I remember some dreadful meetings on either over prepared tracks or too wet tracks at Belle Vue in the 1970s where nobody passed anybody. Engines might be upright or laydown, and leathers might have become kevlars, but if there is one constant in speedway it's that speedway fans will tell you tracks had more dirt on them and there was more passing in "the old days". I know, I've been hearing it for forty years."

[ Use Mobile Version ]

Comment on this Article | Contact Us | Go Back to Main Menu