It's All About You... Derek Watson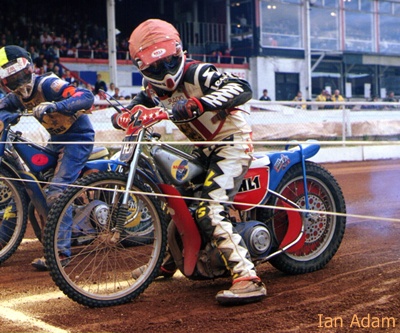 'Super' Stevie Lawson
Tell us about your introduction to speedway
My parents took my as a small child although they can't remember whether it was 1972 at Hampden (I was 2) or the following year at Coatbridge, where we stayed. I always go with 1973 as it seems more likely and probably easier to take a 3 year old!!!
Tell us about your favourite meeting of all time
Newcastle v Glasgow KOC SF 1991 (2nd leg). This was unique in itself as the first leg had been ridden earlier that day. For sheer excitement and a meeting that went one way then another you wont beat this. Two stand out moments, Glasgow reserve Brian Nixon beating Diamonds number one Dave Bargh in heat 4 and Steve Lawson winning heat 15 to send Tigers through to the their first ever KOC Final. Brian Nixon's face was a picture when the fans started chanting his name in the bar afterwards!!!
Tell us about your favourite rider of all time
When I first started going it was Brian Collins but when he left at the end of 1977 he was replaced by some guy called Lawson!!! Unfortunately Steve's first match was a horrendous 60-17 gubbing at Edinburgh, followed the next night by the exact same score at Berwick, I think he scored about 6 in total. It wasn't long though before he became a true number one and things like winning the Silver Helmet in 1981 and again in 1982, maximums every week, top of the NL averages, made him a boyhood hero. He kept Glasgow going through the bad times and they wouldn't be here if it wasn't for him in the 1980s riding as a one man team at times.
Tell us about your favourite track/stadium
Like many others it has to be Hyde Rd. The atmosphere and the racing was second to none. BLRC nights(before they were moved to Sundays) were the highlight of the season. Racing under the lights there was always spectacular and you were guaranteed passing, especially when Collins and Morton were around.
What are the best things about speedway?
Friendly fans and there is nothing to beat a close exciting match, decided on the last bend of the last race, for an adrenaline burst!!!
What are the worst things about speedway?
Silly ever changing rules and laziness of promoters (eg lets have a test match (rare in itself) but use the same race format we use every other week). Also the lack of thought when it comes to promotion of the sport nationally (some are better locally than others).
What one thing would you do to improve speedway?
Appoint a Czar with no connection to the sport to come up with radical but sensible ideas to change the sport but not by tinkering with the meeting rules (ie tactical jokers,etc, although I would like the old T/S rule back!!) as happens now. Also go back to one off World Finals. Everyone remembers the 1981 and 1982 Finals but I bet no one could tell you what happened in the first Grand Prix this season!!!
Tell us about a rider you wish you'd seen
Tommy Miller. He was an overnight sensation in Glasgow in 1950 and rose to be no1 in one season, that doesn't happen too often. He broke track records, scored 18 in his Scotland debut and I would loved to have seen his races against Jack Young and Ken Le Breton.
What does the future hold for speedway?
Unfortunately more of the same rubbish decision making with even sillier rules or getting rid of the good ones because it doesn't suit one or two teams.
Take part in this feature
This article was first published on 17th December 2009
[ Use Mobile Version ]
Comment on this Article | Contact Us | Go Back to Main Menu