It's All About You....Fred Pallett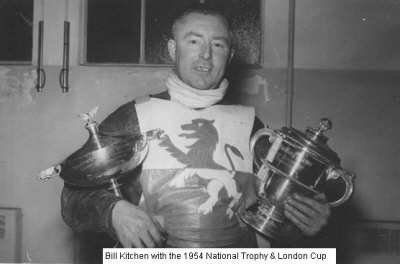 Bill Kitchen
Tell us about your introduction to speedway
My initial introduction to speedway was in about 1945, when pupils of my school were taken to the Empire Stadium, Wembley, for a day of entertainment to celebrate the end of World War Two. In 1946, my first real speedway meeting was at Wembley for a round of the British Riders Championship (this replaced the World Championship for the immediate post war years 1945 to 1947). It was so long ago that I cannot now recall the meeting in detail.
Tell us about your favourite rider of all time
Without doubt, my favourite rider of all time was the Wembley captain Bill Kitchen. Although he rarely won the big championships, he impressed me by his team riding skills, often nursing his second string companion into a point scoring place. I regarded him as something of a "father figure"" and tried to copy his rstyle when I was riding for the Welling Wings cycle speedway team in the early 1950s.
Tell us about your favourite track/stadium
Being an avid Wembley Lions supporter, I was obviously biased in selecting the twin towers Empire Stadium as my favourite stadium, particularly as I never missed a home meeting from 1949 to mid-1952, when I was conscripted for my National Service. However, I always considered that Wimbledon track produced the best and most exciting racing.
What are the best things about speedway?
As far as Wembley was concerned, the most exciting things were the military precision with which the track staff marched out, to take up their operational positions, all the while the public address system playing the Wembley signature music, the military march "The Entry of the Gladiators". Then folllowed the appearance of the four riders to participate in the first race, their engines purring as they made their way from the pits to the starting gate area. Not many seconds later, the stadium lights were extinguished and the riders' engines rose in a crescendo, as the starting tapes rose and the race to the first bend began.
What one thing would you do to improve speedway?
The one thing I would like to see to improve speedway would be a return to the format that prevailed in the late 1940s, similar to that recently expounded by John Hyam in another discussion thread.
Take part in this feature
This article was first published on 31st December 2017
[ Use Mobile Version ]
Comment on this Article | Contact Us | Go Back to Main Menu