It's All About You... Fred Taylor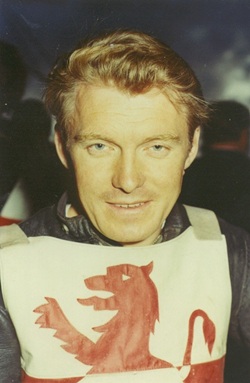 Sverre Harfeldt
Tell us about your introduction to speedway
In the late 50's at Rye House, remembering many of the names of the day Terry Stone, Stan Stevens, Eddie Reeves, Sandy McGillivray, Maury McDermott, Roy Trigg, especially Roy a workmate of my uncle Ray Fisher was his spanners in those years, I was lucky enough to follow Roy's career from Hackney to Wimbledon and Cradley Heath. As a 12/13 year old got a good look at how a speedway rider spends his off track time, Howdy Byford lived in Wennington Essex near to my aunties where I stayed for my school holidays, often used to walk round to watch Howdy preparing or cleaning down his bike. Maybe not a world beater, but certainly very professional in his approach and very happy to spend time chatting, a very interesting guy. When West Ham reopened in the 60's watching the best riders in the world was so exciting. Since then watched speedway the length and breadth of Britain.
Tell us about your favourite meeting of all time
My first ever visit to Wembley for the GB v Russia Test Match, the hype, the build up and the night passed me by, It was such an exciting time. Watching the Russian greats Plechanov and Samoradov trying to compete with Britain's best brings back so many memories despite it being an easy victory for GB. The one thing that shrouded all the enjoyment was the crash and subsequent injuries suffered by Vitaly Shilo, who was confined to a wheelchair after this accident.
Tell us about your favourite rider of all time
Too many to really have a favourite. As a Hammer in my formative years Ken McKinlay was a hero, Bjorn Knuttson a speed freak on the wide open spaces of Custom House, later Sverre Harfeldt was a fans favourite, for me Brian Leonard one of the old school white line riders was also good to watch, the emerging Simmons and Hunter continued to excite, whilst the old boys Stan Stevens, Ted Ede and Vic Hagon did their bit to keep the fans screaming.
Then over at the Wick Gerald Jackson was a rider who was always immaculate, the emerging Pratt and Trigg always brought me joy I remember with real sadness the two tragedies that took place Tad Teodorowicz then a Swindon Robin, got caught up in the safety fence, before being thrown over his handle bars into one of the metal posts holding the fencing in place, he sadly dies as a result of his injuries, Tad was a real crowd pleaser. Then there was Dave Wills a rookie Aussie who had paid his own fare over to England, in the infancy of his career, he was thrust into the team, when he fell and riders following hit the falling Wills with there bikes. Sadly Dave died as a result of his injuries. Thank goodness for AIR FENCES.
As I say the sport has brought me so much enjoyment especially through the early years. Over the years I have moved with my job to Nottingham where I was a Long Eaton regular and Scotland where Berwick at both Berrington Lough and Shielfield Park was my appetiser. Still take in the odd Berwick meeting now. Modern day I have less time to devote, but Arena Essex is my local club, just a couple of miles away.I have watched them on and off since the start (as work takes me away)
Tell us about your favourite track/stadium
For me Hackney in the Len Silver era, everything was made for enjoyment, the riders were fun, Len was fun, the atmosphere was good, the team had its succeses and the stadium was always in good nick.
What are the best things about speedway?
The smell of burnt methanol. The racing especially the first bend. The friendliness of the crowds, the atmosphere, having a pint with the opposing fans and being able to get close and chat to most riders.
What are the worst things about speedway?
Rainy days and rained off meetings, if only the sport could afford or devise a way to stop track waterlogging, at times a bit of rain makes for some crowd excitement, so long as riders are not injured and the racing is not a lottery.
What one thing would you do to improve speedway?
Have a Speedway No 1 like other sports (Darts & Snooker, Barry Hearn) to bring the sport right up to the modern day, ok we have that in the GP's, but not in bread and butter speedway. Someone who will bring the sport to the nation and not just preaching to the converted. Evolve the current format and bring other formulas into the sport to bring back the crowds, I remember reading that at the Custom House track the home of West Ham they had a massive crowd for a London derby, reputed to be over 100,000. Quite how this will be done not sure, perhaps a steering committee should be formed NOW with a cross section of the sports hiararchy, riders and fans to expand what is a fantastic spectator sport. I don't ever hear of the sport, clubs or riders tapping into the various funding opportunities, can we get Sports match, Lottery Funding and the like (Community Grants, landfill taxes of which a % are given back to community groups / sports)(my cricket club does and is rewarded handsomely for its efforts, we need to drive the sport, these things don't just drop through the letterbox.
Tell us about a rider you wish you'd seen
Tommy Price - He was the West Ham manager when the track reopened, he started his career in 1937 for Wembley Lions, before going on to make 4 World Championship appearances a winning one in 1949, he represented England but never toured abroad. RIP Tommy (1911 - 1998).
What does the future hold for speedway?
In its current state it will get by for years, with clubs coming and going and eventually stagnate, what we need is a fresh approach in the bread and butter area of the sport which would give all clubs a stability and see a rebirth of the sport.
Take part in this feature
This article was first published on 29th April 2010
[ Use Mobile Version ]
Comment on this Article | Contact Us | Go Back to Main Menu