It's All About You... Gerard Lynch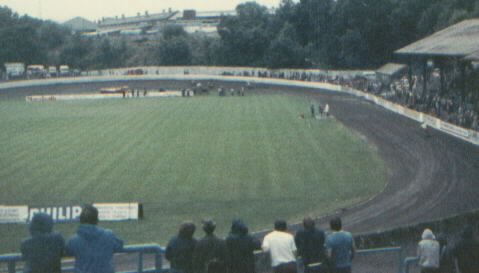 The Shay
Tell us about your introduction to speedway
Used to live in a village near Halifax and on a clear Saturday evening before bedtime I could hear the noise of the bikes from the Shay so asked my granadad what it was and he told me about speedway as he used to go to Halifax and Bradford when younger. One Friday night on the local news they were talking about a local speedway rider who was making his first world final appearance the following week so asked if I could go and watch as looked different to anything I'd seen before. So my first match was Halifax v Hull and the rider the news talked about was Kenny Carter who also on that night of my first meeting had a golden helmet match race v Gordon Kennett.
Tell us about your favourite meeting of all time
Two spring to mind:- 1985 British Final - KC's win in the horrendous conditions at Brandon, never forget that or indeed the TV commentary from Dave Lanning when KC battled past Peter and Les Collins to win the title "the kid with the gamy leg is carving them to pieces!" - classic. 1992 World Final - Havvy's win in Wroclaw to become first English World Champion in over 10 years, just wish I had it on tape or DVD to re-watch it.
Tell us about your favourite rider of all time
I have two really, Kenny Carter and Gary Havelock. Always liked KC he was the reason I first went to watch speedway and straight away he was my favourite rider he could win for the front or come through from the back, went to many a track with my mum and dad to support KC and the Dukes. Havvy sort of took over from KC in the 1986 season (think everyone who knows about speedway will know why), loved his all action style leaning over the bike in the corners like some of the americans, not the greatest gater when he first stepped into the Dukes team at Bradford but his blasts around turns 3 and 4 became legend winning races in the last 10 meters. Still follow him now when I have the time to get to see him ride for Redcar at home, or away at Scunthorpe or Sheffield.
Tell us about your favourite track/stadium
Always liked the bigger tracks, The Shay, Odsal, Hyde Road, Owlerton, Saddlebow Road and Brandon. Never really took to the little tracks for some reason, think it was more than likely when I went to watch the Dukes at a small track we used to get a walloping!
What are the best things about speedway?
The smell, cant beat that at your first match of the season. Family friendly, OK there are the odd verbals but since I went in 1981 I have never seen one bit of trouble, looking forward to taking my 4 year old next season when she understands what the hell is going on.
What are the worst things about speedway?
Badly prepared tracks that result in first from the gate racing and also the fact the nobody has managed to invest something to cover tracks to give more chances of meetings being on especially if you have travelled a long way and the meeting gets called off at the last minute.
What one thing would you do to improve speedway?
Make the younger kids who come through concentrate on the skills of riding a bike rather than on having the flashiest kevlars/bike fairings etc.
Tell us about a rider you wish you'd seen
Suppose Mike Lee, he was going through his 'missing meeting' phase when I was a kid so think I only really saw him maybe once.
What does the future hold for speedway?
League - Unless the local councils relax the rules a a bit more around new sites for speedway then the future for league racing isn't great as there always seems to be positive news about new tracks (we have had it here in Halifax, Greetland, Brighouse but all got knocked back).
Riders - The number of serious injuries seems to have come down with the positive introduction of the air fence, more safety measures still need to be in place as the bikes are getting faster season by season.
Take part in this feature
This article was first published on 29th July 2010
[ Use Mobile Version ]
Comment on this Article | Contact Us | Go Back to Main Menu