It's All About You: Gerry Bates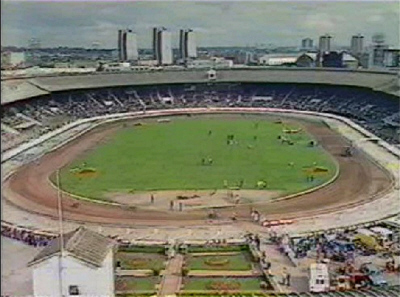 White City
Tell us about your introduction to speedway
It was the late 60's, my Dad lived by the Hackney track and took me there as a youngster, also used to take me to London White City, when back home in Birmingham I went to Birmingham Speedway
Tell us about your favourite meeting of all time
It has to be the Brummies v Eastbourne KOC final second leg, when Brummies came back to win the KOC and complete the double.
Tell us about your favourite rider of all time
Without a doubt Tony Rickardsson, to me the master of all, he was a genius.
Tell us about your favourite track/stadium
London White City, for sentimental reasons but the old stadium stood out for me for the great racing it produced and the atmosphere, also liked Bradford Odsal, but White City edges it for me, and I still think it puts a few of the modern stadia and tracks to shame.
What are the best things about speedway?
Just the friendliness between fans, met some fantastic people following speedway.
What are the worst things about speedway?
Injuries, the stupid rules that the BSPA keep bringing out and I hate the TR, always said if you're not good enough why should you be given a chance to possibly steal the points on 2 double points heats?
What one thing would you do to improve speedway?
Covered stadiums to stop rain offs.
Tell us about a rider you wish you'd seen.
Alan Hunt a legend at Birmingham, and everyone talks about him.
What does the future hold for speedway?
Not really sure, the riders need to get together with the BSPA and make things happen, speedway is dying in the UK because of the BSPA.
Take part in this feature
This article was first published on 9th March 2014
[ Use Mobile Version ]
Comment on this Article | Contact Us | Go Back to Main Menu