It's All About You....James Jessop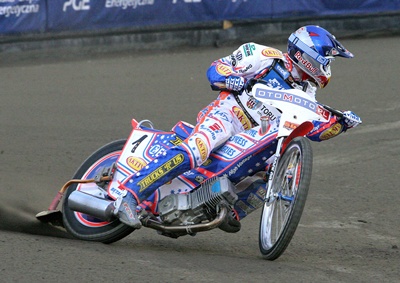 Jason Crump
(by Ian Adam)
Tell us about your introduction to speedway
I first saw Speedway at the Abbey Stadium in 2004 when my Dad took to me, as he was a Halifax fan back when he was 'young' if there was such a time. I was 4 years at the time and loved it immediately. I had seen glimpses of it on the TV before which is why I was taken to Swindon. It was against the Oxford Silver Machine. As my Dad was currently a Swindon fan, I naturally cheered Oxford and took a 'disliking' to Leigh Adams just to be different to Dad.
Tell us about your favourite meeting of all time
My favourite meeting is a tough one. My first Cardiff in 2010 was a good one but I'm going to choose Peterborough v Belle Vue 2013 'A' fixture which finished 44-46. As a Belle Vue fan and with us now living in Peterborough my Dad being a Peterborough fan it was a glorious last heat decider with Kauko Nieminen going off 15m to go past Linus Sundstrom for the 4-2 with Zagar clear in front.
Tell us about your favourite rider of all time
Can I say myself? No? Ok it's Jason Crump. The first fixture on TV I saw was a Belle Vue meeting at home and Jason Crump won heat 13 and celebrated with a doughnut which made 4 year old me love him. I was also fascinated by the 'bump' in his helmet which made him standout.
Tell us about your favourite track/stadium
Again this is an odd one because I have 2, one as a spectator and one as a rider. Belle Vue's stadium, although I may be biased, is beyond any in Britian and I still need to go to see a complete meeting as the only time I've been able to go is the opening fixture which was unfortunate. I will hopefully get to ride it in August with Milton Keynes if I'm selected. To ride it's Leicester. I've heard negative things said about this track but it's a dream to ride. Smooth and technical, as a development league rider it's perfect. I prefer it to Peterborough! I also saw a League fixture there that was incredible in 2016 against Belle Vue. Not a bad track at all.
What are the best things about speedway?
The racing! It's not a tough one. The actual racing and competitiveness itself isn't the issue here in Britain. Our tracks create racing and the technical styles are so different that it really forces you to learn to ride the bike.
What are the worst things about speedway?
Unfortunately in, Britain at least, the presentation and look of the leagues. I think this is a money issue but little things could help. In Poland, being in the top flight means something which in GB it doesn't, so therefore isn't really a 'topflight'. All teams should be encouraged to have team Kevlars and bike covers. It's a TEAM SPORT. Look like a team. I know people like the race bibs for nostalgia, but that's in the past. It's like a football team playing with their team name stuck to a regular shirt. I think just looking professional is a good start and give teams incentives. If I win the lottery I will buy the BSPA and inject the cash so teams can renovate stadiums, look professional and add incentive to be in the top leagues.
What one thing would you do to improve speedway?
As mentioned, just incentive and look professional. Have heat 15 nominations done in a similar way to the GP/SWC final gate selections. Make a big thing of it. Encourage fans to provide an atmosphere with chants. This is what will encourage fans to turn up. A little bit of professional effort. I think doubling up doesn't help, but that would need to be filtered out slowly with perhaps limits like they had a few years ago.
Tell us about a rider you wish you'd seen
Wish I could have watched Tony Rickardsson more. I never saw him ride other than on TV and even then at 5, it's not a clear memory. I think if he was riding now he'd have more of an impact on me.
What does the future hold for speedway?
I don't think it's dying as many like to yell about but it's not exactly striving. Maybe an independent board should govern the leagues, as promoters will naturally look after their club which I know shouldn't happen but you can't blame them. It is a business after all. It needs someone outside looking in. I'd happily run it now for free.
Take part in this feature
This article was first published on 8th July 2018
[ Use Mobile Version ]
Comment on this Article | Contact Us | Go Back to Main Menu