It's All About You: Jim Dodd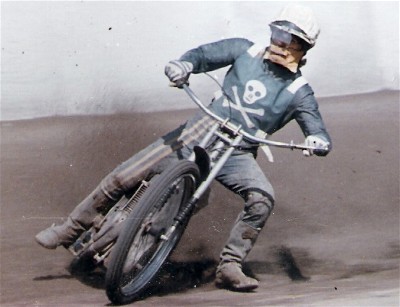 Christer Lofqvist
Tell us about your introduction to speedway
When I was a kid, my mum and dad would go out every Tuesday to the 'speedway'. In 1968 I asked to go with them, reluctantly (I think) they took me. We went to West Ham speedway where I saw my first meeting. West Ham versus Glasgow (I think). It was very wet and I remember that Ken McKinklay lined up in heat 1 wearing a West Ham football shirt over his leathers and white socks rolled over the tops of his boots. Charlie Monk rode in that first heat wearing a red football shirt over his leathers. The riders all got covered in shale and I loved the whole evening. I went every week after that.
Tell us about your favourite meeting of all time
I remember the final of the Daily Mirror sponsored event that saw seven national sides ride against each other on a league basis. The two top teams competed in the final at White City. Remarkably, Norway/Denmark was a combined team. Great Britain reached the final against Sweden, meeting ended 39-39. Run off between world star Anders Michanek and young British reserve rider Peter Collins. Collins beat Michanek to win the tournament. Great stuff.
Tell us about your favourite rider of all time
Being a West Ham fan from 1968, I never really saw a successful team but experienced the loss of riders and staff at Lokeren. One bright light for me was Christer Lofqvist. First race at West Ham, this tiny little bloke missed the start, chased hard all the way going so wide on turn four that he collected part of the fence on his footrest, kept the power on and nicked it on the line. Brilliant. Would have been London Riders Champi on as I rememeber, unbeaten at Hackney but somehow missed a ride and lost the title. Great talent and sadly no longer with us.
Tell us about your favourite track/stadium
I went to West Ham from 1968 until it closed. I loved it there, massive track with loads of room and sitting up in the big stand on the fourth bend was the best view.
What are the best things about speedway?
The noise, the smell, the lot. Stand near the front at a track as the riders roar into the corner and you realise how fast they are going. Frightening.
What are the worst things about speedway?
Slick tracks. This gives the opportunity for those who say, "The first one out of the gates always wins ...there's no overtaking." The weather!!!
What one thing would you do to improve speedway?
Have all British teams ride on same night. Maybe the 'big' stars would come back to Britain.
Tell us about a rider you wish you'd seen
Loads, too many to mention.
What does the future hold for speedway?
Glad Sky Sports is still showing Elite League. Hope this continues. Hope sponsorship for average riders can improve to help keep the sport alive.
What would you like to change if you could?
I'd like to change the habit of wearing Kevlars with club colours. Club colours are great but please keep the race jackets, they to me are part of speedway.
Take part in this feature
This article was first published on 26th May 2013
---

David Pickles:

"Almost correct! The final between Great Britian and Sweden was held at Wembley, not White City."
Paul:

"Does anyone know the reason that Christer Lofqvist quit Hackney in 1975? Also are there any Hackney re-union events planned?"

[ Use Mobile Version ]

Comment on this Article | Contact Us | Go Back to Main Menu