It's All About You: John Harrison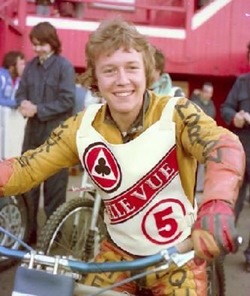 Chris Morton
Tell us about your introduction to speedway
Cannot remember exactly what year but remember Ron Mountford riding for Birmingham and Tommy Price riding for Wembley. so I would think round mid 50s.
Tell us about your favourite meeting of all time
Too many great meetings especially BLRCs at Belle Vue. One meeting that really sticks in my mind was in 1967 at Brandon BV v Coventry. Fundin had been signed for the injured Soren Sjosten. This was the first time I had seen Belle Vue win away 38/39. Fundin and Tommy Roper were superb. Unfortunately due to a rule breach by BV the result was reversed to a Coventry win.
Tell us about your favourite rider of all time
Cannot split PC and Mort - legends through the 70s and 80s. Never knew when they were beat. Superb!!
Tell us about your favourite track/stadium
Hyde Road Belle Vue. Superb racetrack. BLRC nights full house. Great riders great racing.
What are the best things about speedway?
Atmosphere, smell and noise.
What are the worst things about speedway?
Rain off nights, guest riders, abolition of 13 heat meetings and second halves, Cost of admission.
What one thing would you do to improve speedway?
Bring back the above (13 heats). Ban non-British 6 and 7s. Each team to have a junior team to race in the second halves.
Tell us about a rider you wish you'd seen
Tomasz Gollob riding in Britain for more than 1 season.
What does the future hold for speedway?
Bleak unless promoters listen to fans. Also clarify the rule book.
Take part in this feature
This article was first published on 10th November 2013
[ Use Mobile Version ]
Comment on this Article | Contact Us | Go Back to Main Menu