It's All About You: John Hyam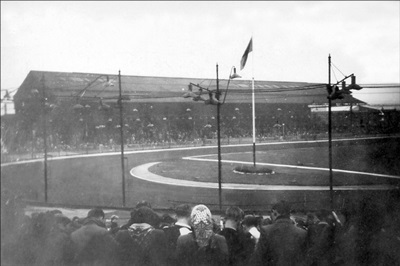 The Frying Pan - New Cross
Tell us about your introduction to speedway
When I was taken to New Cross in 1946. I knew so little about speedway that when I first saw the riders come out of the pits and do their lap of the track before going to the tapes I actually thought they were racing. Great riders I saw in that match included Ron Johnson, Jack Parker, Les Wotton.
Tell us about your favourite meeting of all time
The 1981 world championship at Wembley when Bruce Penall won the title. There was to me, even after 36 seasons of speedway spectating, something magical about the atmosphere and racing that night.
Tell us about your favourite rider of all time
A very hard choice - but from the first days of going to speedway in 1946 onwards Jack Parker was a rider whose career I followed and admired. I was horrified when he nearly lost his life when he crashed Frank 'Satan' Brewer's midget in a practice run at Sydney, Australia. Jack did recover and ride again but was never quite the dominant racer of the immediate post-war years - but I still admired him.
Tell us about your favourite track/stadium
It has to be New Cross, perhaps because that was where I first saw speedway some 70 years ago. The 'frying pan' was a compact little stadium and generated a great atmosphere during races. I was horrified when the sport stopped there for the first time in June 1953. I went to many of the revival meetings between 1959 and 1963 but the atmosphere was never the same - nor were the size of the crowds who attended the meetings!!!
What are the best things about speedway?
Watching the genuine stars of the sport compete against each other. I have seen all-time greats like Jack Parker, Ron Johnson, Vic Duggan, Jack Young and many more of that calibre over the years. I cannot equate the present era top riders with them. The most magical thing to me about a race is the stars on the grid in the seconds before the tapes rise and they all power into that magical first bend jockeying for the lead.
What are the worst things about speedway?
The present governance of the sport. The way teams are constructed - it has long since seriously ceased to be a genuine team/club sport.
What one thing would you do to improve speedway?
Go back to 1946 structure. Have a complete pooling of the riders, ensure that there are no guests, rider replacements. Use the old well proven eight rider teams (six team men and two reserves). Have the old 14 heat leagues matches, then six second -half races. No guests or rider replacement nonsense.
Tell us about a rider you wish you'd seen
Jack Milne (USA). The 1937 world champion, then a New Cross rider.
What does the future hold for speedway?
The way the sport is losing impact year on year sadly I can envisage no long-term racing under the present form in the UK. Eventually I think team racing will cease and meetings will be rather akin to another format as used in the USA.
Take part in this feature
This article was first published on 22nd October 2017
[ Use Mobile Version ]
---

Douglas Robertson:

"I thoroughly agree with your comments John although I wasn't around when the pre. war greats were racing. I did see some of the post war top riders in the 1960s at Glasgow Tigers (White City) especially when Glasgow Tigers were included in the new British League.

Who could forget...Barry Briggs, Ivan Mauger, Nigel Boocock, Tigers own Charlie "maximum" Monk, Edinburgh's George Hunter and many, many others that I'm sure you will all remember.

When I worked in the Pits at White City I always liked and admired Nigel Boocock who was always focused on his Racing but still had time for other Riders. I'm sure many will agree that when Nigel appeared at your track you were in for a hard nights racing. Eric Boocock also for that matter.

We could go on forever mentioning our favourites and the many second string Riders who gave it their all, often on substandard Machinery and having driven the length of the UK in their vans and cars just to ride for their team up in Glasgow or Edinburgh. Hats off to all these heroes too.

On attendances...I don't visit Glasgow Ashfield as often as I would like and last time I was there, a month or so ago, the attendance was quite poor I thought. Glasgow/Scottish weather has always been a problem for the promoters and another thing I could never quite figure out was an almost complete lack of "bikers" attending meetings even as far back as 1964 onwards. I know most of the "bikers" don't really connect with the Speedway Bikes unlike the TT Races, Moto World Series. etc., etc., etc. where they can see Motorcycles "similar" to their own contesting at ultra high speeds.

Speedway, I believe, will always be limited due to the confines of the Track dimensions where Track Records can take years to come down a second or two. I know a lot of fans will say that Speedway Racing can still be enjoyable and competitive and I agree to a point but attendances at meetings dictate if the Promoter can pay the Riders and costs of the meetings.

Another problem I see is this...very fast speeds are available to all drivers and riders nowadays therefore the excitement that the spectators of the past felt may not be there today. Remember the days when we thought that 60 or 70 mph was amazing in a car and bikers trying to do "the ton" was considered crazy!

I'm beginning to sound pessimistic about the future of Speedway in the UK as we know it I but can't see any reason to be optimistic. Perhaps, in the future, people will hop into their Global Transport and "nip over" to Poland etc. to see the Speedway Racing with large crowds in attendance and the much needed ATMOSPHERE that is so desirable in our sport.

Im sure many will agree or disagree with my comments, perhaps that's what's needed to stimulate our vision of the future of Speedway. Just sayin.... "
Fred Taylor:

"John, Agree wholeheartedly with your comments on:

What are the worst things about speedway? The present governance of the sport. The way teams are constructed - it has long since seriously ceased to be a genuine team/club sport.

I am involved in running Sim Speedway (a management simulation) and many of our managers are getting more out of this than visits to the track.

What one thing would you do to improve speedway? Go back to 1946 structure. Have a complete pooling of the riders, ensure that there are no guests, rider replacements. Use the old well proven eight rider teams (six team men and two reserves). Have the old 14 heat leagues matches, then six second -half races. No guests or rider replacement nonsense.

Who needs the BSPA, lets all vote for John, these are the most commonsense thoughts on our current crisis in our beloved sport. Simple philosophy, fans will be able to get to know their riders and clubs could flourish.

What does the future hold for speedway? The way the sport is losing impact year on year sadly I can envisage no long-term racing under the present form in the UK. Eventually I think team racing will cease and meetings will be rather akin to another format as used in the USA.

NO TRUER WORDS SPOKEN."

Comment on this Article | Contact Us | Go Back to Main Menu