It's All About You... John Potter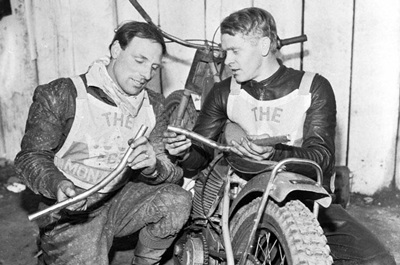 Dougie Templeton and Reidar Eide
Tell us about your introduction to speedway
I was 12, working for David Lamb in his garden buisness my father had died previous year, he suggested to keep me out of bother I go along with him to Old Meadowbank where he helped out. Within seconds I was hooked, the atmosphere, the smell in the pits, friendliness of the riders. My first heroes were Doug Templeton and George Hunter, but really very soon they were all heroes.
Tell us about your favourite meeting of all time
At Coatbridge, Scotland Select v Sweden I was working on the track, Ove Fundin was there alongside my greatest hero Riedar Eide, fantastic racing, best atmosphere and a great family evening.
Tell us about your favourite rider of all time
So many - Reidar, Ove, Arne Pander, Bertola, Brett Saunders, Wayne Brown, Dag Lovass, they all showed true racing grit. Never could understand the fuss about Ivan Mauger (lazy! just did not like cleaning leathers or bike??)
Tell us about your favourite track/stadium
Has to be Old Meadowbank - great fun and plenty of friendly people. I also liked Plough Lane and Hyde Road.
What are the best things about speedway?
Friendly banter among rival fans. In football you could not get opposing fans sitting over a few drinks at a bar discussing the rights and wrongs of the match.
What are the worst things about speedway?
Up here in Scotland it's THE WEATHER!!
What one thing would you do to improve speedway?
Shorter meetings, say 14 heats of league racing, giving some time to promote juniors, it's the only way to give them a break.
Tell us about a rider you wish you'd seen
Has to be Peter Craven and Bjorn Knutson, I was always told they had class.
What does the future hold for speedway?
I think amalgamate the Elite and Premier leagues, at least those clubs who wish to. It must be kept fresh and innovative to new customers and TV.
Grand Prix or World Championship?
Tough question every country deserves a round to see the best riders but I still prefer old style one off, I think???
Take part in this feature
[ Use Mobile Version ]
Comment on this Article | Contact Us | Go Back to Main Menu