It's All About You: Lionel King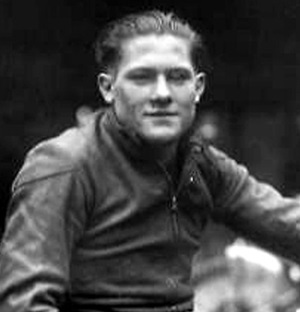 George Newton
Tell us about your introduction to speedway
I was taken to a match at West Ham by my uncle and aunt, dedicated Hammers fans, in early Sept 1939, the last fixture before war was declared. I was just three years old. The noise of the bikes made me cry. I remember there was a little drummer boy in the band, no bigger than myself. My second match was at West Ham in June 1946 v Wembley. I got hooked as a regular spectator in early 1950 at Walthamstow, which was nearer home. But my interest rapidly waned.
Tell us about your favourite meeting of all time
Definitely Aug 1950 Walthamstow Wolves v West Ham. The stadium was packed out for this return leg of a London Cup trophy. Wolves had lost the first leg by a huge margin. Wolves steadily cut down the deficit thanks to wonderful last bend spectacular flourishes by George Newton who won three races. Everything depended on the last heat. West Ham hung on to win by 3 or 4 points. Their star rider on the night was Kid Curtis who was unbeaten in six starts.
Tell us about your favourite rider of all time
Wihout a doubt George Newton, during his only season with the Wolves; almost the last of the leg trailers, who had been a star at New Cross pre-war. A real personality. He always tried to bring off the impossible and give of his best. A real crowd pleaser. Dogged by repeated engine failures in his final seasons.
Tell us about your favourite track/stadium
Walthamstow
What are the best things about speedway?
Excitement and the loyalty of fans;
What are the worst things about speedway?
Riders who have no on-track personality or distinctive style of their own. Whole meetings can be boring if devoid of riders with personal, identifiable style. Shale tracks; I regret the passing of cinder.
What one thing would you do to improve speedway?
Many more practice tracks, provided with light weight, low powered engines,(available for hire) are needed up and down the country to encourage youngsters to try their hand and possibly take up the sport.
Tell us about a rider you wish you'd seen
Vic Huxley, Lionel van Praag, Jack and Cordy Milne.
What does the future hold for speedway?
I think it will continue to be watched by a minority following of fans of both sexes.
Does anyone remember Len Pierrepoint who rode for Birmingham in the early years after WWII? He was (briefly) a relative by marriage of my daughter before his passing at the age of 90 plus, a couple of years ago. Any details of his career would be greatly appreciated.
Take part in this feature
This article was first published on 5th March 2023
[ Use Mobile Version ]
Comment on this Article | Contact Us | Go Back to Main Menu