It's All About You... Matt Jackson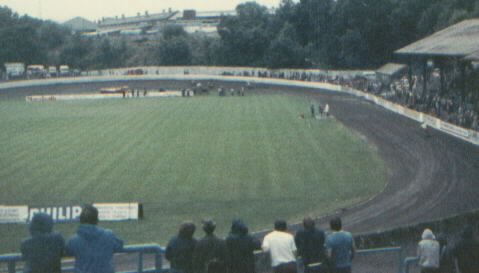 The Shay
Tell us about your introduction to speedway
Sheffield, 1974. I was a youngster of just five years old and I have still got the programme from that first meeting against Hull. As soon as Bob Valentine and Bob Paulson scored a 5-1 in the first heat I was totally hooked. I have remained so, mainly on than off, for the past 35 years.
Tell us about your favourite meeting of all time
It's a really boring one but I will have to say the 1981 World Final at Wembley. I was just 13 years old and the atmosphere was fantastic. I can still watch the footage of it nearly 30 years on and it sends a shiver down my spine.
Tell us about your favourite rider of all time
It has to be Shawn Moran. My boyhood heroes were Reg Wilson and Doug Wyer but Shawn had such charisma and was so spectacular that he has to win my vote. It was such a shame when he came back to Sheffield for a second spell in the mid 1990s and was a shadow of his former self.
Tell us about your favourite track/stadium
I have quite a few but I would have to say The Shay at Halifax. The local derbies between Sheffield and the Dukes were always fiercely fought and the rivalry between the two clubs was fantastic. I used to love visiting The Shay and sitting in the main stand where the sound of the bikes would reverberate under the corrugated steel roof.
What are the best things about speedway?
That you can go to a meeting, stand where you want, shout for who you want and not run the risk of getting your head kicked in by rival supporters. When a speedway meeting is a good one there is no better sporting occasion.
What are the worst things about speedway?
The weather. There is nothing worse than travelling miles to a meeting and finding it rained off and coming all the way back again without seeing a race.
What one thing would you do to improve speedway?
Get someone in to run the sport who doesn't hold a financial interest at one particular track. The promoters seem to make up the rules as they go along with no regard for the fans, who are by far the most important elements in the sport. The prime example would have to be the hated tactical double points rule. Madness. If they paid me a decent wage, I'd do it tomorrow.
Tell us about a rider you wish you'd seen
I've been so lucky in that I've seen the greats of the past 35 years like Mauger, Collins, Lee, Penhall, Gundersen, Nielsen etc. I would have loved to have seen Peter Craven and Ove Fundin but more than anything I would have loved to have been at Wembley and West Ham just after the war when the crowds for league matches were in the 80,000 bracket. So, maybe I would have to say Vic Duggan or any major rider from that period.
What does the future hold for speedway?
I think the days of the big stadium league venues are gone. I think the future is tracks like Somerset and Scunthorpe who start with a track in a field and develop facilities around them.
Take part in this feature
This article was first published on 3rd December 2009
---

Steve Metcalf

"Well said Matt Jackson, I agree with almost everything you said (I was a Dukes supporter and well remember the Sheffield - Halifax derbies at the Shay, unfortunately we had a habit of losing too often for comfort!). I also used to visit Owlerton starting in the Jim Airey/Arnold Haley days through to Dougie Wyer, Reg Wilson era. My favourite memory would have to be the night Tommy Knudsen tried to "fence" Reg on the first bend when Reggie was sweeping round the outside of him. Reg was so incensed he waited for Knudsen at the pit gate and landed a few punches before the track staff parted them! It was a shame when they stopped fans watching from the back straight at Owlerton because the view from opposite the starting gate just showed what incredible acceleration a speedway bike has."

[ Use Mobile Version ]

Comment on this Article | Contact Us | Go Back to Main Menu