It's All About You... Mike Sheldrick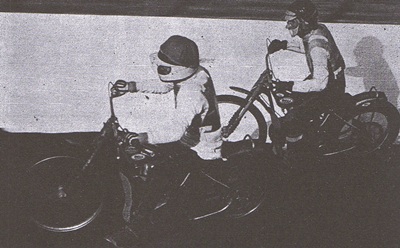 Sid and Mike Sheldrick
Tell us about your introduction to speedway
I was about 6 months old when my parents took me to our home track at Sheffield although I don't remember that I do remember going to all the tracks and staying at Middlo's mam and dads when the Sheffield team was there on the southern tour. Also later working in the pits giving out dope and oil to all my favourites.
Tell us about your favourite meeting of all time
My favourite meeting has to be at Paisley when I won the Championship of Strathclyde with 14 points, Mike fullerton was the only one to beat me and I also beat Brian 'Pogo' Collins the first time he had been beat around Love street it was a good field as well so I was really proud of that.
Tell us about your favourite rider of all time
My favourite rider in regards to acheievements has to be Ivan having read his book and all he went through and then to achieve all he did is fantastic. My favourite in my heart was my pal Gary Peterson he rode at Bradford and Nelson when I was a kid. I used to help clean his bike and sometimes doped up his bike. He was my hero, I loved him. RIP.
Tell us about your favourite track/stadium
My favourite track was Barrow, it was a funny shape and good home advantage especially the third turn it took a few riders by surprise. My favourite stadium has to be my home track Sheffield the track was lovingly attended by Frank Varey who you could see after the meeting grading the track when everyone else was in the bar. You could also watch the meeting through the glass windows in the main stand and bar.
What are the best things about speedway?
Meeting the fantastic fans from all the tracks, who always clapped if they witnessed a good race, signing autographs which I loved and never refused anyone. The comradeship of your team mates no matter what part of the world they came from and most of all racing them bikes.
What are the worst things about speedway?
Worst things was getting no points and the team getting hammered (which occured at times in my career). I also hated wet meetings, it took hours of work cleaning the equipment for the next meeting, luckily my mother used to clean my leathers, God bless her. But what I hated most was seeing any rider get injured, I never liked that I had some good mates like Joe Owen who was badly injured in speedway. Oh forgot "Promoters" well some of them !!!
What one thing would you do to improve speedway?
Well I think the air fences are fantastic but I would like to see riders wearing leathers instead of Kevlars. I also think that the lay downs are causing bikes to rear up too much as was in the British Final.
Tell us about a rider you wish you'd seen
I have seen many riders in my 55 years of watching speedway but I wish I could have seen the great Peter Craven. I would also have liked to have seen Ken Le Breton around Bradford I heard off people who had seen him racing there that he was pretty spectacular.
What does the future hold for speedway?
Speedway is like any sport now it is very professional. Now I know it was in the past but the money was not as good as it is now and the riding in Poland etc was only for the top riders. I hope it doesnt lose its family appeal and that the riders still involve the public and keep the crowds happy otherwise the sport will not be as popular.
Who do you admire the most?
That has to be my mum and dad who worked every hour to help me and my brother racing, they helped us to ride in Germany and even bought me a brand new Jawa speedway bike and long track bike for my time riding in the Bundesliga in Germany. Mum & Dad, rest in peace and I love you.
Take part in this feature
This article was first published on 15th July 2010
---

Jim Chalkley:

"Who do you admire the most- what a great sentiment to your Mum & Dad. My Mum died when I was nine months old and I was put in an orphanage. Boy did I have to struggle to get enough money to buy a speedway bike and van. Good onyer to remember what they done for you. Too many youngsters take their parents for granted these days."
Duncan Payne:

"I remember many good Saturday nights at Love Street watching Sid, Mick & co riding their hearts out for little results."
Mike Gedling:

"I have so many memories of Sid and Mick as as a kid they were more like uncles to me and I never really knew they were well known as they were. We had some mad bike races round the block and water fights and even now I go out on the bike think its time we all had a track day. "

[ Use Mobile Version ]

Comment on this Article | Contact Us | Go Back to Main Menu