It's All About You... Olly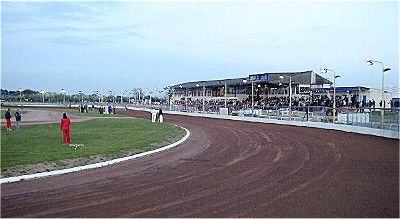 Swindon
Tell us about your introduction to speedway
1970, a school mate told me speedway was better than football, went to Tilehurst, Reading to see the Racers in 71,hooked! Went to Euro final at Wembley that year and saw the stars of the day, litle did I know what I'd be doing 10 years on! Move on to 1981, working for large landscape co, got contract to pre-prep pitch at Wembley for the world final. Having lifted turf off the straights, shale laid, then turf back down for charity shieild footy match, madness! Turf flying everywhere!Bert millichip and his F.A mates told us to remove the banking going into the bends prior to match, well when Len Silver came back from a break, he went balistic! We had about three days to sort it out. Mr Silver asked me to drive the tractor with him on the grader, what a nervous time. The man did a great job. I read in Backtrack it was the best Wembley had been for a final ever. A great tribute to a skilled trackman, him not me!
Tell us about your favourite rider of all time
Bernie Leigh, great guy, tried his hardest, great favorite at both Reading and Swindon.
Tell us about your favourite track/stadium
Swindon, best racing track in the uk.
What are the best things about speedway?
Sound, smell, close racing and a large good natured crowd home or away.
What are the worst things about speedway?
Constant rule changes!
What one thing would you do to improve speedway?
Go back to straight thru pipes!
Tell us about a rider you wish you'd seen
Peter Craven for his style, also Lloyd Goffe in his Harringay days, stayed leg trailing to the end!
What does the future hold for speedway?
Have seen good times and bad, when ITV sport showed it regularly, interest was huge, crowds were up, now if Sky were to pull out then who knows? It's a great spectator sport ruined by too many rules.
Take part in this feature
[ Use Mobile Version ]
Comment on this Article | Contact Us | Go Back to Main Menu