It's All About You....Paul Davey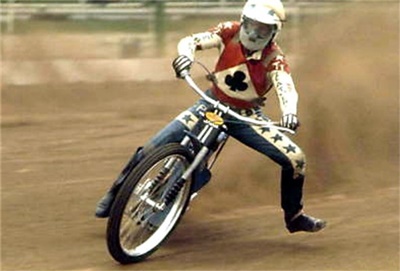 Peter Collins
Tell us about your introduction to speedway
Introduced by a school pal in 1971, attending my first ever speedway meeting at Foxhall Heath Ipswich, home of the Witches. I mentioned to him at the end of the meeting, "I'm going to do this" his response "yeah, yeah". Two years later he was watching me at the same stadium riding in the second half Junior Jaunt races.
Tell us about your favourite meeting of all time
Iwade Colts v Mildenhall Fen Tigers in September 1974, riding for the pre league training school team Mildenhall, that included the 15 year old Mike Lee. Iwade 40 Mildenhall 38. Me riding at number 6 had 6 races and scored 13 points.
Tell us about your favourite rider of all time
Has to be PC. Peter Collins, the most exciting rider to watch. If you had PC behind you in a race, it must have been tense, as you would never knew when or where he would find a way past you, but more often than not he would roar around the outside and that was that.
Tell us about your favourite track/stadium
Saddlebow Road Kings Lynn. Cyril Crane kept that track smooth and fast. The wide bends made racing and passing exciting.
What are the best things about speedway?
The Supporters. Unlike many other sports, Speedway supporters are friendly. The smell of methanol and of course, the riders.
What are the worst things about speedway?
The authorities I'm afraid. These governing bodies, to a certain degree, have come up with regulations that in my opinion, have spoilt our sport. It is simply not the same as in the 70s and 80s.
What one thing would you do to improve speedway?
Replace the current authorities with ones whom favour a return to the Speedway of old. It was far better then.
Tell us about a rider you wish you'd seen
Len Silver. From my training school days at Waterden Road to his reign as our England Chief and even to driving the tractor to grade the Rye House surface. Len was Mr Speedway.
What does the future hold for speedway?
A bright one I hope, with many decades more of fabulous racing.
Take part in this feature
This article was first published on 7th January 2018
[ Use Mobile Version ]
Comment on this Article | Contact Us | Go Back to Main Menu