It's All About You: Paul Waites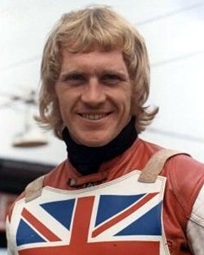 Terry Betts
Tell us about your introduction to speedway
Either late 60s or early 70s at Saddlebow Road Kings Lynn - great crowds great track and the likes of Terry Betts, Malcolm Simmons, Howard Cole otherwise known as Kid Bodie and Ian Tiddler Turner.
Tell us about your favourite meeting of all time
Mildenhall 40 Newcastle 38 would have been 77-78 - last heat decider and Stan Stevens on a Jap and Mick Bates held off one of the Owen brothers for a great victory. Huge crowds and a great atmosphere at Mildenhall in those days.
Tell us about your favourite rider of all time
Bob Coles Mildenhall and Terry Betts King's Lynn. Both excellent skippers who could be relied on home and away. Coles was the backbone of Mildenhall for a few seasons though Stan Stevens did outscore him in the first meeting of the first season. Betts was just a World class rider.
Tell us about your favourite track/stadium
West Row Mildenhall. It's got better as time has gone by - from the first season standing on just banked black fen soil to the building of the stand and bars it has improved. Looking at West Row today and you can see the care that is taken to have it looking good.
What are the best things about speedway?
The people and the excitement - there's no doubt that the hardcore of speedway fans are some of the most dedicated fans in the Country - the effort by volunteers to get meetings on is tremendous.
What are the worst things about speedway?
The dwindling crowds and uncertainty that surrounds so many tracks these days. Speedways popularity has ebbed and flowed for decades though I do fear that with so many things to entertain people these days it will be almost impossible for speedway to get back to the glory years.
What one thing would you do to improve speedway?
I do miss the 'purity' of speedway from the 70s - team race jackets and matching leathers. I would also make under 16s free at every track in the Country.
Tell us about a rider you wish you'd seen
Ove Fundin at Norwich - heard many stories of what a great rider he was.
What does the future hold for speedway?
Maybe more regionalisation and play offs - travelling is so expensive these days.
Take part in this feature
This article was first published on 6th April 2014
[ Use Mobile Version ]
Comment on this Article | Contact Us | Go Back to Main Menu