It's All About You....Peter Jupp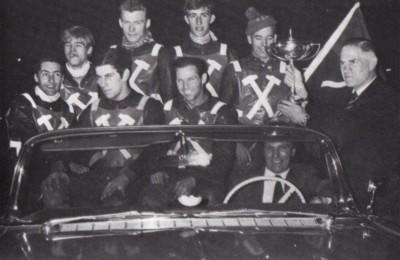 West Ham Hammers
Tell us about your introduction to speedway
Back in 1973 a mate of mine asked if I wanted to go to the Speedway with him and his dad, what's Speedway I asked, he informed me of the basics and we went to watch Eastbourne v Boston on a damp Sunday afternoon. The meeting was rained off after a couple of heats and we got readmission tickets for the next meeting which was a World Championship qualifier. I saw Gordon Kennett beat Paul Gachet in a race off and have been hooked ever since.
Tell us about your favourite meeting of all time
There are two meetings which stick out in my mind - first was Eastbourne v Ellesmere Port in a KO Cup semi final 2nd Leg in 1977. We were 50-28 down after the 1st leg but beat the Gunners 57-21 in the 2nd - my main memory is the great riding from our young reserves Paul Woods & Steve Naylor who beat the likes of John Jackson & Steve Finch on that afternoon. Second has to be the 1981 World Final at Wembley, not because of who won it but because of the brilliant racing on that evening by the top guys. A fitting end to Speedway at Wembley.
Tell us about your favourite rider of all time
Has to be Kelly Moran - the Arlington Express. By far the most entertaining rider on the track and off it!! We had great times with Kelly when he rode for Eastbourne in 1981 & 82 when we used to travel away with the team on the HASSA coach.
Tell us about your favourite track/stadium
I used to love Hackney and would go to see the Hawks on a Friday night with my mate John. Best track for atmosphere and great racing as well.
What are the best things about speedway?
The best things are - close racing, the smell, the atmosphere on a big night meeting, the speedway friends I have made down the years.
What are the worst things about speedway?
The worst things are - short handed teams, the stupid double points tactical rule, poor track preparation.
What one thing would you do to improve speedway?
I would have an overall supremo in British Speedway who does not have a vested interest in a club and could look at the sport from a totally impartial view - they missed a trick when they were to frightened to appoint the late John Berry in the 80s.
Tell us about a rider you wish you'd seen
Not so much a rider as a complete team ! - I would have loved to have seen the West Ham Hammers ride at Custom House but got to know about Speedway a couple of years too late.
What does the future hold for speedway?
I can see in the future we will have one professional league in UK and an amateur league which will mainly consist of British riders and Foreign riders who don't make it big in Poland.
Take part in this feature
This article was first published on 16th September 2012
[ Use Mobile Version ]
Comment on this Article | Contact Us | Go Back to Main Menu