It's All About You....Peter Williamson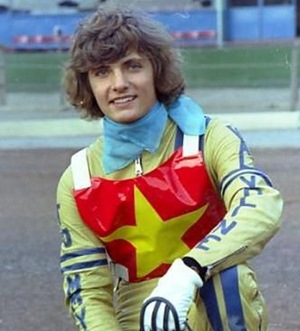 Tommy Jansson
Tell us about your introduction to speedway
My dad used to work at Plough Lane (Wimbledon), I do not remember my first meeting but my older brother would take me along, and I rarely missed a home meeting from about the age of 10 until I was 18
Tell us about your favourite meeting of all time
My first trip to Wembley for the 1975 world final, Ole Olsen won it with Anders Michanek 2nd and John Louis 3rd. We had a IRA Bomb warning over the tannoy, but no one left the meeting, I also remember it being very dry and some of the crowd grabbed a hose pipe to water the track, unfortunately, Peter Collins hit that patch in his next race and fell off, costing him the title as he was unbeaten up to then.
Tell us about your favourite rider of all time
Trevor Hedge, a great loyal servent to the Dons and a very underated rider, he reached one world final in 1970, but luck was against him.
Tell us about your favourite track/stadium
Plough Lane small and compact, some great racing, also loved World final nights at Wembley.
What are the best things about speedway?
I loved the fact that it was a working mans sport, anyone could have taken it up, also in the 70's and early 80's when there was a lot of crowd trouble at Football grounds, Speedway fans from opposing teams would sit next to each other with no problems.
What are the worst things about speedway?
I do not like the faffing around at the tapes before each race, just get on with the race, it's so annoying.
What one thing would you do to improve speedway?
See above, get the riders to the tapes and start the race, that's what the punters have paid to see, you would also be able to have a couple of more races during the evening - meaning more value for money
Tell us about a rider you wish you'd seen
I wish I had seen more of Tommy Jansson, a great rider who was reaching the peak of his career, but unfortunately died in a crash, he was sure to have been a world champion in my eyes. I never saw some of the greats from the 50's and 60's, so Ove Fundin would be the one.
What does the future hold for speedway?
Very little, the cost of running the meeting, means price increase which means fewer fans, Sky are doing a great job but Speedway is a minority sport unfortunately.
Which rider did you dislike the most and why ?
M choice is Ivan Mauger only because he was so good, when you look back at his record, during the late 60's and early 70's he was unbeatable. That said he deserves to be called the greatest rider ever.
Take part in this feature
This article was first published on 18th November 2012
[ Use Mobile Version ]
Comment on this Article | Contact Us | Go Back to Main Menu