It's All About You...Philip Dalling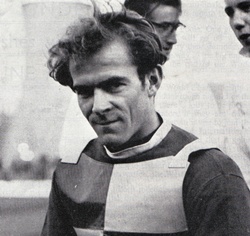 Record Breaker - Charlie Monk
Tell us about your introduction to speedway
My first meeting was Long Eaton versus Exeter in 1952. As I was only five years old, my chief memories are of the size of the crowd (vast to a small boy, even at Station Road!) and the noise. Ten years later, while I was on holiday in North Devon, a neighbouring farmer asked my uncle and I if we would like to go to the County Ground at Exeter. A round trip of nearly 100 miles but the meeting - a Provincial League Riders Championship round won by Len Silver with, I believe, Pete Lansdale second, will stay in my memory for ever. I was hooked from that moment on and the fact that Long Eaton re-opened a year later was tremendous good fortune.
Tell us about your favourite meeting of all time
My first meeting at Exeter was special, as was Long Eaton's comeback meeting against St Austell in April 1963, when Charlie Monk broke a 12-year track record in the first heat. Perhaps the standout meeting for me was England (or perhaps it was Great Britain) v the USSR at Belle Vue in 1964, during the Russian's first-ever tour. It was my first visit to Hyde Road and a very special occasion.
Tell us about your favourite rider of all time
Not necessarily one of the big names. When Long Eaton opened in 1963 I had a thing about Slant Payling - a very approachable man who I imagine could have been a really big name in speedway had it not been for his involvement in the crash at Norwich which killed his team-mate Derek Maynard. I was also a great admirer of Ray Cresp, who to me seemed everything that a speedway rider was expected to be in that era - wiry, tough, competitive. He just looked the part and was, of course, a very good rider often holding together a poor team. Ray Wilson too was a great favourite and Long Eaton could never be described as completely drab when he was riding.
Tell us about your favourite track/stadium
Long Eaton was a tremendous track for racing, even if the stadium was below par and Reg Fearman was a great promoter, always willing to face the fans if the result had been a bad one (which it often was). Cradley had good racing and a great atmosphere in a similarly downmarket stadium. The opposite applied to Coventry. I have never thought a great deal of the racing at Brandon but the stadium and atmosphere was usually second to none, with Charles Ochiltree a great showman. Unlike many people, I even liked the style of his programme notes!
What are the best things about speedway?
The friendliness of the crowds, the noise, the smell and the thrill that I still get after nearly fifty years spectating every time the tapes go up.
What are the worst things about speedway?
I am not a great critic of the sport and, although covering it as a journalist for many years, I never have been. Speedway is unique and although many people scoff at things like guest riders, it has to be remembered that the sport only works properly when you have reasonably well balanced teams. I quite enjoy watching my football team score a hatful of goals, but I would get fed up of that week after week. When I go to a live speedway meeting I still hope the racing and the result will be close, even if I am supporting one team. The worst thing about the sport are meetings that are effectively over after a few heats.
What one thing would you do to improve speedway?
A difficult question. My initial reactionary response would be to say black leathers, high-pitched handlebars and tracks with plenty of dirt on them. You cannot go backwards however and I do enjoy modern-day racing.
Tell us about a rider you wish you'd seen
My work as a journalist brought me into contact with some of the greats during their careers (in the 60s and 70s). I have also met many of the stars of earlier eras and enjoyed their stories about the golden ages of speedway. Two of the nicest men it has been my good fortune to meet were Louis Lawson (who sadly died recently) and Ernest Palmer, Long Eaton's first captain and later Sheffield team manager. I would have loved to see them ride.
What does the future hold for speedway?
I am sure there is a future, despite the declining crowds and disappearing stadia. It is encouraging to read of Leicester's comeback. Although success stories like Somerset (now my nearest track) are encouraging, speedway needs the big city circuits.
What is it about speedway that makes the riders stick together to such an extent once they have retired?
Attending a reunion is an inspiring experience? Is it the danger they have shared? Perhaps some other users of the site have ideas on this one?
Take part in this feature
---

Harry Ward:

"10/10 for the start of this new feature. Phillip covered all the points and spoke of riders like Ray Cresp and Len Silver that matched my early speedway years. Funny looking back how most of the kevlars these days seem borinng to me and yet in those days of mainly black clothing Nigel Boocock and his blue leathers and Varg Olle's white boots seemed to spice things up. Will look forward to this new series."

[ Use Mobile Version ]

Comment on this Article | Contact Us | Go Back to Main Menu