It's All About You: Steve Andrews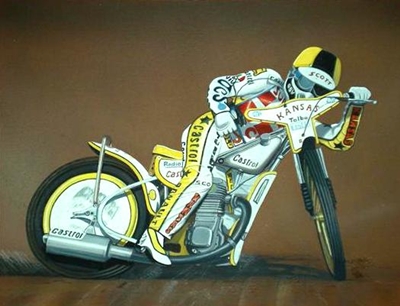 Erik Gundersen
As painted by Jim Blanchard
Tell us about your introduction to speedway
My dad first took me to Cradley Heath Speedway in 1967/68 when Ivor Brown was our Number One but my first real favourite was Bernie Persson. My first full season was 1970. By the late 70's I hardly ever missed a meeting home or away. I followed the Heathens right up to the final year at Dudley Wood.
Tell us about your favourite meeting of all time
Tough one. I was in Gothenburg when Erik won his first World Title, that was great. I was among a party of only 5 people who went by Car all the way to Krsko (Yugoslavia) in 1980 to support England in the World Best Pairs which Peter Collins and Dave Jessup won. Jessup gave me his Body Colour after the meeting, I will never forget that.
I think my favourite meeting was probably Erik Gundersen's 2nd World Championship win at Bradford in 1985. Going to Poland on the Warnersports train for the '79 World Final was pretty special. As was Vojens in the same year for the World Pairs when Bruce Penhall didn't have a partner. Vojens for the Inter-Contintal final 1981 in the pouring rain was another excellent trip with Penhall and Gundersen 1st and 2nd.
My favourite Cradley meeting? Too many to name but our first ever win at Leicester with Nigel Wasley scoring 9 points was fantastic.
Tell us about your favourite rider of all time
Without a doubt Erik Gundersen. John Boulger was a great favourite too and i remember being so happy when he signed for Cradley United. Nowadays ..Greg Hancock.
Tell us about your favourite track/stadium
The old Belle Vue. Absolutely brilliant. Big Fast track. We used to get slaughtered there all the time in the late 60's up to the late 70's. After that we must have become one of the most successful visiting teams to Hyde Road.
What are the best things about speedway?
It's just a great family sport. The smell of that methanol, the noise. The uniqueness of it all.
What are the worst things about speedway?
The rule book. In an ideal world I would bring back the old tactical substitute rule, have 15 heat matches and a 2nd half. I would bring back rider control, any new foreign rider wishing to ride over here would go into a pool and be allocated to a team.
What one thing would you do to improve speedway?
One big league split North and South to cut down on travelling costs. Southern Champions v Northern Champions to decide the overall British League Champions, one meeting on a neutral track. If I ever win the Euro Millions it would be a new stadium with a retractable roof on for Cradley (there's land available for the right back-handers!) Revert back to the old silencers too - sorry that's 3 things!
Tell us about a rider you wish you'd seen
Peter Craven.
What does the future hold for speedway?
Difficult to say.
Take part in this feature
This article was first published on 28th December 2014
[ Use Mobile Version ]
Comment on this Article | Contact Us | Go Back to Main Menu