The Non-Essential Guide to....The Barrow Blackhawks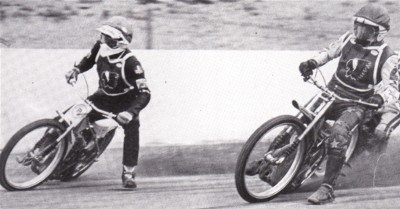 John Walmsley and Eric Broadbelt
Who were they ?
The Blackhawks were a short lived side from Barrow-in-Furness in Cumbria. They were formed in 1984 and folded at the end of 1985.
I'm sure was Speedway held in Barrow before 1984 ?
It was. Speedway was staged at Holker Street from 1972 until 1974. This venue, which is still there today, was lost after a rent hike and a new venue was built at Park Road. This venue was used in 1977 and 1978 but was not a success financially. The circuit was a temporary home for Berwick Bandits in 1981 but poor crowds meant that particular venture was also shortlived.
So how come they were revived in 1984 ?
Former rider Chris Roynon was living in the town and thought it a tremendous shame that the circuit (Park Road) was just wasting away. He decided to revive the sport and successfully applied for open licence status for the 1984 season. He, and partner Robin Martakies, formed a team and staged a short season of challenge meetings.
Who was in the team ?
The side changed from match to match. It would typically consist of a few guest stars along with some 'regulars'. The guests would often include Steve Wilcock, Geoff Pusey and Rob Woffinden. The regulars included local man John Walmsley and veteran Eric Broadbelt.
Is that Eric Broadbelt the former Belle Vue man ?
The very same. 'Broady' had endured a terrible couple of years with injuries and had been overlooked by all of the league clubs. He linked up with Barrow and performed very well in that open licence season. His form for the Blackhawks actually led to him making an appearance for Berwick in that year's National League KO Cup final.
Was that 1984 season a success ?
Even now it's quite difficult to say. It was certainly successful in that it re-introduced the sport to the town, but crowd levels were quite disappointing. Roynon commented at the time that "Our 1984 season has done nothing to recoup the money spent on stadium improvements. At the same time, I am convinced that league racing will attract larger crowds and provide more interesting racing for supporters. I have decided to go ahead with an application for National League membership".
So they lined up in the 1985 league ?
Yes, after a troubled winter a side was finally assembled and the Blackhawks took their place in the league. The side looked extremely weak on paper but it was hoped that it would hold its own. Eric Broadbelt led the team and was joined in the heatleader berths by Bob Coles and Terry Kelly. Both Coles and Kelly were at the veteran stage and were making comebacks after missing the previous season or two.
How did they fare ?
Badly. The side raced in only three meetings (all away) and lost all of them. Their best performance was a 27-51 defeat at Eastbourne, in the other two they scored only 19 (from 13 heats). The BSPA suspended the club until a more competitive lineup could be assembled. Unfortunately there were simply no suitable riders available and the Blackhawks had to withdraw from the league.
Why did they find it so difficult to find riders ?
There were a number of new clubs in the league that season and so they were operating in a very competitive market. Their location, somewhat off the beaten track, certainly counted against them as riders opted for clubs based closer to home. The fact that fellow newcomers Ellesmere Port built a title winning side, including former Barrow rider Joey Owen, suggests that other clubs were also able to offer better terms.
Was that the end for the Barrow Blackhawks ?
Not quite. The circuit stayed open until September and a series of junior challenge meetings were staged. Old rivals Workington were operating on a similar basis that year so there was some local interest. By the end of the year it was clear that the crowds were nowhere near sufficient to support another crack at league racing and an application for another open licence was turned down. Roynon was faced with no option other than closure. An industrial estate now stands on the Park Road site.
What happened to Chris Roynon ?
Chris is now guiding the racing career of his son Adam.
---
This article was first published on 15th May 2004
[ Use Mobile Version ]
Comment on this Article | Contact Us | Go Back to Main Menu