Big City Speedway
by Philip Dalling....19/08/2005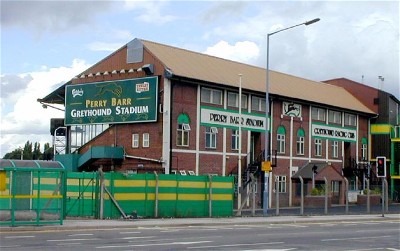 Perry Barry in Birmingham
The breaking news that Tony Mole was seeking to revive the Birmingham Brummies should have sent a shiver down the spine of every speedway fan.
With maximum respect to the Somersets, Isle of Wights and Buxtons of the shale world, speedway needs the cities.
The sport lost a lot of its credibility with the national media when Wembley closed its doors to regular team racing - nearly fifty years ago now. The revival of West Ham in 1964 and the brief return of the Empire Stadium a few years later caused plenty of press interest.
It is not just the headlines that count. The presence in the daily results of names from the metropolis and Britain's major provincial cities encourages the belief that speedway is alive and thriving. To say nothing of the impact on Sky viewers.
For years now the sport has seen a steady decline in the number of teams racing in well-appointed stadia in the nation's major centres of population. The London sides, the second city of Birmingham, Bradford, Southampton, Norwich, Leicester, Plymouth, Middlesbrough - the list goes on.
Big city speedway can have a special buzz, with the atmosphere of fans converging on a stadium through a bustling, built-up area. I attended the play-off between Wolverhampton and Poole at Monmore Green last Autumn. The excitiement around the stadium was electric, with the queue for the turnstiles snaking around the car park and out into the street. I had to abandon my car half a mile away and walk to the stadium through crowds of fans, through streets hung with newspaper posters advertising a special speedway edition.
And how much will be lost when the bikes roar for the final time at the County Ground in Exeter, in the very heart of the city.
That's the feel of big city speedway.
There is a downside of course. Sites in cities are valuable to developers. And finding a new central site once the old one is gone is almost inevitably going to run into trouble with planning laws and `not in my backyard' protesters.
Please, supporters of rural speedway, don't misunderstand what I am saying. I enjoy an afternoon on a Peak District hillside or on the Somerset levels as much as the next person.
But the news that speedway had a chance of returning to one of its Midland heartlands, in a splendid new stadium, is just about the most encouraging thing I've heard about speedway for a long time.
This article was first published on 19th August 2005
---

Tony Wilson:

"Great article on the possible return of the Brummies to Perry Barr. What we need is every speedway fan in the country behind Tony Mole right now and also we need as many letters and e-mails to Birmingham City Council to show how much the Brummies mean not just locally but countrywide."

[ Use Mobile Version ]

Comment on this Article | Contact Us | Go Back to Main Menu