The Non-Essential Guide to....Cowdenbeath Speedway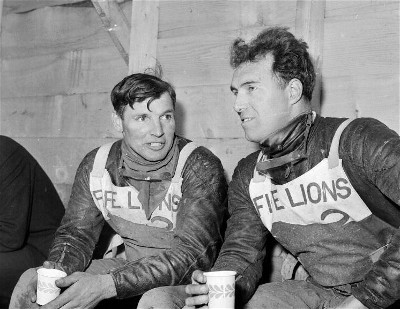 Willie Templeton and Bill Landels
Cowden-where ?
Cowdenbeath. It's a small town in Fife (Scotland).
What was the Cowdenbeath nickname?
They actually raced as the Fife Lions. Presumably this was an attempt to widen the appeal of the track. The makeup of the team varied from match to match and an incredible 19 riders raced for the team in their six meetings. Willie Templeton was the only ever present.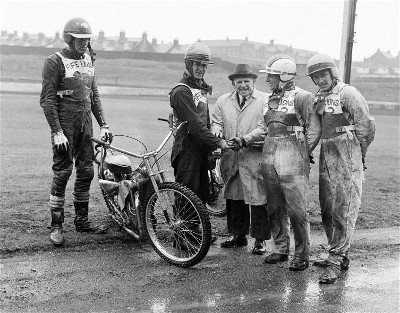 Johnnie Hoskins and co.
Who ran the show?
Johnnie and Ian Hoskins were the men behind the venture. They thought it would complement their existing promotions at Edinburgh and Glasgow.
When was the first meeting?
On 5th May 1965. The Fife Lions defeated The Colonial Tigers by 44 to 33.
Lions (Willie Templeton 10+1, Bert Harkins 9, Bill Landels 8, Jimmy Tannock 6+2, Bill McMillan 6+2, Red Monteith 4, Alex Hughson 1)
Tigers (Bluey Scott 12, Graham Coombes 5+1, Kevin Torpie 4, Joe Hicks 4, Bruce Ovenden 3, Kevin Russell 3, Dave Gifford 1, Ross Nickison 1, Eric Hanley 0)
How many meetings were staged?
There were eight in total.
(05/05/65) Fife Lions 44 - Colonial Tigers 33
(12/05/65) Fife Lions 43 - Newcastle Select 35
(19/05/65) Fife Lions 40 - Halifax Dukes 40
(26/05/65) World Championship Preliminary Round (Russ Dent)
(05/06/65) Scottish Junior Championship (Bill McMillan)
(09/06/65) Fife Lions 35 - The Rest 41
(16/06/65) Fife Lions 42 - Charlie Monk Select 36
(17/07/65) Fife Lions 42 - Rest of Scotland 35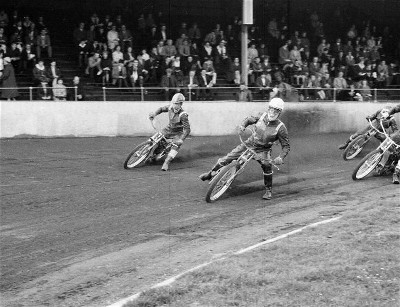 Scottish Junior Championship action
Was that meeting the last ever staged?
Yes but the track was subsequently used for a few training sessions over the 1965/1966 winter.
Why did it close?
It wasn't economically viable. The biggest crowd numbered just over 2,500 (for the second meeting staged), a fantastic attendance by today's standards but not enough to support a track in the mid-sixties.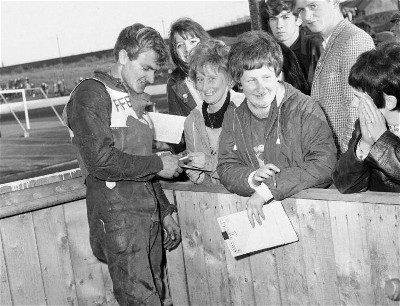 Obliging the autograph hunters
Does the stadium still exist?
It certainly does. Cowdenbeath Football Club play their fixtures there and since 1966 stockcars have raced there. It's now called Cowdenbeath Racewall by the stockcar fraternity.
Any prospect of a return for Speedway?
As long as the stadium exists there's always a chance. However it seems unlikely that attendances would ever be sufficient to support more than the lowest level of racing. The stockcar circuit is of the tarmac variety so that would be an additional obstacle.
This article was first published on 17/01/2003
---

Bert Harkins:

"Nice to read the piece about Cowdenbeath Speedway and the Fife Lions.

It was a pity that Cowdenbeath was such a short-lived Speedway track as it gave us young Scots,...and our young Commonwealth cousins, another track North of The Border at a time when we usually had to travel hundreds of miles for our away meetings. No wonder it took me ten years to become an overnight success!

Bert Harkins
Ex-Fife Lions, ex-Edinburgh Monarchs (Meadowbank and Powderhall), ex-Wembley Lions, ex-Wimbledon Dons, ex-Sheffield Tigers, ex-Milton Keynes Knights, ex-Bakersfield Bandits (USA).......Anyone notice something about all those clubs?

...With the exception of Sheffield......They have all closed down!! No wonder I had to retire, thus saving Speedway from extinction!"
Ian Sansom:

"Glorious memories of a sadly ill-fated attempt to introduce speedway to Fife. Nowadays, with the nearby rail station and its proximity to the A92 dual carriageway with links to the motorway network it could have proved more feasible if it wasn't for the tarmac stock car track. Has anyone considered introducing speedway at the nearby Thornton dog track, midway between Kirkcaldy and Glenrothes and with the same transport links as above?"
James Black:

"I know two of the autograph hunters! Would never have known if one of them hadn't told me, but the rider signing autographs is Kevin Russel I am told."
Jim henry:

"Thornton Dog Track was the subject of an application to run speedway before the start of the 1947 season. This failed. There were proposals for Kilmarnock in 1948. There is a new stock car track at Lochgelly just a couple of miles up the A92 from Cowdenbeath."
Bob Weir:

"I was 11 years old when my uncle took me to the track for a couple of meetings, including the WCPR. The stadium was so laid back compared to Old Meadowbank, and autograph hunters had a field day. Youngsters from the Lothians also had the novelty of crossing the recently opened Forth Road Bridge. My treasured programme collection went AWOL a long time ago, but I still have a Fife Lions badge if anybody needs it for their collection. "
Mike Hunter:

"The crowd for the opening meeting was actually 3248 and the second meeting was also over 2500. As you say, fantastic by today's standards."

[ Use Mobile Version ]

Comment on this Article | Contact Us | Go Back to Main Menu