The Polish Perspective
by Chris Seaward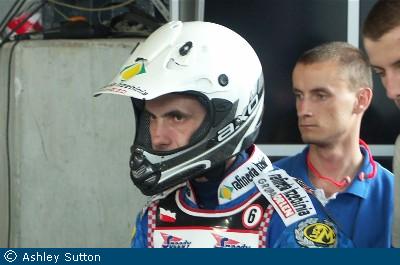 Gollob
Tomasz Gollob has been an integral and highly entertaining element of the Grand Prix series since its humble beginnings back in 1995. He has enjoyed top spot on the rostrum nine times and raced in twenty four different venues around the world since the introduction of the GP format.
It only seems like yesterday he felt the force of Craig Boyce's left fist at the Hackney stadium after controversially dumping the Aussie in the fence on that sodden Saturday night.
Fast forward ten years and his influence on world championship speedway is beginning to slowly but surely loosen. His once trademark bad boy image has been overshadowed and partially forgotten since Nicki Pedersen stormed on to the scene and took hard riding to a whole new level.
Most disappointing from a spectators perspective is that Gollob's rear wheel, which has in the past so regularly graced the widest racing line available, nowadays seems content with just the occasional visit to the darker shale and no longer holds such a close and comfortable relationship with the fence.
The thirty four year old seems to have lost all identity amongst the Grand Prix circuit and has subsequently become one of the series less talked about characters.
Gollob, like so many other riders, can comprehensively beat the worlds best on his day. Yet it seems that the Pole easily becomes disheartened if he finds himself at the back during a race. On numerous occasions I have watched in confusion as the Pole seemingly loses interest and languishes at the rear. He seems to doubt his own ability especially on temporary circuits and furthermore never appears content with his machinery. During a race in the Slovenian GP he rode a GM engine when he is a Jawa works rider, who knows what the Jawa factory thought of that!
Looking at the wider picture, for world speedway to continue its progression it requires a contingent of successful Polish riders amongst the Grand prix series.
The rounds held at Wroclaw and Bydgoscz, whilst not providing the most glamour in comparison to swanky venues like Cardiff or Copenhagen, still play a crucial role in providing the foundation and backbone of the series. Benfield sports are able fill these venues to capacity with relative ease chiefly because the passionate Polish fans attend with high expectations of success from their riders. Gollob is a sporting legend, a national hero, and a symbol of success to the Poles. It is therefore a concern that his ten year love affair with the GP series may be reaching its natural conclusion.
However this concern looks like being eradicated by twenty three year old Jarek Hampel, who seems to be spearheading an exciting new era of Polish speedway. The former world under 21 champion impressed greatly at Cardiff this year and finds himself lying 10th after only competing two out of the four rounds. Mix in names like Kasparzak, Miskowiak, Hilb, Rempala and the future of world speedway could be turning red and white in the not too distant future.
If any nation deserves a world champion then it is Poland. They have been waiting patiently for over thirty years since Jerzy Szczakiel gained number one status at Katowice in 1973 and have patiently watched Gollob come close on many occasions.
Hampel is fast, determined, brave and a quick gater. Hopefully a few injury free campaigns will allow Jarek to demonstrate his true potential and provide the Polish fans with just reward for their tremendous support. It is always a pleasure to see them at Cardiff and anyone who has attended a Polish GP knows how passionate they are about speedway.
And finally, in 2004 Gollob was sponsored by an energy drink named 'Dark Dog'. For me this captured the Pole's persona wonderfully and could quite easily be the phrase that summarises his GP career. Hopefully the 'Dark Dog' hangs in that top eight for a few more years to come.
This article was first published on 1st July 2005
[ Use Mobile Version ]
Comment on this Article | Contact Us | Go Back to Main Menu