Keep it Simple
by Chris Seaward....14/10/2005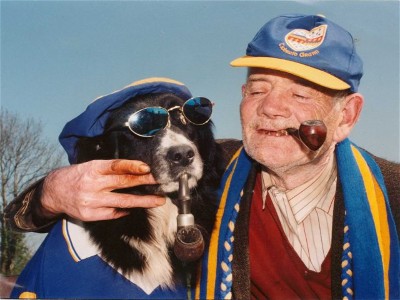 Hardcore or Fair-Weather?
Dave Green's article entitled 'here to help' was more refreshing than a freezing cold beverage on a sweltering day, quite simply fantastic.
It was quirky and innovative but more importantly highlighted the necessity for speedway virgins, upon witnessing their first meeting, to feel a strong enough sense of enjoyment to return to the terraces.
With Sky Sports beaming the sport into millions of homes there has never been a better opportunity to obtain a new wave of support.
Look at the world's most popular sports and they are all share a common theme, simplicity. Football, rugby, tennis and to a lesser extent golf can all be grasped relatively quickly without a great deal of difficulty. Speedway could and should be the same, four riders from two teams racing four laps around an oval circuit.
I have always thought Speedway, more so than other sports, has definite categories that spectators can be assigned too.
Firstly you have the hardcore fan, the individual who will turn up week after week regardless of the teams performance stand in exactly the same spot and immaculately fill in their programme.
Secondly the fair weather supporter who revels in success but despises failure. When on track performances are good this illusive character will confidently stroll into the stadium and usually has the intention of jumping on a victorious bandwagon.
Thirdly the family, out for an evening of entertainment, maybe they visit the track a few times a year but every time expect to witness some 'good, close friendly racing'
The first timers stick out like a sore thumb, fumbling through their programme visibly confused by the scorecard and further perplexed by the odd looking numbers neighbouring the riders name. This is where the character presented by Dave would be worth his weight in gold, strolling round the stadium offering assistance and explanation to the bemused first time visitor. Also a single page amongst the programme explaining how to fill in the race results and a brief overview of basic rules would help eradicate first timer confusion. The excellent British Grand Prix programme does just this in a non patronising informative style and covers race format, two minute allowance and helmet colours.
What would a first timer make of a guest rider? An individual who rides for an opposition team in the same league being introduced. In a nation where sporting parallels are continually drawn to football this one really is ridiculous and farcical . It is quite simply absurd and the concept of a squad system must be introduced sooner rather than later to stop the embarrassing guest procedure.
So why is Speedway so successful and well attended in Poland? Easy, they keep it simple. All matches are run on a Sunday afternoon, the teams are allowed one foreign rider amongst their side, have two riders under the age of 21 at reserve and most importantly consistently stick by these rules.
At the meeting I attended the riders were introduced individually in order of the team line up and allowed three practice laps. Both teams opposite numbered riders took to the track at the same time, fully kitted up, and evaluated the racing surface. This provided the fans with a proper opportunity to assess the opposition riders and was more importantly a subtle and interesting introduction into the match. It also allowed the opposing team to gauge what set up they needed in order to be competitive from the start of the meeting.
British speedway can't keep changing its rules in hope of a sudden surge through the turnstiles. Legislation must stay the same in order to achieve familiarity and avoid ambiguity amongst the fans. The essential rules of football have hardly altered in a hundred years, and British speedway must aim for the same sort of continuity.
This article was first published on 14th October 2005
---

Bryan Tungate:

"Both Dave Green & Chris Seaward have talked sense in these articles. It would be a good thing if every Promoter of Speedway read these items before this year's meeting. Make it simple, not double points for doing nothing more than a rider would normally do. Guest Riders are the worst thing ever in Speedway. In a bygone season White City won the League on the back of a permanent guest for Dag Lovaas who had said he had no intention of riding here that year. A guest on each side should cancel out but it doesnt happen."

[ Use Mobile Version ]

Comment on this Article | Contact Us | Go Back to Main Menu