Remembering David John Wills
by Robert J. Rogers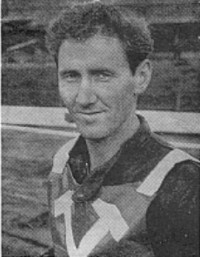 David
David was an Australian who sacrificed everything for a dream.
His dream was to wear the famous racing colours of the West Ham Speedway team.
His guide & tutor was a fellow Australian, Jack Young, ex World Speedway Champion and ex captain of the World Famous Hammers.
Forty years ago this week, he gave the Greatest Sacrifice, his LIFE!
Dave was killed while racing against the Hammers greatest rivals, Hackney, at the Custom House Stadium.
Dave was interned at the City of London Cemetery, the date, 14th July.
Five years later to the day, the Hammers flag flew low again, this time in memory of the team members killed in a road crash in Belgium, as the they returned from an international match in Holland.
Three other riders gave their lives on the West Ham track between 1928-1971,
Ernie Roccio (USA & Wimbeldon),
Harry Eyre (England, local novice)
Teo Teodorowicz (Poland & Swindon)

To use the words from the West Ham Programme on the 29th June 1965,

"Speedway can be wicked & cruel, it's a mans game, and they knew that, they accepted that, how were they to know that the dice was loaded against them"

I was at West Ham that night, I was twelve years old, I saw Dave go down on to the track. Dave was killed ten foot from were I was standing. I, along with many old fans will never forget Dave.

God Bless you Speedway Hammers.
---
by Fred Taylor
Remembering the two saddest incidents through that period of 'Hammers History', I am shocked to realise it was 40 years ago, when Dave Wills died, hit by another rider after falling entering the 3rd bend, the time the ambulance spent on the track, was the realisation that all was not well. My understanding was that Dave paid his own fare to England (as you said, to follow his dream)
Tad Teodorowicz what a terrible accident this was, thank goodness for air fences, Tad coming out of the forth bend was out wide, thecrash happened when he caught part of his bike in the fence, then being thrown head first into a trackside staunchion, that was holding the fence in position.
I have some wonderful memories of those times, but for these two riders may you have eternal peace.
---
by Dudley Jones
I was at West Ham the day Dave Wills died, I must have been a few yards behind Robert.
I was 18 and a regular supporter of the Hammers, a great side.
Dave had been in the team initially but had slipped to the second halves, probably lacking confidence being thrown in at the deep end with what was a great team at the time.
It was very sad, Dave fell in front of a following rider, who had no chance of missing him. It was clear it was very bad at the time, on the inside of the third bend. A rider who later went into banger racing I believe, ran into the prostrate Dave.
I was not there when Teo was injured, but I do remember willing him to survive through all the months that he lay in a coma. Teo was a nice guy, I remember him coming to Norwich, my first love, in the old National League days.
Talking of late riders I recall Jackie Biggs coming to Norwich with Coventry, our bogey team. He would be reserve and do nothing in the meeting. Coventry were solid, Norwich had a long tail.
Invariably Fundin, Nygren and Betts did well and the Bees filled the lower spots, leading to a last heat decider.
Inevitably it would be announced that there was a change for the final heat, Jackie would replace whoever.
The tapes would go up, a lightning start and nobody in the world could catch Jackie in that one crucial race.
Rest in peace Dave, Teo and Jackie...and thank you.
---
by Ray Bysouth
I was also at the track that night, aged only 9, it left a lasting impression on me! The whole thing seemed such a waste, from such an untidy incident! I am always now concerned every time I see a rider go down and it certainly bought home the dangers of the sport!
Rest in peace Dave.
This article was first published on 25th June 2005
---

Geoff Langley:

"It's wonderful that 33 years after West Ham Stadium was demolished to make way for a housing estate so many contributors to Speedway Plus in recent months have expressed such fond and vivid memories of the team, from the great Ken McKinlay through to the young junior Dave Wills.

It really highlghts what afantastic place it was. I have never known a track like it for atmosphere and excitement. Despite two fatal accidents to Dave Wills and Tad Teodorowicz in two years it was a relatively safe track and my old programmes record that many meetings passed off without a single rider even sliding off.

I think a lot of this was due to the shape of the track. As built, in 1928 when land was cheap it was a full quarter mile but in the 1950's it was shortened to 400 yards (362 metres) to provide wider bends for stock cars. The widened bends had good racing lines on the inside and outside so there was plenty of scope for passing, and if a rider did get out of shape he had some extra room to sort himself out. When Olle Nygren joined the team it was said he often took charge of track preparation, on one occasion supervising the complete re-laying of the track the day before a big match to ensure good racing

At the time it closed Ray Wilson (Leicester) held the track record at 70.2 seconds which in terms of m.p.h made it the second fastest track in the country, I think, behind Exeter. I guess in today's terms it would be a great track for someone like Gollob to be blasting round the fence in about 57 secs.

I grew up in a house 100 yards from the main gate. In those days the bikes had no silencers but I don't remember anyone complaining about the noise, not even people who never went to Speedway. The attitude was that the stadium gave a lot of people pleasure, provided jobs and brought extra trade to the local shops so live and let live. How times have changed!

I wonder how many residents of the housing estate now on the site realise that their streets are named after the Hammers of Speedways Golden Era --- (Tommy) Croombs Road , (Arthur) Atkinson Ave, (Bluey) Wilkinson Road and (Jack ) Young Ave."
Dudley Jones:

" I was there at West Ham, third bend, when the accident happened, more or less in front of me. I can still see it now, Dave lost it going into the corner, riding close to the white line, a simple overslide. It seemed a simple accident, the kind that everybody gets up from, except that Barry Lee was close behind and had no chance of avoiding Dave wills.

It seemed that Dave was moved out by the overslide and Barry's wheel collided with Dave's head. It looked bad and we feared the worst. We also felt sorry for Barry, because he was in no way at fault.

Dave Wills had joined the Hammers at the start of the year, but he probably was not quite ready for national league, as he dropped out of the team, into the second halves. Sad that both Barry and Dave were lost, in their different ways, to the sport. Sad for Dave's family in Australia, it can be a cruel sport, especially at larger tracks like West Ham. Tough for Barry, although there was nothing he could have done.

When Teo Teodorowitz was injured at Custom House I was still in East Anglia, but I remember wishing and hoping, everyone of those days as he lay in a coma, that Teo would recover. An asylum seeker, Teo had made himself popular, not just at Swindon but everywhere, made a home here and, I believe, was doing what every rider seemed to do then, run a garage.

We should remember all those who have died in our sport, from Tom Farndon and little Peter (I can still remember where I was, the weather, etc. when I heard Peter was dead) to those all too many beginners who, perhaps, never became known to most supporters, except perhaps as a name on a memorial trophy competition somewhere."
John Hyam:

"Just a follow-up to the fatal accident involving Dave Wills and Barry Lee. It has generally been supposed that Lee retired after the crash, but I have found references to him in later seasons as racing for Canterbury and Rayleigh in 1968 and Rayleigh again in 1969. He actually topped the Rayleigh averages in 1968, albeit with only seven matches to his credit for a 7.75 average. I am certain that after the West Ham accident Lee rode in second-half races at Hackney. I last saw Barry Lee at Wimbledon Stadium in August 2006 when he was a guest commentator for a Brisca F1 stock car meeting. "
John Hyam:

"The rider who sadly collided with Dave Wills was Barry Lee. He later graduated into car racing - much beyond bangers. Lee competed in rallycross, big circuit saloon car racing, National Hot Rods and big circuit truck racing. A couple of times he was a starter in the renowned Dakar Rally that runs across the Sahara Desert. Lee was good enough for the Ford company to sponsor him at one time. In 'genuine' motorsport besides small oval car racing, Lee is recognised and respected both as a competitor and personality. It was a tragedy that he was unable to miss Wills. Had it not happened, perhaps Lee would have stayed in speedway, his first choice motorsport, and been as much a respected figure and world champion as he became in car racing."
John Hyam:

"I know this is rather late - but better so than never. There were two Barry Lee speedway riders. There was the rider who rode mainly at Hackney and West Ham, sadly involved in the tragic accident with David Wills. He went on to achieve car racing fame. The 'second' Barry Lee was later in the 1960s and he rode for several tracks including Canterbury, Rayleigh and Berwick."

[ Use Mobile Version ]

Comment on this Article | Contact Us | Go Back to Main Menu