Grabbing the Headlines
by Dave Green - 11/05/2006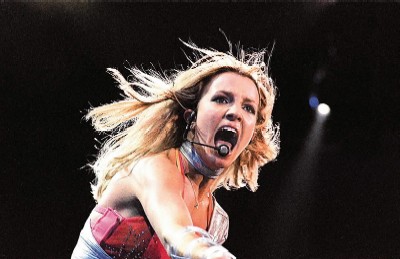 Do you take this woman?
Handing out leaflets in shopping centres, local radio advertisements, features in the local paper - is that really the best that speedway can do to attract a new audience? This is 2006, we're in a multimedia, celebrity obsessed, culture and the old methods don't work anymore. We need a new dynamic approach to courting the press, stealing those all important column inches in Heat magazine and creating a buzz in the playground.
That's why I've come up with this revolutionary five point plan to make speedway the sport that everybody's talking about. I can't do it on my own, I need volunteers to fill key roles in my team, get in touch if you're willing to take on one of these hazardous assignments.
1. Marry Britney Spears
Okay, she's already married - but that's not going to last. We need a speedway fan, preferably one with his own teeth, to court the current Mrs Federline and marry her in a blaze of publicity. Ideally the groom will wear a pair of Arena Essex kevlars for the ceremony and persuade Britney to get an 'I Love Speedway' tattoo on her upper arm. Given her track record a scruffy guy would be our ideal candidate for this mission and we shouldn't require him for more than a day or two.
2. Stir up the Fanatics
Jeff Baker's cartoons in the Berwick programme generally demonstrate a gentle humour that will not offend. That has to change, instead he needs to start pillorying all the world's major religions and political figures. Once these cartoons are published we can ensure that these are passed onto our friends in the tabloids who will help us whip up some hysteria. We'll then organise a march on Berwick's Shielfield Park and invite all those outraged to join us in our protest. Once our group of rabid protesters see the entertainment on offer they'll recognise that watching speedway is a better way to spend their time than religious fanaticism and we'll reap long term benefits.
3. Win Big Brother
The easiest one of all for us to pull off. We need to recruit a moronic person who can be trained to parrot key phrases like "I don't know nuffink, about nuffink, but I love speedway" and "I'm going to nominate Phoenix because he doesn't like speedway and it's really good value for money and fantastic fun for all the family". History shows that the public will be enraptured by this gormless creature and will flock to meet them at public appearances at every track in the county. Anyone with even a semblance of geographical knowledge need not apply. Interviews will be held in Newport - car parking is available in nearby Dundee.
4. Change the name of our sport
The word "Speedway" itself is too old fashioned and dull to attract today's kids - it includes some vowels for gods sake! From now on we should rebrand the sport as "Spdwy". The fans of the future will luv it. They'll think it's wkd, book and gr8. We can also take things a bit further by removing all punctuation from the programme, or perhaps even removing all the words entirely.
5. Create a moving human interest story
There are numerous magazines and television shows that allow people with an unusual or moving story to grab a bit of publicity. We need to create a sensational story that will have them biting our hand off to feature us. We need to find a very special person in order to garner the maximum publicity from this one. That person would ideally be a morbidly obese transexual who has fallen in love with their Mother in Law. Ideally the relationship with the Mother in Law would have started after they spent enjoyable evenings together at Monmore Green. If we make it clear that they're regular attenders then a few rubberneckers are bound to come along.
[ Use Mobile Version ]
Comment on this Article | Contact Us | Go Back to Main Menu