Praise for the Promoters
by Dave Green - 20/07/2006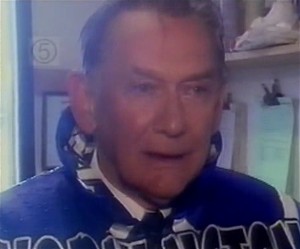 Tony Mole - Respected Promoter
I remember exactly when it happened - it was on the M6 motorway as I headed home from a night's speedway 'oop north'. I suddenly realised that for many years I'd been quite, quite, one hundred percent, totally wrong.
I've never been one to be impressed with anything less than the exceptional. I recognise quality and ability in all spheres of life, but when it comes to the mediocre or downright poor I've always been quick to criticise. The way a speedway promotion operates has always been something I've judged and commented on. I've long admired the work done by Tony Mole, Matt Ford and certain others - there are a number of highly professional operators involved in speedway promotion these days. What I'd failed to appreciate was that many of the promotions that I'd considered to be merely adequate or even poor were actually all worthy of great praise.
Think about it - how many hours a week must promoters spend to provide ungrateful sods like me with an evening's entertainment? They prepare tracks, print programmes, co-ordinate staff, fret about the weather and then open the gates to a disappointing attendance that, all too frequently, falls below their breakeven point. Then they do it all again the next week, and the week after that, and the week after that.
I'd always assumed that promoting a speedway track was a job that any reasonably intelligent individual could perform. Whenever I spend my (imaginary) lottery winnings - I'm operating a successful track in a modern stadium and chatting cosily with the great and the good of the speedway world. It's probably a dream that many of you have shared and that some of you may even go on to experience for real. It all sounds fantastic, though there is a fundemental flaw in the plan - me.
What my new found wealth won't give me is the dedication, work ethic and commitment required to actually fulfill this fantasy. Could I really go through the ups and downs that these guys must experience? How would I feel when my stadium is full to capacity and the heavens open up? How would I cope if my incident recorder phoned at 7.25pm to say he couldn't make tonight's meeting?
In my heart of hearts I know that I couldn't handle that kind of pressure or stress. When my numbers do come up I'll have to adopt a different strategy. I'll still have a speedway track, that's non-negotiable, but I'll get someone in to run it for me. Eric Boocock would be my preferred candidate - he should stand-by for my phone call, just as soon as those six numbers are pulled out.
It's all to easy to criticise promoters, particularly after their annual jaunt when they spend too long in the sun and dream up ridiculous new rules. And there's the rub - most of the criticisms that I and others make actually relate to rules and regulations. Perhaps the people with the qualities necessary to promote a speedway track are not necessarily those with the qualities required of legislators?
I've certainly found a new respect for promoters in recent weeks. I watch them closely and notice that standing around chatting isn't often on the agenda, there's always some task requiring attention or some query to be resolved. This is in addition to the many hours that go in before and after each week's meeting. They must be a special breed and they must love speedway.
Speedway promoters - I salute you all!
This article was first published on 20th July 2006
---

Tony Mowles:

"Thanks Dave, us fans all need a reality check every now and again, and whilst agreeing with almost every word one sentence stood out:- "Perhaps the people with the qualities necessary to promote a speedway track are not necessarily those with the qualities required of legislators?" And there's the rub, until promoters hand over the running of the sport to an independant govening body all their hard work will continue to be tainted with charges of cliques, self interest and short termism. My lottery winnings are not for a new track but for a new structure."

[ Use Mobile Version ]

Comment on this Article | Contact Us | Go Back to Main Menu