Who is Ian Hoskins?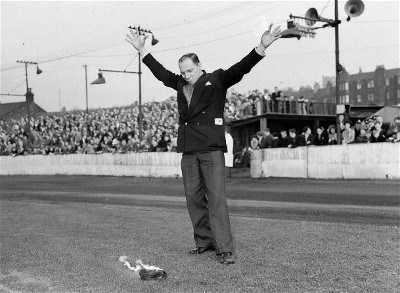 Another hat goes up in smoke
Born in Australia in 1924, Ian Hoskins is a man of many talents - both inside and outside speedway racing. As a child he was team mascot at Wembley and West Ham in the 1930s when his father, the great John S. Hoskins, promoted at those illustrious stadiums.
He saw service with the Royal Air Force during World War II, serving with honour. When speedway was at its lowest ebb between 1955 and 1960, Ian obtained the position of Welfare Officer for the Rolls-Royce aero-engine division in Glasgow, with responsibility for some 3,000 people.
In the early post-war period, lan promoted speedway racing in Scotland for many years with varying degrees of success. One of his greatest achievements was to obtain permission to stage speedway in the hallowed Hampden Park stadium, Glasgow.
Probably lan's most successful track was Edinburgh in the 1960s, and only the Commonwealth Games being staged at Meadowbank in 1970 forced its closure. Speedway racing had taken place in Spain in the 1930s, but never on the island of Majorca. Ever the entrepreneur, lan promoted the sport on the island after running training schools for the Spanish and Majorcan motocross riders and using the Spanish Bultaco petrol engines in otherwise orthodox racing machines.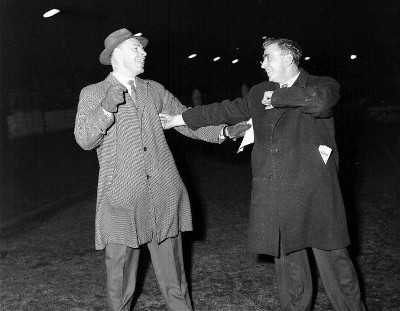 Slugging it out with Mike Parker
It was not long before the call came to promote speedway racing in Africa, where lan's negotiating and promotorial skills were tested to the limit. But he overcame what amounted to a speedway disaster in Southern Rhodesia/Zimbabwe, moving on from Bulawayo to Salisbury/Harare where he became manager of the local ice rink, introducing ice hockey, ice shows, pantomimes on ice and even attempting ice speedway.
With his skill at promotion, the 'Full House' notice went up on every event. From there, lan went into the cinema scene, managing a group for a South African company. Again his entrepreneurial skills came to the fore when he introduced the Harare Foreign Film Festival, an enormous annual success.
Two of lan's other great loves are journalism and the theatre. He has acted in repertory in Scotland, Africa and New Zealand, and written plays and stories, several of which have been broadcast in Harare. By the time lan was due for retirement he was managing director of a chain of cinemas, and now, in retirement, he is a theatre and cinema critic and also plays a lot of golf.
His autobiography - "The History of the Speedway Hoskins" covered the story of his and his father's lives and contained many interesting anecdotes on the sport's history. The success of the book prompted Ian to produce a second edition of the book, bringing his story right up to date.
Ian was obliged to leave Harare and Zimbabwe because of rampant inflation induced by Robert Mugabe. The second edition of his autobiography continues with his escape and his opinion of Mugabe, and how, by chance he was offered sanctuary with an aunt named Daphne Hoskins in Waitara, New Zealand, Johnnie's birthplace.
He reveals how in 2003, he was invited to be a guest of honour at the Australian Veteran Riders' dinner in Sydney where he met Keith Ryan, the only surviving member of the 1947 Glasgow Tigers team; how he was taken to see his birthplace in West Maitland for the first time since the 1930s and visit the Showgrounds where Johnnie Hoskins pioneered the world's first speedway meeting. In an interview, he was asked who he rated as the greatest speedway rider of them all. You will have to read the book to find out the answer.
In 2005, Ian returned to Britain to promote his other book, 'The Cardinal Takes A Bride', a romantic thriller, and had some most unusual experiences such as winning a two page spread in the Edinburgh Evening News following a hat burning event that was supposed to have occured at the Monarch's new home in Armadale, and how he revived the Glasgow Tigers' war cry at Ashfield where he met Len Silver and others from his past as a pioneer Scottish promoter.
The revised book closes with accounts of his revived acting career in New Zealand where he has just finished performing in his fifth play since arriving there in November 2002, plus numerous comical incidents from the past in speedway that should continue to make this autobiography a highly entertaining read along with new photographs, many in colour, not seen in his previous edition.
---
You can read all about Ian's amazing life in the second edition of his "History of the Speedway Hoskins" book.
We have an exclusive extract from the book here on the site.
Order direct from the publisher at www.FirstEditionPublishers.com for NZ$24.95 (about £8.70)
The book has 278 pages including 10 pages of coloured photographs.
You can also order a copy of his novel - "The Cardinal Takes a Bride"
Order direct from the publisher at www.FirstEditionPublishers.com for NZ$24.95 (about £8.70)
This article was first published on 15th June 2006
---

Merilyn Lowe:

"I am tracing the history of John Hoskins who was known to us as Jack Hoskins. He spent a long time at the Reichenback farm at Glenlee, Victoria .Australia. We have a few photo's of hiom in his younger days as he was good mates with Ryko,Ted Reichenback who rode his push bike From Adelaide to Darwin and broke the record for this, also Jack was with him and his mate Fayey in Darwin."

[ Use Mobile Version ]

Comment on this Article | Contact Us | Go Back to Main Menu