Updated on 31st December 2004 - Long Eaton Special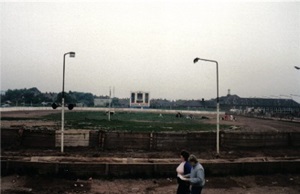 The much missed Long Eaton Invaders take centre stage this week. We last saw the club in action in 1997 before their Station Road home was sold from under them. Thankfully the local planners blocked a prospective housing development, but the stadium gradually became derelict.
Graham Burrows' pictures of Station Road show the track in happier times. We've added these to the same page as Vincent Scothern's depressing photographs of the derelict circuit taken in 1999.
Thankfully it seems that a return for the Invaders is looking increasingly likely. John Bailey has been a tireless campaigner in the moves to revive the club. He brings us up to date on the current position.
A couple of Long Eaton fans have submitted their Dream Teams over the years. Only one rider is common to both - Dave Perks. The fans in question were Graham Hall and Simon Stanley.
Ralph Waller on Ken McKinlay:

"I remember Ken from his days at Coventry - he was my idol - even though I lived in and supported Swindon. While autograph seeking in the Swindon pits, I met him and realised my idol was a gentleman as well as a brilliant speedway rider."
Graeme Bow on Old Meadowbank:

"My late wife and I, Glasgow White City Tiger supporters, saw the opening meeting there with the superb Jack Young. Another year we stood in this stand one March with snow coming in through some broken windows, although not as bad as this looks, and the show went on. Undoubtedly, by far, the best circuit in Scotland, with lots of passing, and happy memories."
John Peck on Lokeren:

"This is the first time I have seen this article on the accident that killed Martyn Piddock. Me and my wife have always been fans of speedway with the Ipswich Witches being our home team. We were shocked at the time of the accident as we liked the riding of Martyn Piddock and when our first son was born on the 6 Oct 1970 we named him Martyn."

Updated on 23rd December 2004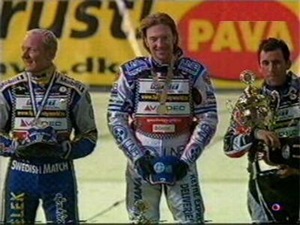 The end of another year is nigh, time for us all to reflect on the year just gone. Join us for a whistle-stop tour of 2004 in our Summary of the Season.
Our Soundbites series threw up some enlightening, amusing and bizarre quotes throughout the year. Check out our favourites in The Best of Soundbites 2004.
There's a new Sheffield Tigers website in town. Not much info on there at present but that will presumably change as the new season draws nearer. You can find it at www.freewebs.com/thetigersofsheffield.
A couple of young lads have websites that we weren't aware of until now. They are Craig Quinn and Joe Reynolds. Joe signed for Buxton towards the end of the season, while Craig is concentrating on the training tracks for now.
Bill Elliot on Saddlebow Road:

"Have so many memories of Saddlebow Rd from the late 60's onwards, following the Glasgow Tigers each year to one of my very favourite away tracks - never anything less than terrific racing! Can remember one year which sums up the friendliness and generosity of the Lynn supporters. Our No 1, Jim McMillan, had lost virtually all his gear in a garage fire the week before and leaving aside the fact that he went out and beat the home favourites such as Bettsy, the home fans nevertheless filled numerous buckets via a collection which helped him replace the gear he lost. Can remember our supporters football team coming off the bus early on Saturday morning, grabbing a few hours' shut eye at the park, then changing into our strips and taking on the Lynn supporters in a typically friendly match. Love the place so much I spent my honeymoon there (King's Lynn, not the speedway track!) and 26 years years on from that STILL have only great memories of the place! Best wishes to everyone there from a getting older Tigers' fan."
Scott White on Skegness:

"What a shame speedway never worked at Skegness, looks like a great track. It's also a shame that speedway is not promoted to the general public these days, I am sure more would go if they knew where and when it was on."
Mike Hunter on Skegness:

"Great to see the Skegness stuff. Like many fans I was disappointed to miss this track."

Updated on 18th December 2004
Please give your support to the campaign to bring speedway back to Cornwall. Find out how you can help at http://www.speedwayincornwall.co.uk/.

Updated on 17th December 2004 - Skegness Special
This week we turn our attention to one of the sport's shortest lived ventures - Skegness. The circuit staged a handful of meetings in the nineties, but it was a 'blink and you missed it' existence.
Graham Burrows has supplied us with photographs of the circuit. These were taken when the track first opened. View the pictures here.
If you want to know more about Skeggy then you'll need to check out our all new Non-Essential Guide to Skegness Speedway.
If you're based in Newcastle and aged between 14 and 19 then you should check out our Can You Help? page. A tv production company are looking for youngsters to appear in a short film.
Glasgow's George Stancl is the subject of a new unofficial website. The obligatory photo gallery and rider profile are present and correct.
Photographer Steve Dixon has put some of his action pictures online. You can see them at www.stevedixonphotography.co.uk.

Updated on 11th December 2004
It's been home to the Stars, Starlets, Braves, Kids, Jousters, Angels, Silver Machine, Barracuda Braves and Knights. It's also recognised as one of the best racing circuits in the world. It's King's Lynn's Saddlebow Road circuit! These pictures come to us courtesy of Graham Burrows.
If you have a VHS copy of the 1997 German Grand Prix, or video footage of the Ellesmere Port Gunners in action, then please check out our new Can You Help? page. We're happy to include your pleas for assistance on that page, email us full details of your request and we'll see if someone out there can help you.
We're very grateful to our regular contributors who have supplied us with interesting pictures and articles over the years - but there's always room for more people to get involved. We're always happy to receive unsolicited contributions or to discuss ideas for articles or features. Drop us an email at speedwayplus@hotmail.com if interested, no qualifications required!
New Edinburgh monarch Robert Ksiezak has already got a personal website in place. It's another from the ever-enthusiastic 'Sparky' stable. The address you need is http://www.rk-racing.qn.com/.
Newcastle's new website is now in place. You may remember the kerfuffle which ensued when the previous web-team were the last to know that their services were no longer required. The new site can be found at newcastlediamonds.com
The Speedway Yellow Pages is an interesting new venture that aims to capture all speedway links in a central location. Something like this is overdue so we wish them well and commend it to you.
Tom Marriott on The County Ground:

"It's funny how your mind's eye works. I have not been to Exeter speedway since the early 70's. In my mind it was so big and wide and now in the photo's it looks so narrow. Maybe the camera makes it look smaller. Maybe it's time for another visit to England and a tour of the tracks before all my favorite tracks vanish. Most are gone, Halifax, Hyde Road, Dudley Wood. etc"
Craig Watkins on Ellesmere Port:

"Bring Back the Gunners. I was privileged to watch the Gunners way back in the late 70s and early 80s. Witnessing John Jackson setting yet another New Track Record was an incredible sight."
Harry Marsh on Marine Gardens:

"Nice to see the picture of the track at Portobello. I was only very young at the time, and my father broke the track record there racing for the Belle Vue Midget Car Team in Heat 9 on the 2nd July 1938. The reason for this time was the fact that Dad's throttle had stuck fully open at the start line. Another story he told me was that the track was laid on a foundation of bricks which became exposed at times. He had the mis-fortune to get hit by a half-brick on his cork helmet from a car in front. It cracked his helmet half way through! You could say he was fortunate as he suffered a bad head ache!"

Updated on 3rd December 2004
One of the most infamous results of the eighties occurred in the first year of the decade, on the 15th of July to be precise. On that night the Crayford Kestrels defeated the Workington Comets by 65 points to 12. Read the story of that remarkable meeting here.
There's another speedway personality to be identified in Who Am I? As previously, ten clues should help you to unmask the man in question.
The official website of Aussie Under 21 champion Rory Schlein has been relaunched with a brand new look, at www.roryschleinracing.com. The World Under 21 finalist, who recently announced that he was quitting the Premier League in order to make a full time move to the British Elite League in 2005, is delighted with the new look website, saying "Myself and Graeme (of GPNetMedia) have been working on the new look and content for some time now, and I'm really pleased with the final product. I just hope the fans like what we've put together for them!"

Updated on 26th November 2004
Exeter's famous County Ground circuit has probably attracted more comment than most over its long history. The Falcons recently revised their plans and will stay at the track for the 2005 season. View Richard Hollingsworth's pictures of the stadium here.
There's still hope that we'll see the Long Eaton Invaders back on track at some point in the future. Graham Hall remembers the good old days at Station Road and has selected his Long Eaton Dream Team. The side includes the effortlessly stylish Dave Perks. We're always happy to receive your 'Dream Teams', but you must remember to explain why each rider was selected - Graham's team is a perfect example of what we're after.
The Diamond Geezers Support Group which was formed to help keep speedway in Newcastle is to hold a riders reunion in March 2005, all former Newcastle and Sunderland riders are invited to attend, riders including Russ Dent have already expressed an interest in attending. For further information please contact them on 07855 757474 or by email at newcastleforum@aol.com
Stat fans should check out the all new www.premierleaguespeedway.co.uk website. It features comprehensive statistics on the 2004 season.
There's a new unofficial website dedicated to Lee Richardson.
Looking to brush up on your knowledge of speedway in Belgium? If so, you need to check out speedway-belgium.com.
Denise Dunlea on Odsal Stadium:

"I'm afraid I have to agree with Brian France's comments on Odsal Stadium. I spoke to a few relations of mine who read the local paper nightly and who didn't realise Speedway was on in Bradford, what would that tell you about lack of advertising? Pity the sport is now lost to Bradford, "The Bulls" shouldn't be able to have sole use of such a stadium, it didn't need a roof etc, just a bit of updating would have been enough. I can't believe the council let the city of Bradford lose Speedway when they sponsored the team at one stage in the late 80/90's!"
Malcolm Preston on Station Road:

"It's a shame to see the stadium the way it is, I went to Long Eaton track several times, even though I came from the Manchester area, I combined it with a visit to the museum at Donnington."
Jim Brown on Scunthorpe - First Impressions:

"I feel that this is a very fitting article to the tremendous efforts of Rob and Norman and others who are so enthusiastic about the return of this sport to Scunthorpe. I take my eldest boy, George aged 9, there each Sunday to practice on his full size bike with lowered seat and Honda 125cc engine. He is doing really well and is getting loads of encouragement from all of the visiting riders, not to mention his steel shoe made to measure by Roy Haynes (ex Scunny and Sheffield rider).

I would love to hear from any potential sponsors who may be able to help me fund George's progression as I have had to take a lesser paid position nearer home, since his mum was diagnosed and treated for cancer at 38. I am not looking for any sympathy votes here but would like to hear from anyone who can give me advice on sponsorship, donate kit or financial sponsorship for George, he is showing promise and is keen."

Jim can be contacted at js.brown @ btinternet.com

Updated on 19th November 2004
There have been a flurry of speedway books released in recent years, mainly covering the rich history of the sport. Gary Lough took a different path with his first book and concentrated entirely on the present day. His book '10th Yer Baws!' tells the story of his season following the Edinburgh Monarchs to the 2003 Premier League title. It's his very personal account of the year and, as such, has drawn comparisons with Nick Hornby's Fever Pitch. Gary has kindly allowed us to include an extract from the book on the site. You can read the extract and find out how to order here. We've given this article a 'Parental Guidance' rating so no complaints about language please!
Test your speedway knowledge by playing our new 'Who Am I?' game. Ten hints will help you to identify a speedway personality. How many clues will you need before you can work out the answer?
Concerted efforts are now being made in Scotland to speed the development of the best local talent. This initiative includes the Dale Devils side, Top Gun training days and the Kenny McKinna Training School. Find out more at the new website that supports these projects - www.scottishspeedway.co.uk
Brent Werner's new website is very impressive indeed. Colin Pearson designed the site and has done a marvellous job. The address is brentwerner.com
Diane Phillips liked Bob Cole's Dream Team:

"I totally agree with you, my son who was about 3 at the time adored Christer Lofqvist, and both my husband and myself loved watching him ride, Odd Fossengen was a firm favourite, along with Nordin and Reidar Eide."

Updated on 13th November 2004
The B.S.P.A conference has yet to be staged - so we were rather surprised to receive a 'leaked' copy of the post-conference press release. We can't guarantee that it's the genuine article - although it does seem highly credible. Make up your own mind if this is the 'Real McCoy' or just the product of some sick minds. One thing's for sure, the promoters will have a great time in their luxury country club (above).
EXCLUSIVE It's been a long time since speedway featured prominently in a motion picture. Well, the good news is that it's highly probable it will happen again shortly! Jinx Films of London are intending to make a movie named 'Eating Dust' in the near future. The film, to be made in Edinburgh, Glasgow and Inverness, will feature two cousins who set out to win the national speedway championship. Brian Cox, the first Hannibal Lecter, is lined up to lead the cast. The producers are intending to check out both Ashfield and Armadale as potential locations. More news from our showbiz reporter as we get it!
The Halifax Dukes were back in action this season and are campaigning for a permanent new venue in the Yorkshire town. Keep up to date at www.halifaxdukes.co.uk.
McKinna Mk IV is now making an impact at junior level in Scotland. The latest in the family dynasty is Adam, son of Kenny. Find out more at his new website.
Brian France left the following feedback on Odsal Stadium:

"Nice to see Odsal mentioned again. The track may have seen some development but it mainly remains as it was (if the views via Sky Sports rugby coverage are anything to go by) and it would have been nice if the Hams had continued. The Dukes had consistent support both home and away but lack of good advertising, other than in Bradford itself, didn't reach the parts that other beers (sorry sports ) could have reached thereby increasing the gates considerably."

Updated on 7th November 2004
Steve Harland made his first visit to the new Scunthorpe circuit recently. His first impressions make for interesting reading.
Dave Green returns to the site today with another of his topical articles. This time he turns his attention to air fences and asks - No defence if there's no fence?
---
ARCHIVE
[ Use Desktop Version ]
Comment on this Article | Contact Us | Go Back to Main Menu