Ivor Brown - On and off the track
by Philip Dalling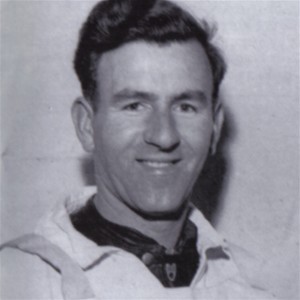 Ivor
I guess there were a great many Ivor Browns, depending upon where you were coming from.
There was the star speedway rider - easily the biggest name in the Provincial League until Ivan Mauger arrived on the scene. Idolised by Cradley fans, booed (and worse) by the rest.
The classy Jaguar and neat trailer, the immaculate bike, the spotless white shirt and gloves, shining leathers, socks neatly tucked over the top of his polished riding boots.
Not forgetting the fact that he won most of the races he started...
Everything about Ivor was a provocation, unless you were a committed fan.
Then there was the off-track Ivor who spent his entire life as one of the mainstays of a picture postcard village on the borders of Leicestershire and Nottinghamshire. Proprietor of a haulage firm and of the post office and general stores, cricketer and family man. A man who seemed just as proud of the fact that his home-cooked ham was the mainstay of the teas at every cricket ground in the area as he was of his distinguished speedway career!
I first experienced Ivor as a fan, watching him collect the points at Station Road, Long Eaton, when the Heathens arrived on Provincial League business, or in individual meetings.
When, in 1969, he took over the promotion at Long Eaton, in partnership with former Dudley Wood team-mate Vic White, I had graduated from the terraces to the press box. Speedway Star ordered a profile of Ivor for the 1970 `Parade' annual, and I was happy to earn the couple of guineas that was the going rate for a two-page spread in those far-off days.
Ivor revealed that his first experience of a speedway track was at Long Eaton, which was quite close to his Wymeswold home. Former Norwich star Paddy Mills ran training sessions after the Archers had pulled out of Southern League racing, and Ivor was one of the regulars.
I remember standing with him at a 1969 vintage Rangers training session, when he looked wistfully at the novices and remarked that it didn't seem five minutes since he had been in their position himself.
As a speedway rider, Ivor was far from being an overnight sensation. As the sport shrank in the mid-1950s rides were hard to come by and there was plenty of junior competition at Blackbird Road, Leicester. A handful of team rides and endless second half appearances were all that came his way, until Yarmouth, the Southern Area League and, eventually, the advent of the Provincial League gave him regular competition.
The rest is history, well captured by the recent VSM picture of Ivor leading Nigel Boocock into the first bend at Brandon in the first-ever British League match. It was somehow fitting that the PL's greatest star should symbolise how the once-despised lower grade riders could match their former National League colleagues wheel for wheel in the big league that gave British Speedway a new golden era.
My career took me far away from Station Road and speedway for many years. It was good to make contact again with Ivor in 2004 and to chat about his career. Not that it was necessarily easy going. The man who cared so much about his on-track image was, in private life, quite diffident about his achievements.
Quietly proud of his career, is probably the best way to put it. A great many people in speedway were honoured to have seen the man in track action, and proud to have had contact with a true legend of the sport.
This article was first published on 17th June 2005
---

John Fray:

"A nice piece well balanced. It goes right to the heart of the man."
Vic Mason:

"Thanks for the read about Ivor Brown. I remember him well, thanks."
Paul Richards:

"There was a time in the early 60s when Ivor was the best rider on the planet. he held about 7 track records simultaniously. "
Callum Brown:

"Thanks for all your nice comments, this is my step grandad. "
Anonymous:

"Thought this piece was true and straight to the point ...Ivor was without doubt one of the finest riders to race around Dudley Wood and was a match for any rider in the Provincial league....him and Harry Bastable were a good combination .....Remember as a lad his immaculate JAP machines ....great days...Can still smell "the Castrol R" as well as the dope..Happily came home filthy from watching the racing.."
Bob Hughes:

"AS a young boy I used to attend the Dudley Wood track. In those days there was no such thing as tear off and speedway riders used to put cheap plastic goggles over each other to clear the dirt. At the end of meetings riders gave their goggles away to fans . I remember waiting in line behind his van for my chance to get a pair. For many years I had a pair of Ivor Brown goggles along with his picture and a green club badge on my bedroom wall . I remember Ivor's white smock . He became most disgruntled if there was any dirt on the front of it. He didn't like coming second."
Graham Nicholls:

"Ivor Brown was the most exciting speedway rider I have had the pleasure of watching & I am now 70 yrs old. He regularly won races from the back & I was privilaged to see many classic races wth the top stars of the day who inevatably lost at the Dudley Wood home of Cradley Heathens or any other speedway track for that matter. Until his unfortunate crash with Mr. Fundin, Browny was 'the bees knees'. He was always immaculately turned out in both kit & bike which always shone like a mirror. The loss of his talent when it came took a huge slice from the Cradley faithful which took years to replace until the arrival of messrs.Gundersen, Penhall, Persson and Hancock which gives a good idea of how good he was. This piece has taken too long before stating his value from the fan's point of view. Over to you now Mr.Pearson as you strive to make Cradley the speedway team it once was, under its new name of Dudley, I wish you all the luck in the World. I now live in Streatham in Sth.London & enjoy watching John Cook's Lakeside Hammers, but no team can ever replace 'The Cradley Heathens'7"
Jim Tibbetts:

"Ivor was the first rider I saw win a speedway race on my first visit to Dudley Wood when I was only 13 years old, way back in Aug' 1963. He was almost unbeatable and I was 'hooked'.

I've seen all the greats who rode in the Cradley colours since then, but none quite filled Ivor's boots in my adoration of the man. He proved he was 'no big fish in a little pond' by mixing it with the big boys of the ex-National League and out scoring many of them with a 10-point match average until his fateful clash with Ove Fundin in Heat 1 of the '1965 Wimbledon Internationale'.

The Doctors told him he would never ride again with his spinal injury - he did, but he was never the same rider he once was, other than glimpses of his former dominance and sadly, he retired after the 1968 season after picking up many more injuries.

I recently visited his Wymeswold village and after speaking to a few elderly villagers, they showed me the house (formerly the general store and Post Office that he ran) where Ivor lived, and they pointed me in the direction of his final Resting Place (heartfelt thanks), which we visited to pay our last respects to the great man. My wife and I were sad to learn that his wife - Sandr a - although still with us, now has Dementia. She sold the shop and moved to a bungalow almost opposite, I was hoping that we could speak to her and learn more of my childhood hero.

Heady days indeed and fabulous memories of a superb racer, who deserved a lot more success than he actually got.

RIP Ivor, I'm so privileged to have seen the greatest of the Cradley Heath 'Greats' at his best. "

[ Use Mobile Version ]

Comment on this Article | Contact Us | Go Back to Main Menu