Showered in Shale by Jeff Scott
Review
by Russell Lanning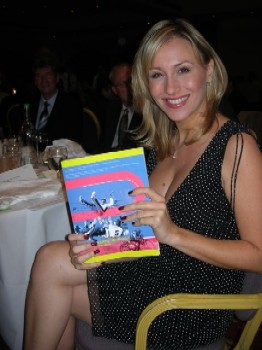 Sophie Blake with the book
I HAVE often thought of speedway as a huge family that creates a long-winded Christmas between the months of March and October. As promoters spend months building up to "Christmas" by landing presents on their Santa wish list for their particular clubs, the supporters wake in the spring to find all their friends and family arrive to enjoy the speedway "festive" cheer once again. The truth of the matter is many of the presents break before "Boxing Day" and there are often a few batteries missing in vital other areas.
In a sense Showered In Shale - Jeff Scott's Michael Palin-like track trotting around the UK - is my Christmas Yule log fantasy all wrapped up in 503 pages.
It's the simplest idea: man travels around country and gets inside every speedway venue and track yaks to the rest of the sport's diehards about what really happens at each track domicile. Yet there is a quaint charm about each track Jeff visits as though he were entering a snug cafe for a cream tea on a quintessential English summer day.
Speedway is one of those strange sports that boasted in the Seventies to have the second largest spectator following to football in the UK; 100,000 avids at Wembley's old Twin Towers in 1972 spending an entire evening jeering legendary Ivan Mauger, speedway enjoyed unbelievable success in 1966 when four-times world champion New Zealander Barry Briggs finished second in BBC's Sports Personality of the Year behind English football World Cup winning captain Bobby Moore, but ahead of third placed final hat-trick hero Geoff Hurst. That is the equivalent today of Scott Nicholls taking Wayne Rooney's mantle at the BBC.
But in 40 years of hurt for the sport, speedway is lucky to earn a single mention on December's Sports Personality of the Year on the Beeb these days, never mind get an invite for a speedway VIP to sit in the audience. It's almost a case for a Jerry Springer Show with the speedway topic: "I thought my sport had died - but I was wrong."
I write this review as a devotee of the old girl - and rather than have the t-shirt, seen the video slogan - I do actually have the anorak to prove it. After many years of watching my father, Dave, scale the heights, eulogising on the track greats on terrestrial ITV - when the sport had millions rather than hundreds of thousands of viewers via Sky - I may be a tad nepotistic but my father's promotional genius knew no bounds.
The facts stack up: as manager and promoter he helped West Ham to the Treble in 1965, won league (1971) and cup (1975) honours while at Eastbourne and added a further league championship medal along with a £50,000 carrot for helping Reading win the top flight title in 1980. And all the time he was holding down a stress-laden showbiz journalistic day to day role at TVTimes, along with a demanding role for ITV covering speedway, darts and ice hockey.
Like a fool, I decided to delve into the promotional speedway quicksand and was for many years, quite rightly, "son of Dave". Yet after managing Eastbourne to two successive Doubles in 1986 and 1987 - and witnessing the racing birth of possibly British speedway's most underachieving rider with such golden natural talent Martin Dugard - I then switched to Wimbledon where I brought over unknown rookie Australian Todd Wiltshire and was present to witness the beginning of another track giant. In that time I helped guide the Dons to a cup final and runners-up in the league before deciding to switch from a career in a toy department into the big wide world of sharks in national newspapers.
Yet despite moving into the national newspaper industry and building up a huge contact base in 15 years, only one present day speedway promoter has had the presence of mind to speak to me regularly and push for speedway - rather than his own club - to get projection in the national press.
That is why Matt Ford, entrepreneurial figure at Poole will always remain the stand-alone promoter of speedway's current new generation. He has the vision to see in the Lanning family - father Dave still working for Sky TV, myself at the Mail on Sunday and the Sun and my younger brother, Phil, deputy motors editor at the Sun - that herein lies a family who can spread the speedway gospel and potentially entice a few more to propel his business in Dorset. That is why he will always be successful.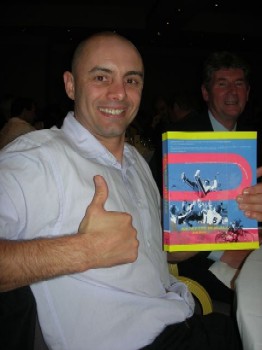 Steve Johnston
I would like to think, therefore, having digested Showered in Shale from cover to cover, my opinion should be viewed as constructive, but honest. First, the bad news. The book contains too many words. A good editor would have cut Jeff's kamikaze keyboard antics by at least a third and yet still retained the wholesome quality of the theme.
We have a sub-editor at the Mail on Sunday sports department nicknamed Edward Scissorhands (no prizes for guessing how he has earned his title over the years for his butchering of words) who would have taken to stripping words out at will. I can almost hear his gravel-like tone, peering out from above his bifocals: "Never mind shale, more like showered in overmatter."
Wisened sports hack Tony McDonald is mentioned in the final chapter of Jeff's tome. He speaks a lot of sense. He's been in publishing when I was in short trousers - and he won't thank me for saying that. When he says a 250 page book is long enough ... it's long enough, believe me.
End of gripe. The rest is a cornucopian ride through the country on an open-topped bus as Jeff shares the trials and tribulations on speedway's Elite, Premier and Conference three-tier highway. What we discover is that while Sky Sports churn out male voiceover men who declare on satellite speedway's Grand Prix "stars", Jeff Scott discovers speedway's real heroes.
From the track shop sellers, the wonderful Stoke ladies to the grumpy jumped-up former Wimbledon man now residing at Sittingbourne, they are all the sport's real grafters. They all have a story to tell and they believe they have the key to unlock speedway's safe to a new fan blitz. If only track life were that simple, BBC2's Dragons Den opportunists would be fork-lifting cash at the sport with a Google-like business glow.
At a time when sport books are landing on sports editors desks with alarming daily regularity Showered in Shale takes a lot of digesting compared to the rest. To read it from cover to cover, the first rule would appear that you must be a died-in-the-wool speedway nut. And there's certainly nothing wrong in that.
I was delighted to read journalistic doyen Frank Keating at The Guardian deliver such a luminous review to Jeff's work recently. Have no illusions, books like this require huge amounts of personal commitment and dedication to write and underpin. That is why snotty-nosed promoters like Ian Thomas - who Jeff quite rightly names and shames - should know better than to query the author's authenticity.
I sincerely hope Jeff's journey has been worth it. If he has come out of it clutching a few quid on the back of its sales - and in the process earned the Speedway Riders Benevolent Fund a surprise slice too thanks to his generous donation of writing off a percentage per copy - then I will feel contented in the knowledge that it has been a worthwhile adventure.
This book is available from www.methanolpress.com
This article was first published on 2nd November 2006
---

Pete Adams:

"As an Edinburgh supporter of long standing, I am not "the" Pete Adams of Coventry, Cradley Heath and Wolves fame, I read with much interest the article from Russell Lanning and his comments on Showered in Shale and speedway generally. It was interesting to find out what Russell was up to having disappeared from the sport after becoming quite a larger than life character in the National League in the 80s with Eastbourne and Wimbledon. Rarely did Russell ever bring a duff team to the old Powderhall track. I would say most of the time it was a battling Les Collins versus the rest every time Lanning and his men came up here. More often than not he left triumphant.

I always believed Russell to be a promoter in the true sense of the word, he got off his backside and seemed to want to shout how good his team was. We jeered and booed him but looking back he often had the last word. Edinburgh press man Mike Hunter was always full of praise for Russell because he could probably see the great job he was doing. Speedway misses personalities like him and I was impressed to read of Poole promoter Matt Ford's contact with Russell, he clearly is a shrewd man knowing the old Lanning media magic might help him. Hopefully Matt Ford might sweet talk Russell back to speedway, although if he is now in the national media it's going to take a bit of persuasion. His father Dave always had a slogan I think in the Speedway Star saying: love him or loathe him, you can't ignore him. I hated him at the time, but looking back he really sold the sport and has been missed. Good read."
Robert Rogers:

"Funny, could have sworn that the great English World Champion Tommy Price was our manager in 1965 when we won the triple crown! I seem to remember a certain Dave Lanning was our publicity officer, and did not take over till 66. He led us to win the London cup in 66 & 67. As most the trophys were not availible the team photo showing the Hammers with the triple trophys does show Dave as it was not taken until 1966. Will not tell you what the Hackney fans called him! I think it is fair to say that of all the promoters/managers, only Dave and Len Silver could hold a hat (burning or otherwise) to the great Johnny Hoskins."
Mali Halls:

"I have just read Russell Lanning's review of Showered In Shale. After sounding off about what he does, he says he is involved at The Sun newspaper. If he is, is it not possible for him to give our sport a mention once in a while. I think speedway should get more of a mention in daily newspapers than the small amount of coverage that it gets at the moment. If Russell has any clout, then surely he could give us some form of regular reports etc."
Andy Buckley-Taylor:

"Good to see that Russell keeps in touch with the sport. I was never his biggest fan, but the guy was an excellent promoter, perhaps someone should persuade him to come back. Urgh!! "The Mail on Sunday" I couldn't believe that he works for that rag, but what the ???. Glad to see Philip is doing ok as well. I did some work with Philip for Mike Bennett years ago and always found him an ok guy."

[ Use Mobile Version ]

Comment on this Article | Contact Us | Go Back to Main Menu