Lokeren....by Harry Ward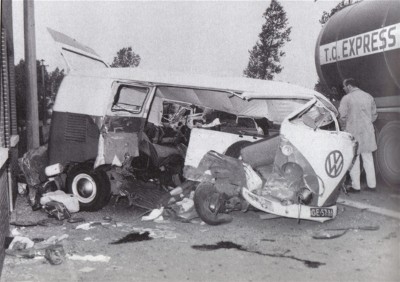 The wreck of the bus involved in the tragedy
As a youngster in the Summers of the mid to late sixties my Tuesdays were spent at West Ham watching my idols race speedway. But two weeks in every year I was taken to the Isle of Wight for our annual holidays. I had just turned fifteen when in July 1970 we went on our trip to the Isle of Wight. I distinctly remember my Dad and I playing cricket outside our chalet. We were called in for tea by my Mum. We sat listening to the radio while drinking our tea. The news bulletin came on and I froze as I couldn't believe what I was hearing. I remember the newscasters exact words..."four members of the West Ham speedway team have been killed when their mini bus crashed in Belgium"
I just wanted to go home. I needed to be at the track with all the other supporters.
That Tuesday's meeting was cancelled but, still on holiday I phoned the track for details of the next Tuesday's meeting. Gone were Martyn Piddock and Peter Bradshaw from our team along with our manager the "rubber man" himself Phil Bishop. I didn't really know Mal Charmichael who was a junior but Wimbledon's Garry Everett was also gone. For the forseeable future it was down to guests as Garry Hay and Stan Stevens were also injured in that crash.
The next meeting I saw Garry Hay was back by some miracle. We soldiered on that year but I think the disaster in Lokeren was the beginning of the end for the Hammers.
Two years ago whilst on ebay I found the programmes for the two West Ham meetings in Holland prior to the accident. I acquired them from a man in Canada. He emigrated there but was actually at those meetings. The programmes are among my most treasured Speedway momentos.
Sadly Garry Hay was badly injured in a track crash in Australia later that year leaving him wheelchairbound. Last year I managed to get his address from Peter White but I have yet to find the courage to write to him. How ironic that he was the least injured of all the parties in that bus only to break his back in a track crash.
I look back and think that this was the blackest day in speedway but I would be wrong. Many times since riders have lost their lives in tragic circumstance. People say that speedway is a family and I believe this to be true. Unfortunately we lose some of our family from time to time but it has to be said that "They are gone but not forgotten" . My heroes were taken but the memories remain.
This article was first published on 22nd October 2004
[ Use Mobile Version ]
Comment on this Article | Contact Us | Go Back to Main Menu