An interview with....Mike Bennett
Mike was one of speedway's best ever 'mic men'. His professional approach, knowledge of the sport and wicked sense of humour made him a popular addition to many centre greens. In this interview he looks back on those times and tells us how he spends his time nowadays.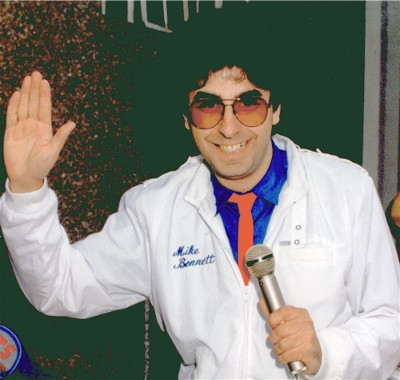 Mike at Sheffield in 1987
If I remember rightly you first saw the sport at Glasgow in the sixties. What do you recall of those days?
It was 1969 at Hampden Park and my first meeting was Glasgow Tigers v Swindon. I knew nothing about speedway but my dad was a press photographer in those days and wanted to have a look so took me along. He ended up as track photographer and I was hooked. In those days, speedway specials in the evening newspapers were standard with a double page spread for league matches and sometimes a full supplement for internationals.
The day after that first meeting the evening citizen headline on the sports pages read "Monk beats Briggs!" That was a big story then and later that year, when my all time hero Jim McMillan beat Ivan Mauger, Scottish television ran the story on the late night news!
In those days it was exciting to see the away teams who always had at least one 'star' name for Charlie Monk or Jimmy Mac to beat. One night Coventry were the visitors and Nigel Boocock, who had never seen Hampden Park with its long straights and narrow turns, missed every start yet passed all of our top riders as if their bikes had stopped. His blue leathers were very unusual too as everyone else was in black then. Ivan and his Belle Vue team mate Chris Pusey also had unusual crash helmets in those days and Briggo was the first to wear an orange full face Bell helmet. It's amazing what an impression those things made to an 11 year old boy but it was a magical era.
Even the 2nd strings and reserves played their part and the pairing of Charlie Monk and Willie Templeton demonstrated team riding (remember that?) at it's best. Oyvand Berg and Russ Dent were another good pair at home but it was young Bobby Beaton who wowed the crowd when he first started with his flat out style.
The best meetings were the local derby's when The Coatbridge Monarchs (They had moved from Edinburgh by then) were led by Reidar Eide and Bert Harkins. There were more fights than the Jerry Springer show on those matches with the Fife farmers Willie and Doug Templeton on opposite sides quite happy to knock lumps off each other. Great fun!
How did you come to get involved in presenting meetings?
The truth is I used to live and work near London in the early 80s and Wimbledon was my local track. I used to love the place but the announcer had very little knowledge of speedway and regularly got the riders names wrong or gave the wrong result and after a while, it became more annoying than funny so I wrote to Mr James from the GRA who used to run the speedway and told him that their announcer didn't know his Anders from his Eric! The reply was less than encouraging but I think they admired my honesty and after many letters invited me up for a trial in 1985. After a chat with the now sadly missed Cyril Maidment and then team Manager Peter Brown, I was offered the chance to work in the announcers box for the 1986 season and it all snowballed from there.
I was determined to put the fun back into presentation having been brought up listening to the likes of Dick Barrie (In my opinion the best mic man ever to work in speedway) and the always entertaining Dave Lanning. There was room then for someone else who could work with the crowd so I took the chance with open arms. By mid '86 I was on the centre green at Boston, after a 'guest' appearance there when Wimbledon were the visitors and by 1987 I was presenting an average of six meetings a week.
Which meetings stand out as the highlights of your time as a 'mic man'?
Easy, the very first night at Wimbledon. Hackney were the visitors, Malcolm Simmons was the away team captain and was celebrating his 40th birthday. My opening line was "Welcome to the captain of the 2nd best team in London!" much to the delight of the 'pit bend loonies' who took me on as one of their own from that night. I was so nervous on the day of the meeting yet once the riders were on the track, the nerves vanished and I loved the instant reaction during the introductions.
There were many highlights at so many other tracks too. The night Andy Graham won the league riders championship at Coventry. We offered him £50 before the meeting if he won as I knew we would sell at least 100 videos at Wimbledon if he did it.
The National league best pairs at Poole when I was nearly banned for life for telling a well known referee what I, and the rest of the crowd thought of his decisions. Guess I shouldn't have said it on the mic though!
The National League Grand Slam (Remember that?) in 1988 at Oxford. There was so much controversy about Jens Rasmussen dropping down from the top flight that year to ride at Rye House and I had a miserable season at Oxford in 1987 so when the opportunity came up to go back and present a "Biggie" as part of the Rye House set up (One of the eight clubs I worked for in 88) it was too good a chance to miss. I don't know who the Oxford fans booed the most, Jens or me but when Raz won the meeting it was the icing on the cake. Funny, I haven't been back to Oxford since!
Another great day for me was in 1987 at Sheffield for a World Championship Semi. There was some drama involving me, a referee and some dubious decisions involving Belle Vue riders at Oxford two days before this meeting. Once again I was fined (paid for by the management!) and I think one or two of the Belle Vue fans were a little upset so when I walked out on to the Centre Green to introduce the riders, the noise from the 500 travelling fans was deafening - all of them booing me! I loved it and as Phil Tufnel would say, happy days......
When and how did the sideline in videos start?
1988 saw the start of MBI video simply because the standard of speedway videos in those days was so bad, I though I could do a reasonable job. At our height, we were filming 8 league meetings every week plus internationals and individuals. We pioneered the 'Anything can happen on the night tapes' that were so popular in the late 80s and early 90s. I had started working in TV by then supplying pictures to Anglia in Norwich and was also making the occasional appearance on ScreenSport who were the first satellite channel to show speedway on a regular basis so it seemed an obvious thing to do. I've lost count of the amount of tapes we have and just wish the technology we have now was available back then. The early tapes were a bit ropey but I had a look at a few of the later ones and I still think they were pretty good for their day.
Take us through a typical week in your life when you were at your busiest.
Phew, I get tired just thinking about it.... I was based in Grantham so the A1 was right on the doorstep and that helped a bit with the travelling but a typical week was Monday Wolverhampton, Tuesday Milton Keynes, Wednesday Wimbledon, Thursday Sheffield, Friday depending on the year Oxford or Hackney, Saturday Kings Lynn, Sunday depending on the year Boston, Rye House or Newcastle.
One bank holiday I was at Kings Lynn for an 11am meeting, rushed down to Rye House for a 3pm start and then across to Hackney for an evening match. In those days you were looking at 15 or 18 heat meetings too! By the time I got to Hackney, I couldn't remember what I had said on what parade or who was riding where, it was mad.
In 1987 I was working Canterbury on a Saturday and then driving back to Oxford to run a disco until 1am!!! It's no wonder I have grey hair now....
You managed to get speedway back on the box with your coverage of the world championship rounds in the early nineties. How difficult was that to achieve?
I really can't take all the credit for that as I was working with some really good people then. One guy in particular, Tommy Rander who ran Transmission TV in Sweden. He produced some programmes for Satellite TV and I used my contacts within ITV to start selling the programmes to the network. The fun of seeing the British Final on Border television at 4.30am on a Sunday was beyond description but we had to start somewhere.
By the mid 90s I had enough experience to produce my own programmes and I am very proud of the fact that I produced, directed and commentated on the National League Riders at Coventry that we managed to have shown on Anglia, Yorkshire, Central, Tyne Tees, Border and Scottish. The down side is that we were promised sponsorship to help towards the production costs which were astronomical in those days but were let down badly by the powers that be. As a result, we lost a fair amount of money on that project but I am very proud of that achievement.
What do you think of the coverage the sport gets on Sky these days?
It's Brilliant! The recent Grand Prix from Cardiff was just first class from the camera angles to the final production. For live coverage, Sky are in a world of their own and the rest of us just look and learn. We could never compete with their quality although, no amount of fancy graphics will make up for a dull meeting but they really have got their acts together.
The only improvement I would make is to have me in the pits doing the interviews! I could quite happily fill Jonathan Green's shoes. Even though I'm not as pretty as the young girl interviewer, I think I could ask the questions the viewers would ask if they were there! Might have to be a bit careful with Nicki Pedersen and David Norris though?
You must have built up a huge archive of speedway on video. Are these still available for sale?
Ah, the old archive question... Huge indeed and I guess we could compile a list of classic meetings. I always reckoned on the value of nostalgia and maybe now we could think about releasing some of the best ones. The problem is time as you'll see from the next answer! There is also the concern that people would expect the productions to be like the Sky TV coverage and as already described, they are not. They were the best we could make them which was fine for the 80s and early 90s but people have much higher expectations now. As I said earlier, if we were still filming speedway with the technology we use for our corporate productions, we would have a fantastic product.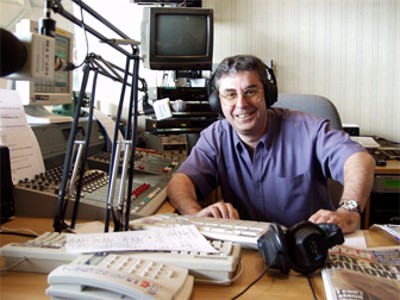 Mike in 2004 - Still talking for a living
What are you doing these days and why are you no longer involved with speedway?
Since 1992 I have been involved in Media Training where we teach people how to handle TV and radio interviews when things go wrong. We have had many high profile companies in the media spotlight over the years and the training has proved invaluable to them. When my business associate died in 1999 we formed MBiC Communication and Media so along with my partner Tracey who acts as camera person (to be politically correct!) we travel all over the country and beyond working for the major oil companies, aviation and food processing to name but a few industries. I think some sports people could benefit from our training courses too!
I'm still freelancing for Anglia and Yorkshire TV too and have had some major stories on the main ITV news programmes over the past few years. My job involves interviewing, filming and occasionally editing so there's a lot more to the work now than just getting pictures.
As if that's not enough, I returned to the radio in 2003 for a one month stint on Crown FM Norwich who are bidding for the new licence to be awarded in December 2004. I was presenting the 10 - 2 daytime slot and that was brilliant fun if not financially rewarding. Should Crown win the bid then I will have a regular slot at weekends with any luck.
There just isn't the time for speedway involvement any more and although I really miss some of the people, I don't miss the politics, the endless driving, the rained off meetings and the struggle to be paid from some of the promoters.
I still push Anglia into covering the occasional speedway meeting for a news clip but I have not been to any British track for a couple of years. The last time was Ipswich to cover the Lawrence Hare benefit meeting for Anglia and who was the first person I saw? Dick Barrie who had come down to present the meeting!
We did take in a meeting in Australia in January this year and that was brilliant. We spent so much time talking to riders and fans from years gone by that I think we only saw about 3 races. Now I know what the friends reunited gatherings are like.
So as to the future, when I left Kings Lynn and Wolverhampton in the mid 90s I made a conscious decision to leave speedway completely and concentrate on the media training so unless someone makes me an offer I can't refuse, I think that my involvement will be limited to the occasional news story and internet questionnaire! It was brilliant while it lasted though........
---
Mike Bennett can regularly be heard presenting the drive time show on North Norfolk Radio 96.2 and 103.2 FM. He can be contacted through his business website at www.mbic.tv.
---
A few weeks after the interview Mike got back in touch with the following update:

"After the interview appeared on your site, I had a great many emails and phone calls from people saying how much they enjoyed it etc. By coincidence, around the same time, Keith Chapman had contacted me to plug a meeting at Kings Lynn on my radio show. I suggested doing a live interview with him and at the end of it, he invited me and the family to that nights' meeting as his guests.

I duly turned up, was chatting to him in the pits around 7.30pm. Somebody asked him who was presenting that night, he looked around and realised there was nobody to do it and promptly placed the radio mic in my hand!!

I didn't do the parade as I really didn't know the riders but by the 3rd or 4th heat, I was back in to it and the reaction was very positive. It felt like I had never been away if truth be told and, apart from a few rule changes, it hasn't been too difficult to come back.

I have said to Keith I'll do as many as I can this season and then have a serious chat during the winter about 2005."

This article was first published on 3rd October 2004
---

David Norrie:

"I remember your father at Hampden. I was raking the first corner and your dad was always positioned there or there abouts. I was about 13-15 at the time? I recall your dad being really professional about lighting and lenses. I think we were both a little nervous as it was not unknown for riders to leave the track unexpectedly! Like you, Jimmy Mac was my all time great although Bobby Beaton and Oyvind Berg were just great to watch. Alas NZ where I now live has little or no speedway which is tragic for a country that produced Briggs, Moore and Mauger."
Thomas Lewis:

"Nice to have seen the interview which brought back many memories of the late 60's and 70's, which were really a spectacular period in the sport, and in hindsight they did unfortunately lose their way a bit. I also have many fond memories of the Glasgow Tigers, whom I first started watching at the White City, moving on to Hampden, Coatbridge and the Blantyre circuits, thereafter heading overseas.

The sport is now quite a slick spectacle, with the advent of the more powerful engines and slicker tracks having weighed heavily on the end results and subsequent lack of passing etc., although in all fairness I have seen some marvellous racing on the current set ups.

Who can forget the punch ups and other stage managed situations to get the fans booing and howling abuse at the resulting culprits? Speedway, as in most other sports today, lacks "characters". Tennis had the likes of Nasty Nastasie and John McEnroe, and speedway used to have a real selection of riders the fans loved to hate also. One incident I fondly remember involved 'Bad Boy' Reidar Eide from the Monarchs, who had shot into a tremendous lead in a run off for an individual meeting at Hampden, perhaps the Scottish Open, with an opponent, Arnold Haley I think. Reidar incensed the fans by dramatically slowing down a couple of times and waving at Arnold to catch up. Just as the poor man was on the verge of coming even Reidar would speed off into the distance again. The result was a howling crowd, baying for Reidar's blood, afterwards deliriously cheering when the referee excluded him for ungentlemanly conduct.

Another incident involving the same Reidar, sorry about that, had him being carried out to his bike on a stretcher, thereafter going out to produce an absolutely blistering race with a practically track record race time. Great stuff indeed and I think speedway does in fact miss the showmanship that these events provided in the past. Great stuff indeed and the quality of the riders seemed so much better than it appears today, however I would imagine that equipment now has a far greater influence than in that era.

As to the future I sincerely hope the sport can reinvent itself and attract a whole new generation of fans, although must admit the crowds are mainly older diehards. Unfortunately also it is still regarded as a cloth cap throwback from the past, which is most unfair indeed.

Anyway as I have been living in Brazil for quite some years I found it was a real pleasure to have explored and read through the site dedicated to speedway and the interview was most interesting and the start with Glasgow Tigers brought back a few memories. "
Ian Beattie:

"Re Reidar Eide was injured the night before he rode at Glasgow. The race at Halifax included Ronnie Moore and Eric Boocock. All three were close going out of the second bend when Ronnie Moore picked up and moved over on Eric Boocock leaving Reidar nowhere to go except into the fence at high speed. As he hit the fence he was thrown up and managed to hand vault over the fence not knowing that there was a sharp fall on the other side. He made a heavy landing on his side and had rib, hip and leg bruising. I drove him straight to the Edinburgh Royal Infirmary for x rays and he was released to rest for a few days. Despite me clearly and repeated t elling him what had happened he was initially convinced that Eric had PUT HIM in the fence. This was absolutely not true as Eric was a very fair rider always. Even days later when at Coventry Nigel Boocock tried to assure Reidar that 'our kid is not a dirty rider'he took a lot of persuading by me that he was wrong in his belief. Three years later he thanked me for insisting he had been wrong about the incident. Reidar and I travelled extensively together up to the time he was at Reading."
Jim Kennedy:

"Ian Beattie, are you the same person that was involved when there was a training track at the Gyle one winter? Which I remember for a very young Bobby Beaton crashing and old Jimmy giving him hell if he had damaged the bike."
Ian Beattie:

"Yes, I was and am the same person. Now 76 years old and thanks to the internet, still clued in to European speedway."

[ Use Mobile Version ]

Comment on this Article | Contact Us | Go Back to Main Menu