An interview with....Reg Fearman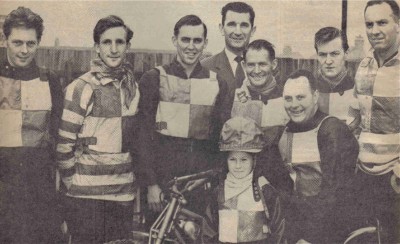 Reg Fearman with the Middlesbrough side of 1962
Reg Fearman was a respected promoter in the sixties and seventies and along with Mike Parker was largely responsible for the formation of the Provincial League. Steve Harland caught up with him back in 2002.
You raced in the same West Ham team as former Boro Bears rider Fred 'Kid' Curtis didn't you?
Yes, I raced with him in 1949, 50 and 51. He was married with a son Alan and owned a sweet shop in North London. He raced before the War, a very nice bloke but knew I was after 'his job' in the team and was very protective of it.
How did the formation of the Provincial League begin and what was the issue regarding blacklisting?
The Provincial League was formed in the winter of 1959/60. Mike Parker had run some pirate meetings at Liverpool and Trevor Redmond set one up at Cradley Heath in the summer of 1959. Interest was aroused by many people and a meeting was called in Manchester for like-minded people. A number of former riders and promoters met and the Provincial League was formed under the rules of the Speedway Control Board and Auto Cycle Union.
Blacklisting was threatened and activated by the SCB and ACU in March 1964 when in the winter of 1963/64 the SCB wanted to elevate Wolverhampton and one other track, never named, to the National League which only had six teams. The Provincial League objected and went black for that season 1964, racing under their own rules and arbitrater, appointing their own officials, referees, etc. An enquiry was held that year set up by the Royal Automobile Club and chaired by Lord Shawcross who decided that, in truth, speedway racing was a business, and that in short the SCB was out of order. He recommended and it happened that the SCB be re-formed with a new Secretary/Manager and a new Chairman from the RAC who was Nelson Mills-Baldwin. During the winter of 1964/65, meetings were held between the promoters of the two leagues and the SCB out of which the British League was formed with 18 teams for the 1965 season. With this reorganisation and the forming of the British Speedway Promoters Association, speedway racing had a more effective and efficient structure in place than at any other time in the past.
What inspired you to form a pirate league set-up?
The idea behind the Provincial League was to re-introduce speedway to lapsed venues and form a strong League and Promoters Association. Re-opening a number of speedways as a multi-track promoter was not with total financial gain in mind but it was the excitement, the thrill, the adrenalin and the entrepreneurial skills of taking speedway to the people of different towns and cities. Not all tracks made money. Many including Liverpool lost money.
Leicester also lost a lot of money, it had run for many years in the National League. It closed in 1961 with average crowds of around 3,000 people. It was offered to Parker and myself for the Provincial League in 1962. It opened with 2,000 plus people and fell quickly to 1300/1400 and often below the 1,000 mark. We 'lost our shirt' there - it ran just the one season in the PL.
In 1961, it was decided by Parker and me to re-introduce speedway to Newcastle, Middlesbrough and Wolverhampton, which we did. We hoped all three would be good venues. Newcastle and Wolverhampton certainly were. Attendances were very good. Middlesbrough was always below par. Despite what may have been written or said, the largest single attendance I had at Middlesbrough in the 1961/2/3/4 seasons was just over 5,000 people (Speedway Star match reports claim 9,000 for the opening meeting). Around 3,000 people was the norm. I read somewhere, I believe it was on the web, that there was a pre-War crowd, or immediate post-War, of 18,000. I honestly do not believe that Cleveland Park could hold that number of spectators.
You reopened Middlesbrough in 1961 - how did that come about and what are your memories?
Middlesbrough was an independently owned greyhound stadium and our dealings were with the Chairman, Mr Varley, who was also the Chairman of Middlesbrough Football Club. He was a gentleman as were his staff. The track was already in place from a bygone era and after some maintenance was ready. The greyhound company had stored the starting gate and some other equipment but we had to put in some of the specialised speedway equipment. The opening meetings from memory went very well.
It was said that you ran a 'tight ship' - would you agree?
I don't think I particularly ran a tight ship. I was always ready to spend money on advertising, promotion or on the team.
Was there a reason that attendances were not as good as other tracks you ran?
Middlesbrough and Stockton were industrial towns and were not blessed with a one hundred per-cent employment record. There always seemed to be many people unemployed. The North East historically has had its very hard times.
I've heard you refer to 'chimney pots', what did you mean?
What I meant was that one needs a lot of houses, a large population to 'pull on' for the entertainment business. I also think a lot of people were reluctant to cross the River Tees to Middlesbrough for the speedway. That was why when Allied Presentations Ltd re-opened it in 1968 we called it Teesside following the re-naming of the whole area.
Where did you get the riders from who signed for Middlesbrough in 1961?
Some were retired riders, some on loan from the higher division and some grass track riders. There were always riders who wanted to have a go at after-meeting practice.
Speedway was back - but I think we had a disappointing overall attendance compared with other tracks but we offered great thrill and excitement with the team on track.
You were always renowned for holding interval attractions, do you recall the time the Sabrina trophy was held at Middlesbrough in 1964 against Newport?
Sabrina - (now there was a girl who had a couple of good things going for her). The idea was to have a personality visit the speedway either to open the season or appear during the season as a guest. It's called Promotion, Publicity and Presentation. Among those who came were Elsie Tanner (Pat Phoenix) and Jed Stone (Ken Cope) from Coronation Street. The interval attractions starred such people as Stan Lindbergh, on fire, through fire, into fire. He dived into a six foot deep pool from a 50 foot tower, setting himself on fire at the top and an assistant setting fire to petrol that had been poured on top of the water. Marcello on the swaying pole were just that - interval attractions and also they drew extra people through the turnstiles and one hoped to keep a few of those as regulars.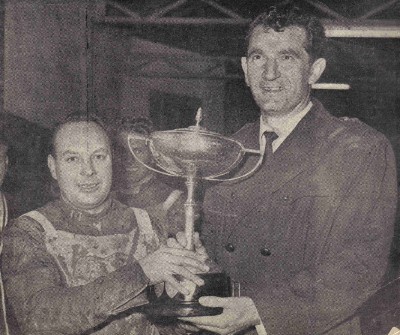 Reg and Eric Boothroyd with the 1966 KO Cup
Why did you pull out of Middlesbrough at the end of the 1964 season and relcoate to Halifax?
Yes, I transferred the Middlesbrough team and licence to Halifax. I made the decision purely on a business basis. After four seasons at Cleveland Park, the attendance was gradually falling each year and it was hard to entice people out on a Thursday night. As I have said previously, Teesside always had the threat of unemployment. I had looked at Halifax over probably a two year period and negotiated eventually with the Football Club Chairman to re-introduce speedway to The Shay.
In the winter of 1964/65, I transferred the team to Halifax into the British League for 1965 season and was lucky (you always need some luck) to nominate and get Saturday night racing. With all Saturday tracks equal in this new League, no one had a preference over the other regarding home fixtures. The same went for same race night, midweek tracks. Halifax was a very good venue, lots of 'chimney pots' with the close proximity of Bradford, Huddersfield, Wakefield and many more towns. The opening attendance exceeded 10,000 and Halifax ran successfully for 21 years.
Tell us about the mysterious 'Igor Baranov'
Igor Baranov (John Jones), a Scot, was his own publicist. He invented the name and his immediate past. Did he really 'jump ship from a fishing trawler' off Scotland? He did it all to get second half rides wherever he could. It was good, harmless publicity and made a good press talking point, with this 'Russian' having trials in the second half of the programme. He played the part well, never speaking, only some gobbly-gook to his girl friend who was his 'interpreter'. He would arrive at a speedway in a black 1950's Austin Sheerline with his copper and chrome racing machine strapped on the back. He never made the grade and turned his skills to the wrestling arenas of Britain and the continent. Of course, it was many years later that I learned the truth as described above.
Former Middlesbrough team manager Henry Atkinson speaks fondly of his time you were in charge at Cleveland Park?
Henry Atkinson - a reliable and tireless worker for speedway. I appreciated his loyalty as I did that of Nigel Furniss who looked after the speedway office and indeed all the staff who worked at Middlesbrough Speedway at that time.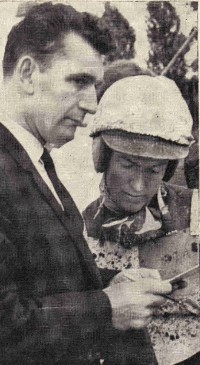 Reg and Eric Boocock discuss tactics
Why did you only do three meetings at Middlesbrough on 'open licence' in 1965?
The public just didn't turn up and that's why I pulled the plug. Eric Boothroyd who was my Captain at Halifax applied for a Promoter's Licence at Middlesbrough, I believe the following year and after a few meetings, he too pulled the plug.
Former Middlesbrough promoter Ron Wilson worked for you at Leicester?
He was an ex-rider of the late 40's/50's who went in to the motor trade in Leicester when he retired from racing. I took him in to Long Eaton (I opened in 1963) about 1965 as a co-Promoter. Another example of transferring a team and licence - Long Eaton 1963-67 struggled for attendance figures. Built up from 2,500 to 3,300 or so, we transferred it to Leicester in the British League (the same Leicester that failed in 1962 in the PL) in 1968 and opened it with over 8,000 people. It is a great thrill to promote meetings to a large crowd but most disheartening when people don't turn out - I guess it's like the theatre, a great atmosphere with a full house but dead when only a quarter full. Leicester ran continuously until it was sold by the owners for housing development in I believe 1982?
How did Allied Presentations come about?
Allied Presentations Ltd was a company formed in the winter 1967/68 after the British League promoters discussed starting a second division to breed British talent. APL directors were myself, who promoted at Halifax and Long Eaton in the BL, Danny Dunton who had Oxford BL, Len Silver at Hackney BL, Ron Wilson co-promoter with me at Long Eaton BL and Maury Littlechild Kings Lynn BL, a big company that we thought could shoulder any losses (and we did).
For the 1968 season, we opened Teesside, Rayleigh, a new venue, an old greyhound stadium at Reading which had a former stock car track inside the greyhound track, we built Crewe at the cricket ground and Peterborough at the East of England Showground, two new venues that opened in 1969? We re-opened Sunderland at one stage and burnt our fingers. When Rayleigh was sold by the owners for development, we transferred the riders and licence to Rye House.
Maury Littlechild died in 1974, Ron Wilson a couple of years ago. Len Silver who left speedway for many years to concentrate on his ski business in France recently returned and bought the whole of Rye House Stadium and once again promotes speedway. Danny Dunton, like me, has been out of speedway since about 1986.
If you could turn the clock back would you still be involved with the sport?
Yes, I would do it all over again. I started racing speedway at 15 years of age in 1948 and started promoting in 1960. Speedway has been my whole working life and I have been fortunate in doing something (although extremely stressful) most enjoyable and always looking forward to tomorrow's challenge. I am still involved with speedway through the Veteran Speedway Riders' Association of which we have about 600 members and there are similar Associations in Australia and New Zealand. I am in touch all the time with riders I raced with or who raced for me. It is a wonderful speedway world.
We had an e-mail from a gentleman called Frank Saunders who recollects you riding for Liverpool in 1951?
Liverpool - yes, I remember racing there, not in 1951 as Frank Saunders says but I am sure in 1952 when I was on loan from West Ham to Stoke and doing my National Service in the Royal Artillery at Rhyl, North Wales. Gordon Parkins, Liverpool Manager, wanted me to go on loan from West Ham in 1952 but Liverpool was the same size and shape as West Ham, 440 yards, and I thought Stoke's small track would be a better learning curve for me at the time.
What happened to Allied Presentations?
Allied Presentation Ltd Directors went their separate ways amicably in June/July 1974, each Director taking with him the track he was responsible for running, in the case of Middlesbrough it was Ron Wilson. APL is still the promoting company at Reading.
If you were a promoter now how would you operate?
Historically speedway has declined over a period of time at most venues. Only some impetus in some cases has brought the crowd back. The most successful common cause for a track's revival has been for a track/stadium lying fallow for several years.
It costs the same amount of money, time and effort to put on an event for 1,000 people as it does for 10,000 and to have just the 1,000 spectators can be soul destroying. I think a point to take on board is that in the 1930's, 40's, 50's, 60's and 70's, the promoters in the majority were those who had to make it pay without sponsorship. In the past 15 years or so, promoters have come in as 'supporters' who have a major outside business interest to support their love of speedway. Me, I couldn't go out on to centre stage to entertain a speedway crowd of today's accepted attendances in most cases of 500/600/700 people and even some Elite League teams are only playing to between 1,000/2,500 people. Not even at £8 and £10 per head admission fees could I be tempted. I understand that at the World Team Cup Final at Peterborough it cost £20 to stand on the Terrace. As an option, I would prefer to have twice as many people paying half the price.
This article was first published on 5th August 2005
---

John Bailey:

"I remember Reg being at Long Eaton in the 60's and when he arrived at Station Road on race days and if the weather forecast was bad and he had taken out insurance against being rained off it was off quicker than lightning but if he had no cover the meeting was on at all cost. It was all hands to the pumps and sawdust came out of every building that was dry.

One occasion the meeting was Long Eaton v a Polish touring side and all the track staff had a bag of sawdust to spread on the track. This started and the bags were cut open and its contents spread on the track, but there was one problem it was wood shavings not sawdust. It did the job and there are photos about of a Polish rider (possibly Zenon Plech) riding in what looked like a snow storm.

Happy days and in them days Promoters like Reg promoted and you got two and a half hours of entertainment. There was always a second half when the top riders from both sides raced for a sponsored heats and final (the cash was usually split between the 4 finalists). Everyone went home happy. I remember an Elite track 2 years ago which started the meeting at 7.45 pm and at 8.30 the promoter ordered a long track grading to make sure the meeting went past the hour with an entrance fee of £12. If only we could have the old times back with just great riders not over paid icons."
Bryan Tungate:

"A very interesting interview with Reg Fearman. Others like Cyril Crane, Wally Mawdesley and Danny Dunton etc would be good subjects for interviews along the same lines."
Steve Harland:

"I'm led to believe that some so-called Middlesbrough fans let Reg's tyres down after one meeting in 1964. It can't have done us any favours when Reg was looking at Halifax long before the 1965 season kicked in and had relocated the team to The Shay. I wonder if Reg can remember this as my interview with him took place about seven/eight years ago?

I only recently discovered Middlesbrough applied to join the National League in 1948 but their application was rejected on the grounds that it was too difficult to get too in the days before motorways had been constructed. At that time six of the eight member clubs were based in London with Belle Vue and Odsal (Bradford) the only northern clubs. It's ironic though that both Bristol and Norwich were regular visitors in the 1940s. I cannot begin to imagine how many hours it must have taken riders to reach opposing tracks in those days.

Another interesting couple of anecdotes regarding Middlesbrough. One involving Ron Wilson who promoted at Leicester, Middlesbrough & Milton Keynes (between 1968 and 1979 at Cleveland Park). Ron always made sure he picked up a box of cream cakes for the journey back to Leicester. One night he pulled over on the A19 and opened the box and some wag had replaced the cream cakes with dog biscuits - I can't tell you who got the blame!

Also an interesting story about the late Tom Leadbitter who rode for Bristol, Middlesbrough, Leicester & Wolverhampton. Tom rode originally at Cleveland Park between 1968 and 1970 and was a bit of a hero back in those days to me. The team turned up at an away track and the team manager Henry Atkinson informed the heat leaders they would be taking an extra ride tonight as they were using rider replacement. Tom immediately turned round and refused to co-operate so Henry insisted he would take the extra ride. Tom went out, rode through the tapes and got excluded. Funny bloody lot speedway riders!!"
Richard Bishop:

"Lovely to read about Tiger Tom, I worked with him all too briefly summer 76 at Imado Watches in Lichfield. They sponsored him and he delivered goods and picked up watches from airport etc I was 16 a speedway fan and in awe loved him to bits. He was always very pleasant to me and I only recently discovered he had died so young. Speedway Star were kind enough to make enquiries and let me know via Bert Harkins what had happened. Truly saddened. Take care everyone and enjoy our wonderful sport."
Alan Barnett:

"I shall never forget the way that Reg Fearman promoted at Stoke in the 60s. Every Saturday night was a full entertainment experience, and as an impressionable 12 year old it was always a great night out. Today's speedway promoters lack the charisma of Reg, and his skill as a promoter and presenter will be remembered with affection by many."

[ Use Mobile Version ]

Comment on this Article | Contact Us | Go Back to Main Menu